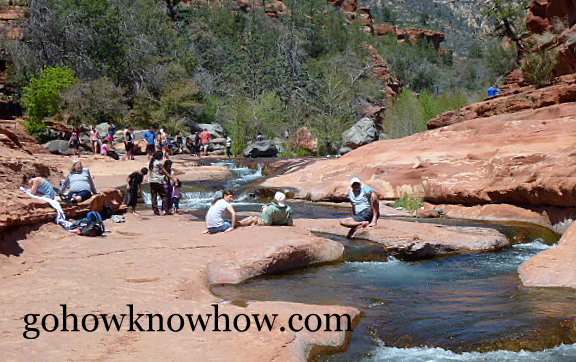 Sometime during my walk in Sedona's Slide Rock State Park, an elderly man who had been walking on the path nearby looked at me and sighed, "Everywhere is beautiful".
He had dropped a few words from the sentence, but I knew what he meant. Everywhere you looked, there was something beautiful to see and his comment has become the caption to my memories of Sedona.
We visited Slide Rock because of my husband's sentimental attachment to a drive he made in his youth. Shortly after getting out of the Navy, with a new convertible sports car and a beautiful girl in the right seat, he'd made a cross-country road trip that included a drive through Sedona. It was hot - not unexpected in Arizona - and his travel companion suggested they stop at the park; with its idyllic pools and harrowing rapids and a naturally occurring water slide created over the eons by snow melting down the mountains to the north.
Despite the fact that it was so cold when we first arrived in Sedona that we saw snow on one of our hikes, the Saturday of our visit to the park was clear and warm. I'm sure it was romantic for my husband and his then-girlfriend all those years ago. It still is. But Sliding Rock is suitable for everyone, just flat-out lovely, with a moderately challenging hiking path that parallels the water, some ruins to explore and butterflies, flowers and birds to look at.
There is opportunity for thrill seeking too. A 20-something couple entertained us for 10 minutes with their on again/off again - yep/back on again decision to jump off a ten foot cliff and into the frigid water.
A tour group of about 80 people sporting a virtual rainbow of skin tones was clambering over the rocks and posing for photos. This, I later learned, was a field trip for the American English and Culture Program at Arizona State University. Watching the Arab women in abayas hamming it up for the camera, arms around Asian women in short-shorts as if borders and cultures had melted under the Arizona sun was a sight I hope I always remember.
Frankly, from the first sight of the sandstone formations that dominate the town of Sedona I was charmed. And I have come to the conclusion that living among so much natural beauty has a positive effect on the locals, who exude generosity in even the simplest encounters.
We must have been the millionth tourists who, arriving late at the limited parking provided at the popular West Fork trail head, asked the ranger about our options. Yet he was affable in explaining we'd have to wait for a returning hiker to exit so we could have the parking spot. He proceeded to keep us company while we waited, naming the birds we saw and telling us stories.
At the Adobe Grand Villas, where we stayed, cookies awaited us on our return each night, along with homemade bread freshly baked in the bread oven in our suite.
From Kegn Hall at the Chamber of Commerce to Alejandra Melo, the housekeeper who showed me some of the other individually-designed theme rooms at the Adobe Grand, we were indulged as if Sedona couldn't be happier to have us visit.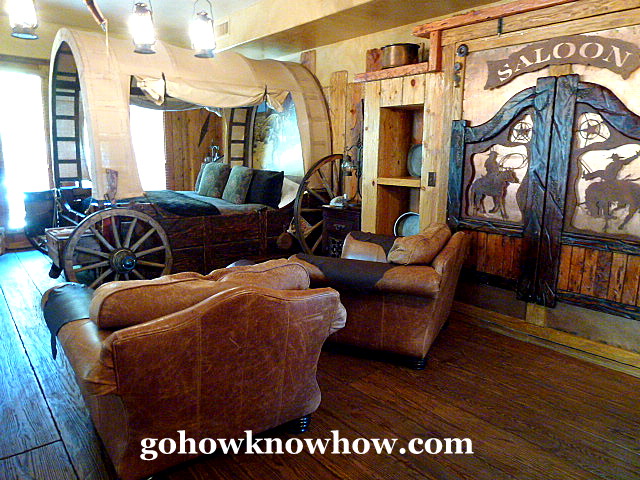 Granted, the Adobe Grand Villas is high-end (rooms go for $400 a night including breakfast), but I've stayed at other upscale hotels and been nickel and dimed from arrival to departure; not offered movies and games, 24/7 snacks, a fireplace in my room, another in the bathroom, robe, slippers, private patio and an assortment of fancy toiletries and chocolates, all delivered with considerable charm. It is all the more remarkable considering nearly half a million people visit Sedona each year.
Sedona has captured hospitality without Disney-fying it. The wilderness is never out of sight or out of mind.
At M-Diamond Ranch where we went for a sunset horseback ride followed by a barbeque, our hostess, Peggy Ingham dressed in jeans as dusty as our own, but looking as if God had designed her face just to wear the Stetson on her head, spoke earnestly of wanting to share with her guests this little piece of American history that is still putting meat on the table of the nation.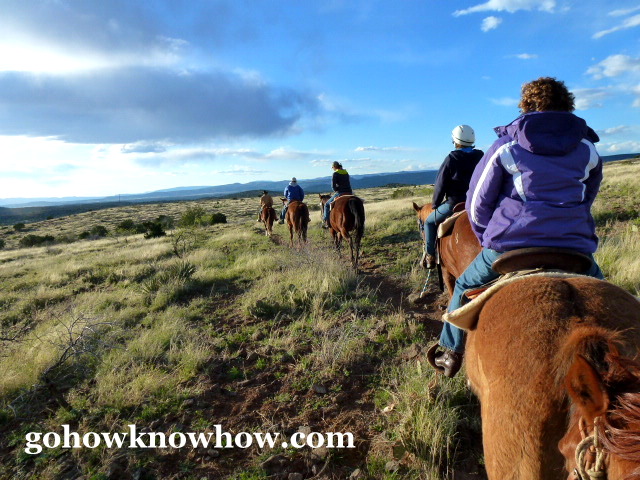 By allowing visitors to view her cattle ranch, we learn there's not much difference between those cows and their babies we'd ooohed and ahhhed over as we passed them on our horses and the ones that would end up on our plate with a side of corn and beans a few hours later.
"People need to know where their food comes from," Peggy said. And sometimes where it goes, too. Peggy's spring garden was decimated the night before my visit when javelinas got through the fence.
On our last day, Jim and I took the Sedona Trolley (Note to future visitors, do this first) for a 2-hour overview of the city and its surroundings.
At one stop, after expressing skepticism about our driver's story that this bone dry landscape could actually churn out deadly flash floods, he pulled out his cell phone to share a video he'd taken after seeking shelter from a rainstorm under a rocky outcrop. I was sobered by the phenomenal deluge of water he'd captured with his smart phone. Where had it come from? Where had it gone? A little later as we passed by an empty creek bed and he explained, "When it's dry we call it a creek. When there's water in it we call it a flood."
With the macho pride of desert dwellers, Arizonans remind visitors that everything here will either poke, bite, sting or burn. It is easy to believe.
What is more difficult to fathom, but trust me it's true, is that in Sedona, "everywhere is beautiful."