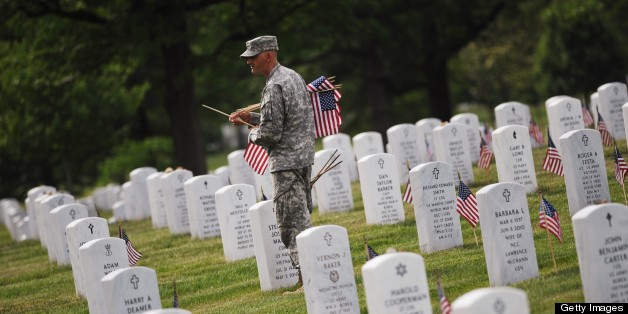 This Memorial Day as we kick off the summer with BBQs, baseball and beer, let us remember those who gave some of the best summers of their lives to protect and defend our freedoms. On May 27, we continue the tradition begun after the Civil War to unite us in common humanity: for a moment, we will be one America -- not red or blue but red, white and blue. In my hometown and yours, we will gather to honor the fallen and comfort the Gold Star families placing American flags on the gravesides of their loved ones who made the ultimate sacrifice.
Many of us whose relatives served in earlier wars will recall the "greatest generation" with nostalgia and pride, saying a prayer (mine for my great-uncle Johnny D'Alesandro who died at the Battle of the Bulge) for sacrifices made in a distant time, while today's military families will be experiencing fresh grief for those lost in Iraq and Afghanistan.
As the Commander in Chief, President Barack Obama, said in his "Prayer for Peace" Memorial Day 2013 Proclamation:
Scripture teaches us that "greater love hath no man than this, that a man lay down his life for his friends." On Memorial Day, we remember those we have lost not only for what they fought for, but who they were: proud Americans, often far too young, guided by deep and abiding love for their families, for each other, and for this country. Our debt to them is one we can never fully repay. But we can honor their sacrifice and strive to be a Nation equal to their example.

On this and every day, we must meet our obligations to families of the fallen; we must uphold our sacred trust with our veterans, our service members, and their loved ones.Above all, we can honor those we have lost by living up to the ideals they died defending. It is our charge to preserve liberty, to advance justice, and to sow the seeds of peace. With courage and devotion worthy of the heroes we remember today, let us rededicate ourselves to those unending tasks, and prove once more that America's best days are still ahead. Let us pray the souls of those who died in war rest in eternal peace, and let us keep them and their families close in our hearts, now and forever.
As the president reminds us, our moment of national reflection should not be just a minute, but a sustained commitment to honor the fallen by lifting up our veterans. We have 21.8 million veterans in the United States many of whom who continue to serve America in civilian life -- but millions of them need our help to secure the benefits they earned.
Over the past 12 years, about 2.5 million members of the Army, Navy, Marines, Air Force, Coast Guard and related Reserve and National Guard units have been deployed in Afghanistan and Iraq, according to Department of Defense data reviewed by the Miami Herald. Of those, more than a third were deployed more than once. Nearly 37,000 have been deployed more than five times, and 400,000 service members have reportedly done three or more deployments.
The physical and emotional toll of these deployments is a cost of war we Americans have only begun to pay, yet all too often a war-weary public tends to look the other way.
But this Memorial Day we cannot look away.
We cannot look away from our military families -- just as on the battlefield American service members vow to leave no one behind, here at home we must leave no veteran behind.
We cannot look away from the one percent -- the one percent of Americans who fight for us -- and help heal their wounds. We must assist our veterans seeking education, employment and small business opportunities by literally, as First Lady Michelle Obama and Blue Star Mom Dr Jill Biden have urged, Joining Forces with the private and public sectors.
We cannot look away from the harrowing tales of the courageous male and female survivors of military sexual assault fighting an Invisible War and experiencing PTSD and military sexual trauma.
We cannot look away from lesbian and gay patriots whose spouses still do not receive federal marriage benefits despite their service.
We cannot look away from immigrants who've joined our armed forces -- those DREAMers who have enlisted to be part of that elite one percent who sacrifice for us -- yet are not accorded citizenship for their service.
We cannot look away from the bureaucratic struggles manifest in the VA backlog, which House Democratic Leader Nancy Pelosi calls "a challenge to the conscience of our country."
We canot look away from these challenges -- we must face them directly and come together to solve problems. If each of us put down the BBQ, the bat, or the beer for a moment and pledged a donation to a veterans charity, political activism for military families, or community volunteer work with a veterans service organization, we would go a long way to honoring the fallen by lifting up veterans this Memorial Day.