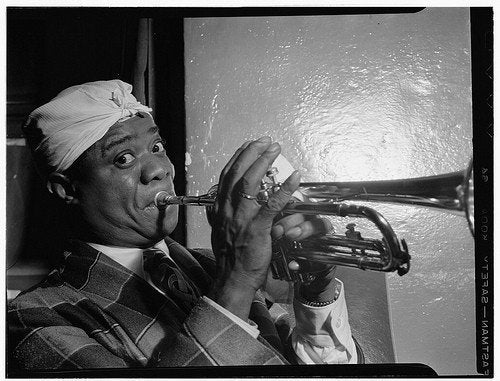 "I'm going to be your fairy godmother," was the first thing that Mrs. Jacobs said to me when she sat next to me in 2005 at a jazz conference in California. As quickly as she appeared in my life, she disappeared.
Yesterday, New York's reigning jazz queen and founder of the Louis Armstrong Educational Foundation, Mrs. Phoebe Jacobs, passed away at age 93. As the torchbearer of Louis Armstrong's continuing legacy she touched innumerable lives with her love, eye for talent, dry wit, largesse, incomparable energy and photographic memory. I was lucky to become her friend and would like to share some of her wisdom with the fondest of memories.
1. A NOTE IS A NOTE IN ANY LANGUAGE
Mrs. Jacobs repeated her favorite stories, especially the story about how Louis Armstrong went to Africa as a jazz ambassador and couldn't speak any of the local languages. When she asked him, "If you couldn't speak the same language as the locals, how did you communicate?" Louis replied, "I picked up my horn and blew. A note is a note in any language. Music is the international language!"
2. THE GLASS IS ALWAYS HALF FULL
"Louis was the most positive person that I ever met," explained Mrs. Jacobs. Her goal in life was to share the same love that Louis shared with the world, especially for children. Quoting Louis, she always said; "I want to give back to the world some of the goodness that it gave to me."
I never saw Mrs. Jacobs without make-up or jewelry at her home or in public. Mrs. Jacobs embodied elegance and represented a period of our musical heritage that was very noble. She taught me that if you dress appropriately in New York, people will treat you in the same way.
Every time that Mrs. Jacobs invited me to come visit her at her home, she specifically asked me not to bring flowers, which I brought with me every time. Mrs. Jacobs helped me develop the habit of paying your respects to older friends with small tokens of appreciation and never showing up to someone's home without a small gift.
A hand-written note is worth its weight in gold. Mrs. Jacobs sometimes wrote me letters to say thank you when I called to check in on her. When I received her letters, I felt like I was receiving special attention, and not the other way around. I learned that thank you cards and hand-written letters solidify a friendship.
6. PUT SESAME SEEDS IN YOUR MISO SOUP
Mrs. Jacobs encouraged me to sprinkle sesame seeds on my miso soup just like the way that she taught Sarah Vaughan. She said, "I took Sarah Vaughan to this restaurant next to the Blue Note and introduced her to sushi."
7. THE CRICKETS ARE OUT OF TUNE
Mrs. Jacobs mentioned once that Louis Armstrong hated sleeping around crickets because they would play out of tune.
Mrs. Jacobs told me a story about Louis Armstrong's honeymoon in Paris with Lucille. When Louis and Lucille arrived at their luxurious hotel, they dressed up in their respective tux and ball gown. Instead of going to a fancy opera, they ordered room service. The waiter brought the appetizer with a great deal of pomp and ceremony. When the waiter returned to clear the plates, Louis exclaimed that he loved the first dish and said to the waiter, "It's solid!" The waiter rushed out of the room and returned with another plate and displayed the same pomp and ceremony as before. Then he produced the same appetizer. Louis finished the dish and exclaimed again, "That was solid!" When the waiter rushed to bring back a third serving of the same green SALAD, Lucille intervened as a translator.
9. ALWAYS BE THE MIDDLE MAN
Mrs. Jacobs warned me about the perils of working in the music industry. She explained that it is imperative to be the middle man in a negotiation when you are trying to bring two independent parties together to produce an event. She said that the moment you take a step away from the discussion, people will cut you out of the equation.
10. IF YOU LEAVE NEW YORK, YOU'RE GOING NOWHERE
Two months ago I asked Mrs. Jacobs (at age 93!) if she ever wanted to live anywhere else besides New York City. She looked at me and exclaimed, "Are you nuts?! If you leave New York, you're going nowhere!"
Mrs. Jacobs taught me how to infuse every moment of every day with a love for the unexpected: improvisation. She showed me that improvisation is more than just a form of musical expression; rather, improvisation is a mindset to help us adapt to the good and the bad times in life. I believe that she stayed forever young through her incredible ability to have fun at every moment.
I only saw Mrs. Jacobs shed a tear one time. I was spending an afternoon with her chatting about the beauty of music and the legacy of Louis Armstrong. I played a song entitled, "Remembering" by Avishai Cohen. She closed her eyes and a tear rolled down her cheek. Now it's our turn.