March 25-31 at the Joyce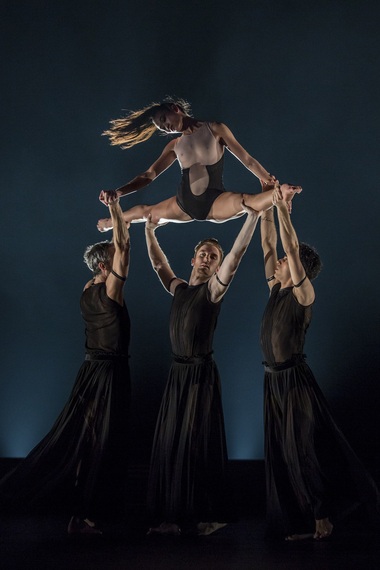 It takes more than a good share of talent, energy and choreographic expertise to deliver 65 minutes of non-stop exhilarating movement, but the 20 dancers of the Ballet du Grand Théatre de Genève delivered just that on Tuesday night at the Joyce. Their rousing and breathtaking presentation of Andonis Foniadakis' Glory had everything that truly excellent dance should have: technique, innovation, charisma, acting ability and an uncanny knack for showcasing both individual dancers as well as a sense of cohesion and team work.
The Swiss, in fact, have a long and storied dance tradition which deserves to be better known stateside. It incudes Béjart of course and Dalcroze, and was influenced as well by Diaghelev's Ballet Russes and the fabled Vaslav NIjinski himself. The Ballet du Grand Théâtre de Genève (the name itself is a mouthful) is its premiere contemporary institution and rightfully so. In the past century, it has put on classical ballets, as well as works by contemporary choreographers such as Lucinda Childs, Nacho Duato, Mats Ek, Sidi Larbi Cherkaoui and Benjamin Millepied. Most recently, under Tobias Richter and Philippe Cohen's inspired direction, it continues to bring some of the world's most cutting-edge choreographers to the stage.
Greek-born choregrapher Andonis Foniadakis' presentation of Glory was as much about music as movement. Julien Tarride's masterful remix of Handel presents the German master like never before. In movement after movement whether Ombre Mai fu, Dixit Dominus and even the Hallelujah Choir from the 1751 version of the Messiah the 20 dancers jived and rock and rolled on stage in subtle, melodic and sometimes pounding combinations. The strongest presence choreographically may well have been Duato's, which resonated in the dancers' mastery of modern and neoclassical combinations as well as in the wonderfully deconstructed baroque costumes by Tassos Sofroniou and inspired lighting design by Mikki Kunttu. Foniadakis also easily wove in elements as disparate as Martha Graham foreshortening of movements an unmistakable take on American or Scottish jigs.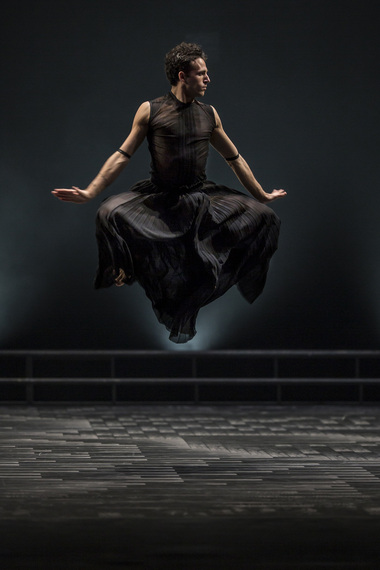 The Messiah after all is about the coming of a savior and here the audience is treated to the interplay of light and darkness, white and black, perhaps even good and evil --elements that are mirrored in the contrapuntal movement itself. Everything is at once precise and Helvetic, passionate and Hellenic as well. Legs spread, bend and twist and arms flail as dancers leap or arms spread into the air. Whether synchronic and balanced or oppositional and out of kilter, movement is repeated, undone and repeated again in subtle variations until everything comes together in one, dare I say it, glorious whole. The performance is sensual as well: at one point towards the end of the hour long revel, one of the female dancers (Sarawanee Tanatanit?) is held aloft in a split position and carried forth in erotic annunciation by the very toned and handsome male members of the troupe -- she seems to revel in the physicality of both the dancers and the light that descends upon her. As elsewhere in the piece geometry was prominent as pyramids, circles and more intricate figures formed and unraveled. A bit slow-moving perhaps at first, Glory gradually quickens and crescendos with grace and fervor. As with any art form, dance depends in no small part on honesty -- here the dancers seemed to genuinely enjoy themselves and take joy in channeling Handel outwards into a receptive audience.
It would be unfair to single out a particular dancer not simply because all twenty performers were so good, but because under Foniadakis' direction they achieved a fine approximation of the definition of ensemble itself, each dancer an equal part supporting the whole. So here in a rare show of admiration, let me take the space to list them all: Céline Allain, Louise Bille, Fernanda Barbosa, Ornella Capece, Andie Masazza, Virginie Nopper, Yu Otagaki, Angela Rebelo, Sara Shigenari, Sarawanee Tanatanit, Daniella Zaghini, Loris Bonani, Natan Bouzy, Aurélien Dougé, Paul Girard, Vladimir Ippolitov, Xavier Juyon, Nathanaël Marie, Geoffrey Van Dyck and Nahuel Vega.
The only thing one could have hoped for was that the Ballet du Grand Théatre had performed at the Joyce for a more extended run, so that New York could take in their talent and enthusiasm more fully. Perhaps next year?