They should have brought Anastasia Khitruk and her remarkable violin playing to the Yalta Conference -- she could have charmed the pants off FDR and Stalin both. It's rare on the contemporary New York scene to attend a program that overtly and explicitly explores the relationship between two cultures -- but a concert last Nov. 14 led by the über-talented Khitruk and the equally deft pianist Elena Baksht did just that with aplomb. The two Russian-born and Juilliard-trained musicians were joined in an all-Russian and American program that mainly explored Russian music but also Russian elements in contemporary American compositions.

Anastasia Khitruk is a violinist to be reckoned with, a force of nature who adds rare intellectual depth to perhaps more common technical ability and physical prowess. I had the pleasure of watching her refine her craft in a series of public rehearsals leading up to a Carnegie Weill Hall recital. Khitruk and Elena Baksht were joined by American cellist Michael Block, who performed his own compositions, including a breezy pizzicato composition that combined elements of the balalaika and traditional Russian folk music with uniquely American sounds, tentatively titled "Red, White, Blue."

Khitruk first introduced the audience to Ivan Khandoshkin, an 18th-century master of violin composition whose fame faded soon after his death in 1804. Khandoshkin, the Russian virtuoso of his day, was Kappellmeister for no less than Catherine the Great herself. Khitruk performed his "Violin Sonata in G minor," as well as two duets for violin and cello with Block. The pieces were powerful, sometimes sultry and always heartfelt: Varied in pace and mood, they included more than a few double stops with difficult bowings. Why Khandoshkin? As Khitruk emphasized in a short post-concert interview, she wanted to make sure that Americans knew that Russian (classical) music didn't start with Glinka, and that the famed school of Russian violin playing is far older than acknowledged. "I think the Russians suffer from a chronic inferiority complex in relation to Europe," Khitruk stated with surprising vehemence.

Several commissioned pieces by American composer Michael Colina were also performed. Surprisingly Mr.Colina's exploration of Russian mythology was almost oriental in nature. Baba Yaga recalls the Russian folk tale in which a beautiful maiden gets lost in the woods until she stumbles upon the house of the frightening old crone -- Baba Yaga. (Strangely enough in Russian mythology, the house stands aloft a chicken claw or leg.) Mr. Colina's choice of subject was inspired by Ms. Khitruk: In her words, the latter "leaves me wondering whether I'm supposed to be the maiden or the witch." The piece also explores the relationship between the beautiful and the ugly, and between the powerful and the weak, seemingly eternal themes in human art and mythology.

Elena Baksht also plays with energy, conviction and a genuine sense of passion, mastering even the quickest phrasings with breathtaking ease. She delighted the audience with two master works of Russian piano literature, playing an excerpt from Rachmaninoff's "Études-tableaux" and a set of Tchaikovsky's "Variations."

Khitruk diverges from most modern violinists in that she continues to explore the possibility of a melodic tradition in modern and contemporary classical music, which differs sharply from the usual atonal fare served up à la Alban Berg, Webern, Schoenberg and their later disciples. The question of the century, Khitruk reminds us, is whether classical music in the lyrical 19th-century tradition can survive in an age of hip-hop, rap and synthesized electronic music. Whether or not it does -- and one senses that it will, as it has in the past -- we are lucky to have such wonderful musicians evangelizing the beauty of the classical tradition, Russian or otherwise.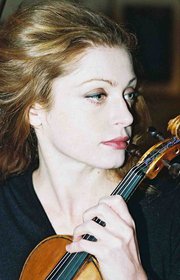 Photo Credit: Hussain Aga Khan