Forget the Ballet: Pilobolus is in the house!
If human centipedes, Houdini-like escapes, Cirque de Soleil-style aerial acrobatics and lots of very sexy, muscular performers in dance belts appeal to your sense of fun and aesthetics, then Pilobolus' annual run at the Joyce Theater should be your cup of tea.
In one performance after another, the company displayed its trademark versatility and strength allthewhile eschewing complex choreography and classical narrative storytelling arcs. In Program A, in pieces such as the 2011 All is Not Lost (a collaboration between Ok Go, Trish Sie and Pilobolus) and Ocellus (choreographed in 1972 by Robby Barnett, Lee Harris, Moses Pendleton and Jonathan Wolken), troupe members were fairly amazing as they lept, fell, contorted and twisted into seemingly impossible positions or challenged the angles one is used to seeing dancers by having them perform on top of plexiglass with a camera placed underneath. Some of the most difficult moves of course were the ones that looked easiest, as for example when four of the dancers sat in other laps like a row of interconnected chairs. The highlight of the night though was without a doubt, an amazing set of magical escapes routines created in collaboration with Penn and Teller who did an amazing job of MC'ing the piece as well. Matt del Rosario and Shawn Ahern dressed as pole dancers in black leather dance belts managed to escape being simultaneously chained to one other and to a 13-foot pole; their aerial twists in and around each other had something poetic about it as well. Jordan Kriston managed to rip herself away from being tied with layer upon layer of duct tape to a chair in a short series of jerking movements while her head was covered by a plastic bag with a limited oxygen supply. Meanwhile, Ben Coalter was chained and locked into a wooden chest where he reproduced one of Houdini's most famous pieces by escaping from the chest and exchanging places with Eriko Jimbo. And Jun Kuribayashi, perhaps best known for performing Jonathan Wolken's wonderful solo Pseudopodia managed to escape the smallest of travel bags where he was chained like a human pretzel half naked with his legs behind his ears -- as usual, he emerged with a smile on his face, now wearing Shanghai-red pajamas. The only criticism of Program A was that it was light on anything that might be construed as traditional choreography, but this did not really bother given the mastery of body and technique.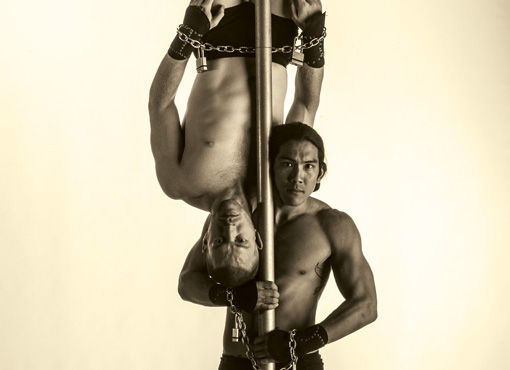 Program B displayed slightly more choreographic detail, though some of the performances resembled high-powered aestheticized yoga or simple versions of traditional eastern dance more than anything else. While the dancers again displayed expertise with elements such as ropes and metal arcs and the like, at times the pieces seemed unfinished, as if the company was simply not pushing the envelope. In the New York premiere of Licks, for example, ropes were used to form circles, half-circles and sinusoidal geometrical shapes that amazed at first but failed to lead anywhere truly interesting. The techno-pop music by Nortec Collective Presents: Bostich & Fussible worked in synchronicity with the props, but the piece stayed only one step ahead of a rhythmic gymnastics routine. Skyscrapers played with elements of costuming and color with fun quick changes of both elements accompanying facile tango-like movements. The same ease of execution and choreography was evident in other pieces such as Azimuth and Symbiosis, which were light and fun and sometimes even elegant.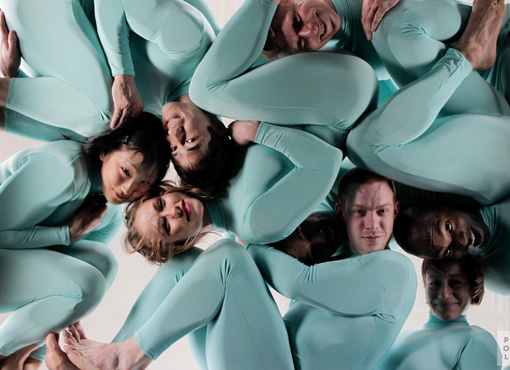 It is indeed true that much of the Pilobolus repertoire is choreographically facile. But to use this as blanket criticism is perhaps to miss the point of the company's presentations entirely. Every company hopefully brings its own original style to its performance. With Graham, it's a truncated, unique movement style, and an almost oppressively dramatic sense of the world while Cunningham brought elements of post-modernism to dance. Dance purists may find Pilobolus too razzle-dazzle, but purity is overrated. If you are looking to be entertained and witness some amazing routines, then run to the Joyce, sit back and prepare to be amazed. At the end of Program A, the company members slid out on their signature water slide, spewing water into the air with legs, arms and mouth before spraying audience members as well. They were all smiling, joyous -- it was pure Pilobolus.
At the Joyce Theater Through August 4th