Speculation, gossip and scholarly debate have raged for over two hundred years as to who posthumously completed Mozart's Requiem, (Süssmayr? I vote for Salieri!). Authorship issues aside, it's a thunderous, stunning work that one never tires of hearing, one of the classics that reveals new layers and surprises upon each encounter. So I was curious to see what John-Mark Owen's dance theatrical presentation of the Requiem would be like -- classical or experimental, slow-paced or quick? The answer is: a bit of all these things rolled into one. Owen (who also dances in the piece) it turns out, is no choreographic slouch by any means. And Owen's dancers are all inordinately beautiful specimens of dance humanity -- the men wear only short shorts, the women body suits. The delicate Oisin Monaghan in particular, possesses such refined features that he passes for a woman in the prelude dance and still looks remarkably like Tilda Swinton when he reappears as a man in Requiem -- shades of Virginia Wolf's Orlando.
On a bare black stage with sand-colored brambles attached to the ceiling serving as the only décor, Owen puts in motion a deeply personal and innovative vision. He sets the piece inside some type of prison-like world run by a bully/warden/Nazi/villain (Aaron Mattocks) who alternately wants to bed or simply beat up half of the company members. And yes, an element of sadomasochism runs throughout the piece. The villain is particularly keen on a young man (Josh Christopher) who already has a lover (Owen) and he comes one short of beating the life out of both of them. He is joined in this sometimes brutal exercise--too brutal I think for the Requiem -- by a defector from the good side (Amy Brandt) whose betrayal the other dancers have a hard time countenancing: a Wicked Witch of the West, but one who can in the end feel some remorse -- think Wicked, not The Wizard of Oz. In the end it is the intervention of one of the female dancers -- a mother/protectress figure (Kerry Shea) whom I took to represent goodness and some type of moral law -- that saves her friends. Or at least we think she saves them, as the ending has a somewhat ambiguous twist -- at least when one is watching in the audience.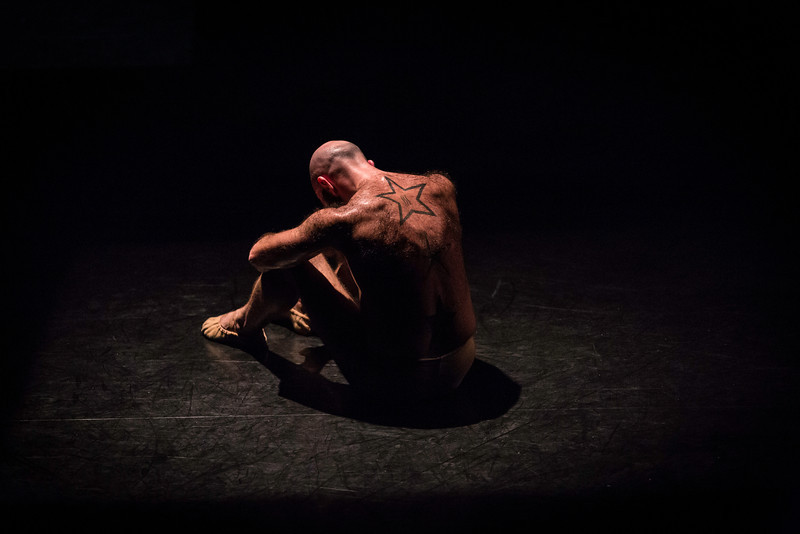 Owen's Requiem must, I think, be viewed metaphorically -- as an almost Biblical battle between good and evil (shades of Cain and Abel), and between compassion and cruelty. Ultimately, it is also about the freedom of personal choice -- as evidenced by Shea's betrayal, which contrasts markedly with Amy Brandt's role and the two male lovers who remain devoted to each other throughout.
During the performance, the stage remains dark and empty for rather long interludes. One assumes that the dancers are preparing backstage, but these pauses drag the performance down some. Owen's technique-a minimalist mixture of release-technique-inspired movement, more classically balletic exercises and well-synchronized floor work does not always rise to the occasion. But that is not really a critique of Owen himself -- he is a fine choreographer -- but rather of the calculated folly of trying to live up to music as great as the Requiem. In this case, when all is a said and done, we're glad that the choreographer did.
Requiem was preceded by "A Short - Étude 6", a study in minimalist movement set to Vivaldi in which five elegant dancers move arms and torsos with uncommon grace: Amy Brandt, Kristin Deiss, Oisin Monaghan, Jovanna Parks, Kerry Shea.