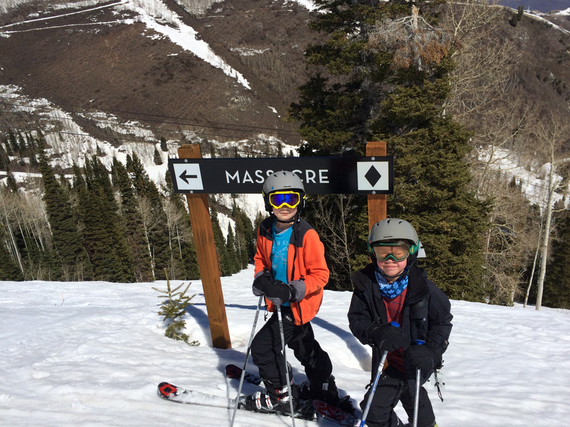 It's the last day of ski season in Utah. It's the end -- but it's also the beginning.
"A little warm," apologized the Deer Valley lift attendant.
You don't say? My son and I had just skied past a dude wearing shorts.
We're here on the weekend when most of the well-known resorts close. Great timing, I know. Among them: Deer Valley and the Canyons near Park City, and up around Ogden, Snowbasin. We happened to ski at all three of them, plus Brian Head, the southernmost ski resort in the state, during a one-week period.
Why on Earth would we want to go slushing at the end of the season? Because you can learn a lot about a place by how it wraps things up.
Does it go out with a bang, like some of the partying Colorado resorts, or does it just segue to spring?
It also makes you wonder if a destination is at its best when all the visitors are there, at the peak of the season, or when it feels its best?
I'd been to Deer Valley on several occasions, usually during January and February, when everyone else wanted to come to this exclusive winter resort. But I liked something about this place when the slopes were covered in rocks and the temperatures reached a balmy 60 degrees in the afternoon. There was something about the guy in cut-offs, sliding through the slush. It just seemed more authentic.
Springtime is when the locals come out, and in Utah, the locals love the mountains more than the tourists. For us, there were no lift lines, and the friendly employee standing near the trail map had so much time on his hands that when we asked for directions, he didn't just tell us how to get there -- he took us there. Now that's service!
The next day, at the Canyons, the weather had warmed up by a few degrees. My 11- and 9-year-old sons shed their fleece liners to stay cool. We hit some of the more challenging runs and we were the only skiers on most of them. Our favorite was a black-diamond slope called "Massacre."
When the normally dry Utah snow begins to melt, it doesn't turn super heavy. Instead, it becomes inconsistent, so you ski fast, then hit a patch that slows you down, then fast again. If you're not careful and balance yourself just right, you'll wipe out. You don't want to do that in shorts.
We survived -- barely.
Snowbasin, by comparison, was a little busier. There, it was still cooler, and the locals were still coming from nearby Ogden to make the last few turns of the season. Strangely, on our last stop, down in Brian Head, it was so cold and windy that we didn't even have an opportunity to ski. A little odd, considering that the ski area is closer to Las Vegas than Salt Lake City.
Along the way, we came to understand that the end is actually more of a beginning. At some point, the tourists go home, thinking there's nothing left to do, and then the locals drop by to enjoy each of these mountain resorts, quietly celebrating the end of a ski season that is followed by a suddenly and dramatically transformative spring.
You don't really know a ski resort until you've been there when the last lift shuts down, and to understand that it is the continuation of an infinite and beautiful cycle.Yes, the skiing is over, but now the hiking and the mountain biking begin.
After you've left a comment here, let's continue the discussion on my consumer advocacy site or on Twitter, Facebook and Google. I also have a free newsletter and you'll definitely want to pre-order my new, amazingly helpful and subversive book called How to Be the World's Smartest Traveler (and Save Time, Money, and Hassle).