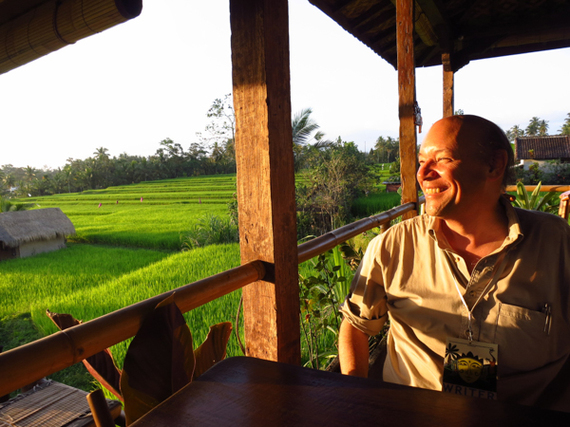 Don George describes himself as a "travel evangelist" but he is much more than that. Yes, he loves to talk about the life-changing possibilities of travel, which started for him when he visited Paris in college. But he is also a best-selling author and writer, regarded by many as the preeminent travel writer of his generation. He's served as the global travel editor for Lonely Planet, the travel editor for the San Francisco Examiner/Chronicle and Salon.com and currently is an editor at large for National Geographic Traveler. And he's an online journalist, having recently launched his own website. Don's current project is selecting the best from his hundreds of published articles and essays for an anthology that will celebrate the two passions of his career: travel and travel writing. "I know firsthand how travel can change your life," he says. "And I love speaking, teaching, and writing about this."
What makes him the world's smartest traveler? It's not just his impressive resume, but his approach to travel that distinguishes George. Living in Paris, Athens, and Tokyo for three years after graduating from college, he explored Europe, Asia, and beyond -- often without the help of a guidebook -- before settling into a career in travel journalism. "The more I traveled, the bigger the world became, and the more the wonders of the planet revealed themselves," he says. "Over time I realized one fundamental truth: The more I open myself up to the world, the more the world opens itself up to me." And that brings us to his travel advice, which is to be open, or as he puts it, to practice the "fine art of vulnerability" which can lead to connections and illuminations. "The world is essentially a friendly place and the people you encounter -- whatever their backgrounds and beliefs -- are more similar to you than different from you," he adds. "Ask for locals' advice and help on the road, and your journey will be enriched in unimaginable ways."
The World's Smartest Traveler is a weekly series about the visionaries who inspire us to travel smarter. Its curator, Christopher Elliott, is the author of the upcoming book, How to Be The World's Smartest Traveler (National Geographic Books).