Identifying Nobel-Worthy Scientists
Beginning on October 6, a very small selection of accomplished scientists will get the call that many in their profession, whether or not they would admit to it, must dream about: word that they have received science's highest honor, the Nobel Prize. In anticipation of this latest round of awards, Thomson Reuters is once again releasing its annual list of Citation Laureates -- scientists whose achievements and quantifiable influence among their peers make them worthy of Nobel recognition.
Thomson Reuters has identified potential Nobel Prize winners since 2002, primarily by examining data in the Web of Science, the online version of the Science Citation Index, a resource that turned 50 years old this year. Scientists, whose published work is highly cited -- in other words, frequently read and footnoted by other scientists -- have achieved measurable visibility and influence, as judged by their peers.
In the dozen years since Thomson Reuters announced its first official list of likely Nobel Prize winners, 35 of those previously designated as Citation Laureates have gone on to win the prize. Last year, for example, eight of the 11 Nobel winners had been forecast by Thomson Reuters. In 2011, all nine of the winners were predicted one or two years beforehand. Now, another group of candidates has been selected -- those whose work is clearly "of Nobel class."
A duo of new Citation Laureates in the field of Chemistry, for example, made a key contribution to technology that is now ubiquitous and, for countless consumers, absolutely indispensable. Ching W. Tang and Steven Van Slyke invented the first organic light-emitting diode. Their research, on using electrically charged organic molecules to emit visible light, now underlies the displays of smart phones, tablets, TVs, digital cameras, and other devices.
In the Nobel category of Physiology or Medicine, Thomson Reuters has tipped David Julius as a potential winner, for research into the molecular mechanisms of pain sensation. Using the substance capsaicin, the active compound in chili peppers, Julius explored the nerve-cell receptors that respond to capsaicin by sending the sensation of heat to the brain. Ultimately, he clarified how the cellular workings of heat sensitivity are also evident in inflammatory pain. This work has opened the way to more effective pain treatments.
The Nobel committee, of course, also honors achievement in Economic Sciences. This year, Thomson Reuters has selected a Citation Laureate who brought a slightly different perspective to economics: Mark S. Granovetter is actually a sociologist. As such, he proposed that social relationships and social networks play a larger role in transactions than is typically acknowledged in scholarly discourse on economics. His theory of "embeddeness," emphasizing how economic transactions are embedded in a social context, launched the field of economic sociology.
Along with these selections, the new Citation Laureates represent advancements in a range of areas: elucidating how genes are regulated and how genetic variations are linked to disease; studying the role of entrepreneurism as a driver of economic growth; and inventing new materials that will elevate memory storage and processing speed in next-generation computers.
The matter of who among these candidates might get a call from Stockholm--if not this year, then perhaps within a few years--is known only to the Nobel committee.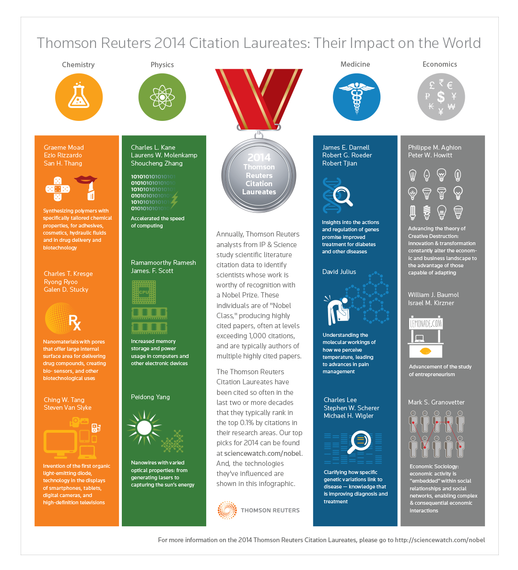 The 2014 Thomson Reuters Citation Laureates
PHYSIOLOGY or MEDICINE
James E. Darnell, Jr. and Robert G. Roeder of Rockefeller University, and Robert Tjian of the University of California, Berkeley, and the Hughes Medical Institute
For fundamental discoveries concerning eukaryotic transcription and gene regulation
David Julius of the University of California, San Francisco
For elucidating molecular mechanisms of pain sensation
Charles Lee of the Jackson Laboratory for Genomic Medicine, Stephen W. Scherer of the Hospital for Sick Children and the University of Toronto, and Michael H. Wigler of Cold Spring Harbor Laboratory
For their discovery of large-scale copy number variation and its association with specific diseases
PHYSICS
Charles L. Kane of the University of Pennsylvania, Laurens W. Molenkamp of the University of Würzburg, Germany, and Shoucheng Zhang of Stanford University
For theoretical and experimental research on the quantum spin Hall effect and topological insulators
James F. Scott of the University of Cambridge, Ramamoorthy Ramesh of the University of California, Berkeley, and Yoshinori Tokura* of the RIKEN Center for Emergent Matter Science and the University of Tokyo, Japan
For their pioneering research on ferroelectric memory devices (Scott) and new multiferroic materials (Ramesh and Tokura). *Tokura was previously named a Citation Laureate in 2002.
Peidong Yang of the University of California, Berkeley, and the Lawrence Berkeley National Laboratory
For his contributions to nanowire photonics including the creation of first nanowire nanolaser
CHEMISTRY
Charles T. Kresge of Saudi Aramco, Dhahran, Ryong Ryoo of the Korea Advanced Institute of Science and Technology, and Galen D. Stucky of the University of California, Santa Barbara
For design of functional mesoporous materials
Graeme Moad, Ezio Rizzardo, and San H. Thang of CSIRO, Australia
For development of the reversible addition-fragmentation chain transfer (RAFT) polymerization process
Ching W. Tang of the University of Rochester and Hong Kong University of Science and Technology, and Steven Van Slyke of Kateeva
For their invention of the organic light emitting diode
ECONOMIC SCIENCES
Philippe M. Aghion of Harvard University, and Peter W. Howitt of Brown University
For contributions to Schumpeterian growth theory
William J. Baumol and Israel M. Kirzner of New York University
For their advancement of the study of entrepreneurism
Mark S. Granovetter of Stanford University
For his pioneering research in economic sociology