Note: The following interview contains graphic language.
Legendary No Wave musician (Teenage Jesus and the Jerks, Queen of Siam) writer (Paradoxia: A Predator's Diary, Will Work For Drugs), spoken word artist (Oral Fixation, Conspiracy of Women), and actress (R. Kerns' Right Side of My Brain and Fingered) makes her return to New York with a new photographic exhibition and installation called So Real It Hurts at Howl! Happening, a new gallery and performance space in the East Village, from May 8 to June 5th.
Since 1977 Lydia Lunch has been offending sensibilities with her relentless and unfiltered challenges to sex, gender, politics, religion, war, technology, consumerism, the arts, the media .... you name it, no institution has been spared. Known in the '70s and '80s New York underground art scene as the provocateur's provocateur (she once told a TV interviewer that she didn't want people to buy her book - she wanted them to steal it), Lunch makes most gadflies look like sell outs in comparison.
Lunch left New York in 1990 and has since been living and performing around the world, focusing most of her projects in Europe. True to her seemingly chronic contrarian condition, right as the exodus of New York's artistic class is almost complete, Lydia Lunch reappears just in time to rip New New York a new one...and give what's left of New York a little relief. As the great composer and instrumentalist Weasel Walter put it, "Lydia Lunch is what New York once was."
With Lunch's new photographic exhibition and installation launching in the East Village I sat down with the iconic New York underground No Wave performer to talk about her new show, as well as some of her other favorite topics, like hedonism, pleasure, the Disneyfication of New York, and whether it's possible to see the big picture while looking at a tiny image on a device.
CLN: What is So Real It Hurts?
LL: The show consists of three parts. The War Is Never Over is a series of photographs that strives to make something beautiful out of the horror of America's unending export of war. The juxtaposing of women's and children's faces with artillery, weaponry, and the detritus of warzones and ghosts towns puts a face on the tragedy we read about, but as Americans never have to really witness.
The installation You Are Not Safe In Your Own Home deals with personal trauma bonds...why severely damaged people are so attractive to us, to each other. The room is littered with the pornography and poetry, the brutality and beauty that came out of a specific relationship. The show also includes archival posters and ephemera from my personal collection, which is one of the reasons I am back in New York -- to organize and place my archives.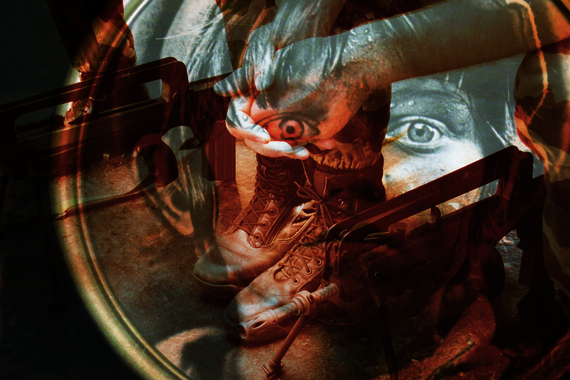 Casualty, from Lydia Lunch's So Real It Hurts photographic exhibition, The War Is Never Over
CLN: Why So Real It Hurts?
LL: I'm dealing with the things that pain us most and giving voice to those who can't scream out for themselves. It addresses the victimization of the other, the outsider, the neglected and the abused. Like all my work, So Real It Hurts is about the trauma zone where many of us live.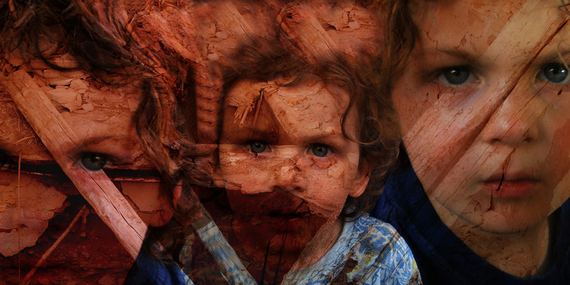 Collateral Damage, from Lydia Lunch's So Real It Hurts photographic exhibition, The War Is Never Over
CLN: Why did you decide to come back to New York now?
I left New York in 1990 before it turned into Disney. I'm here now for the people who still remain who know what this place once was. That's in part what I wanted to do with So Real It Hurts. Coming back now just feels right.
CLN: Who is your New York audience today?
LL: To sum up an audience is to insult the individuals who are there. Anyone who comes to me comes for the comfort that I can bring them. My work is for people who aren't afraid to go into the deepest corner of their obsessions, who need to understand and exorcize their demons, and the horror of it all. To break it down it's almost always the most sensitive, the shy boys, the weirdoes, the non mono-gender, the outsiders who come to me.
CLN: You mean the archetypal old school New Yorker.
Absofuckininglutely.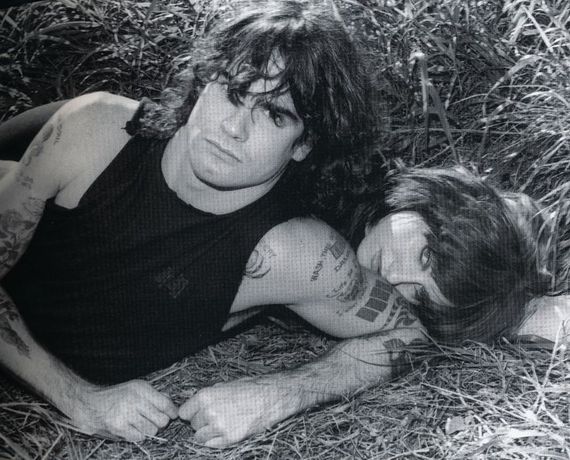 Lunch with co-conspirator Henry Rollins, 1984
CLN: Tell me about Howl! Happening.
Howl! Happening is a new space that presents exhibitions and stages live events that showcase the historical legacy and contemporary culture of the East Village and Lower East Side. It's also dedicated to preserving the archives of artists who spent their creative lives working in the community. Jane Friedman, the founder of the Arturo Vega Project, has a long history supporting of artists and musicians in the area. She's fearless -- obviously since she's supporting my first full exhibit in New York - so it's the perfect fit.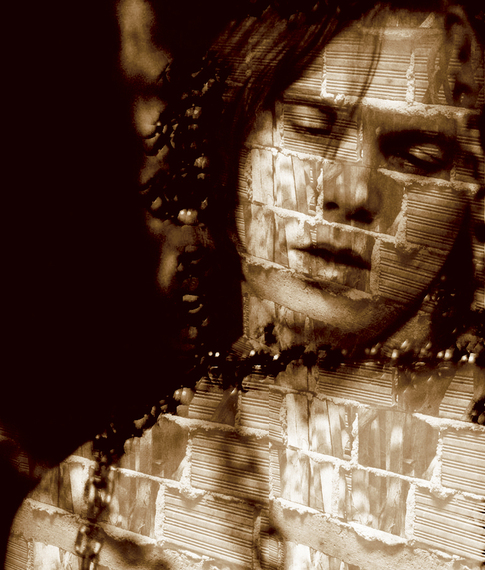 Saint Bobby, (Vincent D'Onofrio) from Lydia Lunch's The War Is Never Over
CLN: You are considered an icon of the No Wave movement in the '70s. It's safe to assume that recent arrivals to New York would not know what No Wave is. How would you describe it?
LL: No Wave was a movement that began in and ended in late '70's New York that included filmmakers, visual artists, photographers and musicians working in close community with each other to create art and music that was brutarian, dissonant, challenging, and had no concern with the audience's expectations, but were utilizing a collective scream to illustrate the nightmare of a city under siege. The music was harsh, the films were intense. New York was undergoing a crime wave of unparalleled proportion. The 60's failed. We were the bastard offspring of Taxi Driver, The Vietnam War, Nixon, the Kennedy assassinations and the bankrupting and unbelievable corruption of a city on the verge of collapse. No Wave happened out of a very creative time that rebelled against tradition of any kind.
CLN: A lot of artists - even hardcore ones - tend to get soft or sell out when they get older. You haven't done either. Why not?
LL: I always imagine myself as the town crier... a lone wolf on a hill with a bullhorn screaming into the void. While I have sophisticated as I've gotten older, my intensity has not diminished. That's because the truth is not a popular commodity to be bought or sold. And nobody is trying to buy me because they know I'm not going to accept their bullshit. They can look in my face and know that they can't control me. Don't get me wrong - I want the enemy's money so I can continue insulting the corporate cabal. When they buy you you have to create the same crappy thing they want you to over and over and at a pace they control. And the only reason anyone would buy me out would be to shut me up. I have to be the scream for many people, so it ain't gonna happen.
CLN: You were a multi-media artist decades before that term existed. Do you consider yourself a performance artist? How do you categorize yourself?
LL: I am a conceptualist. The concept always comes first, the medium comes second, followed by whomever I need to collaborate with to achieve that goal. I'm a minimalist. I strip away the artifice. Performance art tends to exaggerate it. I consider myself a hysterian. I deal with hysteria on a historical level. The repetition of extreme events and behaviors, our genetic predisposition to mania.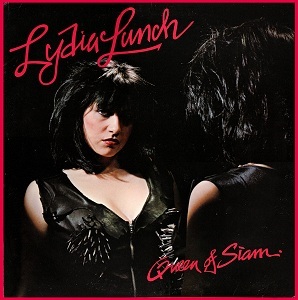 Lydia Lunch's cult No Wave / Big Band / Jazz Noir album, Queen of Siam, 1980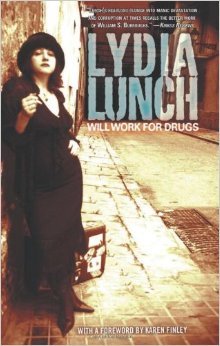 Lydia Lunch's 2009 anthology Will Work For Drugs
CLN: This is your first photographic exhibition in New York. Are you leaving behind spoken word?
LL: I always utilizes different formats to speak about the extreme state of our present condition on a planet that is spiraling out of control. This exhibition has not replaced spoken word for me -- it's just using a different language.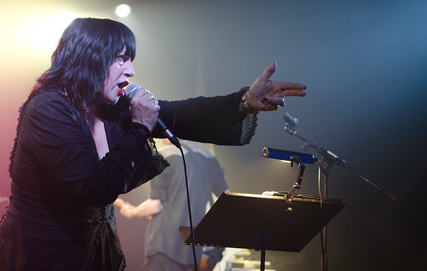 Lydia Lunch performing live
CLN: What do you think about New York today?
I think it can be great again.
CLN: What makes you think that?
LL: Because of the people who are still here.
CLN: Do young people who are here today have reason to go see So Real It Hurts?
LL: There are a lot of young people at my concerts. They are fed up with cultural bankruptcy, with the uprise of idiotic reality TV, obsession with celebrities who are famous for being famous, lousy over-produced pop pulp crap...they're looking for something real. They are dissatisfied with their own generation - which would rather sit and post bullshit on Facebook then get out and actually do something.
CLN: Did you ever think you'd be this age and still on the vanguard?
LL: When I began writing at 12, I thought there was a hole in literature and music and that somehow it was my calling to crawl in there and begin dissecting issues from a female perspective. I didn't think I'd live to see 30; no one from my generation did. I don't think in terms of legend, icon or vanguard. I do what I do, and I always knew my job was to shit in the face of history.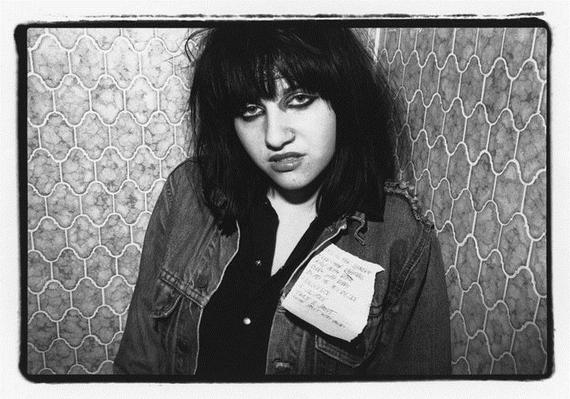 Lydia Lunch, 1980
CLN: You're pro pleasure. You've said for decades that pleasure is the ultimate rebellion. Where do you think we are with pleasure today?
LL: As a full blown hedonist I would say we need a hell of a lot more of it. Pleasure is the first thing they steal from us when they try to kill off our individuality. We need to get back to intimate experiences and intimate relationships instead of gluttonizing on the latest technological commodity. Reclaiming your pleasure and capacity for it brings power back into yourself - it fills the void made ever more expansive by America's lust for death and blood. And the soul numbing distractions of the latest consumer devices.
CLN: What would you say to the average technological glutton?
LL: Stop buying crap! They've bred you to be nothing but a consumer. Get back to basics. Real experience. Not false knowledge. Technology has reduced your vision from being able to focus on the big picture to zoning in to an image smaller than a playing card.
CLN: What are your other new projects?
The new RETROVIRUS album Urge To Kill with Bob Bert of Sonic Youth, Tim Dahl and Weasel Walter is out the second week of May. It's a retrospective of my musical schizophrenia from Teenage Jesus forward.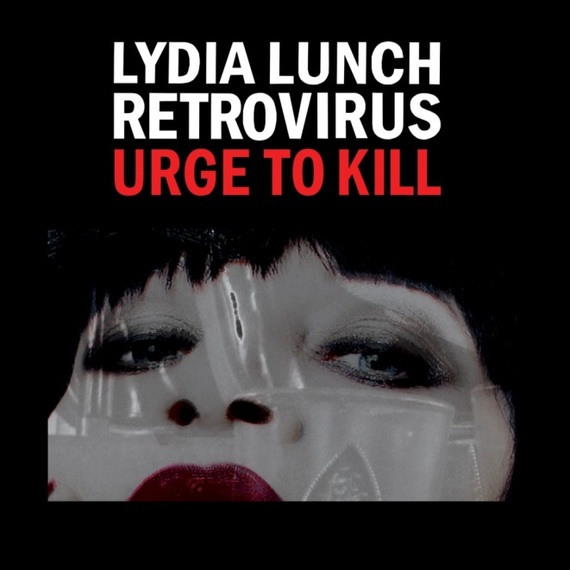 I just completed a workshop for women writers in NYC titled From the Page to the Stage. I'm teaching at the Jack Kerouac School of Disembodied Poetics program at Naropa University in July. My 1990 Spoken word record Conspiracy of Women is being re-released on its 25th anniversary by Nicolas Jaar's label Other People in May.
And I'm organizing my vast archives, which include all the writing; the released or unreleased live and recorded spoken word and musical performances; personal correspondence; posters; and ephemera, all of which I'm looking to place at the right institution.
I'm also touring relentlessly causing as much trouble as possible and having a good time doing it.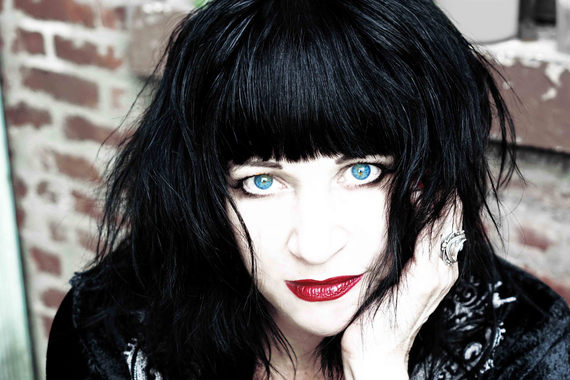 Lydia Lunch 2015, photograph by Jasmine Hirst
CLN: Have you moved back to New York?
When someone gives me a free apartment I will!
LL: Do you feel the need to live in New York again?
I wouldn't say I need New York, but I would say New York needs me.

Howl! Happening:
6 East 1st Street / 917.475.1294