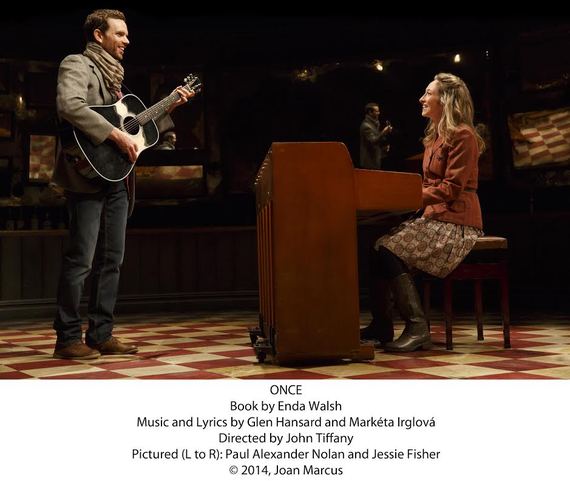 I had heard that the Broadway musical Once set in Dublin and about love in a pub had posted its closing date for early January, 2015, but I was still surprised to see a Wednesday matinee performance pop up on one of the discount theatre ticket websites.
The show is based on the 2006 low-budget Irish film that won its composers, Glen Hansard and Marketa Irglova, (who also starred as the down-at-heels troubadour and the Czech immigrant who inspires him), an Academy Award for Best Original Song for the plaintive ballad "Falling Slowly". The Broadway production won eight Tony's including Best Musical in 2012 and has a cast of thirteen, (plus a wee little lassie), all of whom diddle with a fiddle, or a guitar, mandolin, uke, cello or a piano, concertina or accordion.
So, I rushed over to the Bernard B. Jacobs Theatre on 45th Street for the 2pm curtain as I hadn't gotten a chance to see the show when it began downtown at the invaluable New York Theatre Workshop on East Fourth Street or during the current Broadway run both directed by John Tiffany with a sprightly, quirky book by Edna Walsh.
I was worried that the subway wouldn't get me there and was in that sweaty New Yorker trance urging the train onwards underground, but my friend and I got there with five minutes to spare and walked to our rear orchestra seats in the maybe three-quarter-filled theatre as the performers were already making tuneful merry as the houselights dimmed.
Although the original leads, Steve Kazee and Cristin Milioti, are long gone, Paul Alexander Nolan and Jessie Fisher were both charming and in excellent emo voice as "Guy" and "Girl" but this show is a true ensemble piece with each actor inhabiting a likeable and clearly-delineated role and all of them on stage more often than not for the show's swift two and a half hours.
Actors in long-running shows have to learn how to conserve their energy and it's impossible to retain the electric dynamism of a show that's just opened to rave reviews. Sometimes towards the end of a successful run, even the tightest show can feel a little slack, or a mesmerizing performance or star turn a tad rote.
It's great though when, as here, familiarity makes the performances grow heartier, and more comfortable, like a favorite flannel shirt you've loved and washed a few hundred times. Kudos then to the seven original cast members who've been with the show since its first preview and are clearly still enjoying themselves and the tender, winsome tale they are telling. They deserve mentioning: David Patrick Kelly, Anne L. Nathan, Lucas Papaelias, Andy Taylor, Erikka Walsh and J. Michael Zygo.
My companion, clearly enthralled by the immediacy of the music and the charm of the story, said at intermission "This is a musical, not just a Broadway musical." I know what he meant. Performances run through January 4th, if you haven't seen it, you should, it's a tender treat.