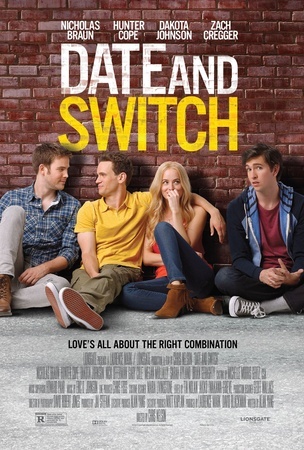 When film director Chris Nelson was in high school, he wasn't out as a gay person, but he did have the fashion sense that's just innate. So when he came to class one day in a really "stylish, pink, paisley sweater," he wasn't prepared for the ridicule it occasioned. But now he's a handsome, out gay director with a smart, funny and tender teen-bromance comedy coming out from Lionsgate on Feb. 14, Valentine's Day, so suck it, high-school haters!
I spoke with Nelson recently about the new film Date and Switch, written by Parks and Recreation writer Alan Yang. In it, two guy besties make a pact to try to get laid and lose their virginity before the senior prom. But with the pressure on, Matty (Hunter Cope) decides to come out to Michael (Nicholas Braun) as a "gay dude."
Matty's no showtune-spouting, pectorals-as-big-as-dinner-plates gay male stereotype; he's just gay. Michael, though, struggles to adjust to this new wrinkle at a time when everything else in life, like for most teens looking adulthood square in the face, is already swirling with uncertainty all around him.
College? Love? Always a nerd? Ever happy? All that's a lot for any kid growing up fast, and the sense of betrayal, warranted or not, can really hurt when things "aren't really what they seem," Nelson says.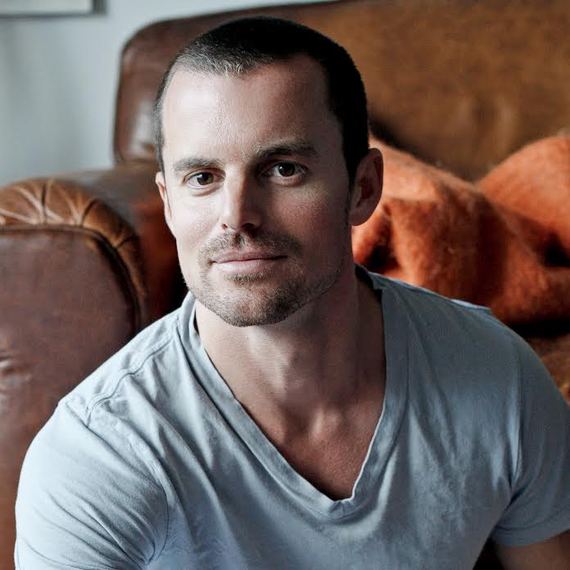 Date and Switch director Chris Nelson
"I was always a fan of younger-person films," he says, specifically naming films like Fast Times at Ridgemont High and those of director John Hughes, films that were able to show teens themselves in a way that felt real while also reminding older people of what it was like back then. He noted that his favorite director, Pedro Almodóvar, presents his characters in such a way that they "didn't fit in any box," adding that the characters couldn't be reduced to cartoonish stereotypes.
In Date and Switch, Matty's news begins to set off shockwaves in his and Michael's ongoing relationships with their exes (the upcoming Fifty Shades of Grey's Dakota Johnson and Modern Family's Sarah Hyland), and in each of their families, as the people closest to them try to understand, be supportive, and figure out what the shift will mean for all of them.
Michael's guy-guy father (Gary Cole) says to his wife (Megan Mullaly) when they are attending a school pageant that accidentally gets a little racy, "Can't I just go see a nice musical without it turning into something gay?" Yang's script was a hot property as it was circulating in Hollywood a few years ago for the fresh, smart dialogue that seemed to capture both our bewilderment at change and all the zing and ludicrous inanity of how young people talk these days.
"The audacity of Alan's script," Nelson says, "was in writing Michael as more stereotypically gay characteristics than Matty. We've seen this story, but never this take on it. As a gay filmmaker, you think about how to tell these stories and how it could play out with audiences across the country. Will people get offended at something? Will people feel that some portrayal didn't do enough?" Nelson decided that his North Star would be his sense of doing all he could to "stay true to the characters" and trust that they would resonate with audiences.
Nelson told me that Yang took some inspiration for the script from an experience of his own in high school. Nelson, too, had a male best friend back in those days. "When I came out later," he told me, "we didn't stay close."
He hopes that Date and Switch, in addition to being a touching, laugh-out-loud experience for people, "will be part of the conversation" in our culture about how such cultural shifts are represented in our entertainment. He was pleased that Megan Mullaly, who played Karen Walker on the groundbreaking Will & Grace, is part of this film, along with the actress who plays the fiery daughter on the more recent Modern Family, Sarah Hyland.
Nelson hopes the movie shows young people today as they are: "super-fluid, hard to label."
Just as a joke, as we were finishing up the interview, I asked Nelson to choose which of the Disney princesses he feels he most relates to. He paused and thought, and then he said, "Well, definitely not the Little Mermaid. She hasn't got a voice!"
Date and Switch gives voice to the vibrations that are set off in all of us as each of us tries to discover our identities and learn to sing our own song.
CORRECTION: A previous version of this blog post conflated separate comments by Chris Nelson about Pedro Almodóvar's films. It has been updated accordingly.