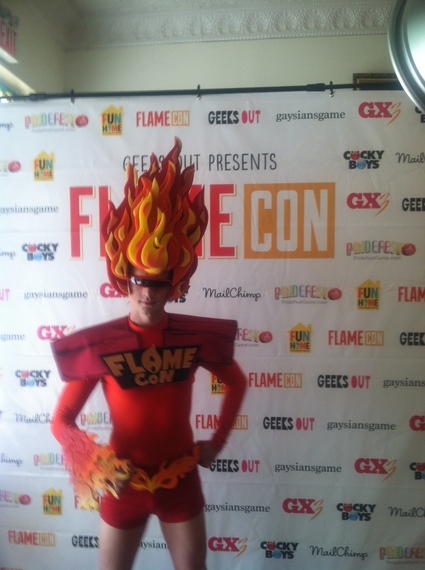 ("Flamie," the mascot for the first FLAME CON in Park Slope, Brooklyn. Photo by Christopher Murray.)
In Park Slope, Brooklyn on a recent Saturday this June, a picture perfect summer day started early with a speedy bicycle race around Prospect Park. Later the Pee Wee League was swinging at everything at Our Lady's Field, and in mid-afternoon, neighbors in floppy hats and gloves were happily pruning and chatting at the 6/15 Green Community Garden underneath the shade of a massive weeping willow.
Little did Gotham's unsuspecting outer-borough denizens realize that mere blocks away, just down the slope on Prospect Avenue, a dignified Victorian catering hall was transforming itself into a host for hundreds of fabulous queer superheroes and itself into a newfangled 21st century kind of edifice, able to name its own preferred pronoun thank you very much, and announced itself as out, loud and proud to have its two balconies plastered in shades of pink and green pastel, dammit. The Victorian-era banquet hall had nearly had a massive identity crisis, not realizing how gay and geeky it was all along, but is going to be just fine. It's a new day in Brooklyn.
Well, the Grand Prospect Hall didn't really twirl around like Diana Prince becoming Wonder Woman and rebrand itself as a queer sci-fi fan, but it really sorta felt that well as the 1892 French Renaissance-style banquet hall played host to the first ever "Flame Con," a one-day exhibition of queer-centric gaming, sci-fi and all around nerdy and/or gender nonconforming sorts of fan stuff, presented by Geeks Out, the popular queer comic and gaming world social group founded in New York in 2010.
If that sounds sort of like your Grand Aunt Gertrude dressing up in a latex pantsuit and making out with some hot twentysomething lesbo hipster chick from Williamsburg, you're probably as clueless as most of Park Slope's citizenry were. But it was really fun with hundreds of attendees and scores of exhibitors presenting their wares, art and creative output. Besides the vendors selling their gay geegaws, tranny Tees and Spock-erotica, there were tables with authors, comic book artists and game developers showing off their stuff, as well as workshops and performances. There was even a gaming lounge hosted by GaymerX , the convention focusing on queer gaming that will take place for its third year in San Jose in December. To tell the honest trust, it felt like I had waltzed into a hybrid model of the multicultie cantina in Star Wars and a gay porn flick.
Press materials described the event as "one-day comics, arts, and entertainment expo showcasing creators and celebrities from all corners of LGBTQ geek fandom, including comics, video games, film, and television". It coincides with June Pride Month festivities throughout the five boroughs which culminate in the big Gay Pride Parade in Manhattan each year on the last Sunday in June.
The event is a local spin off of the gargantuan Comic Con and sibling to events like 2013's "Bent Con" in Burbank, California. Gaming has always attracted a diverse audience and God knows there are no fans like gay fans of everything from Harry Potter/Draco Malfoy so-called "slash" erotic fan fiction, the well-established gay Anime culture, even the cults of fandom surrounding that cute young Hannibal Lecter, Sherlock Holmes and Dr. Who. But haven't video games always been violent, sexist and homophobic? Well, yes, as violently illustrated by last year's spat of death threat targeting appearances of feminist cultural critic Anita Sarkeesian who has been an outspoken critic of the video game industry's entrenched stereotyping of its female characters.
But the times they are-changing. Just two months ago, the Mortal Kombat franchise introduced its first gay character, Kung Jin. And the cultural at large's recent crash course in transgender studies has been incubated by niche communities, in this case like queer game developers and gay publishing houses that specialize in special interest subjects like gay romances that are finding larger and larger readerships, and not just among members of the lesbian, gay, bisexual and transgender community. It's an exciting time and "Flame Con" harnessed a lot of that enthusiasm and good energy a the day long event that was followed that evening by a "Flame Ball" with dancing, burlesque performers and other entertainments.
The first event of the day was a dramatic reading of a scene from the X-Files, but I couldn't hear it very well and was distracted by the seven-foot Star Wars stormtrooper whose white body armor had been tastefully updated to include a sheer white mini, elbow-length white silk gloves, and, on top of the helmet, a tasteful black beehive wig with a silver bow. Take that, Darth-floor-length-black-opera-cape-Vadar!
Speaking of capes, author Tere Michaels, has fifteen published titles, including "tales of cops coming out later in life and a gay superhero in post-apocolyptic New York," many available from gay romance publisher Dreamspinner Press, told me how she brought her eight-year-old son to Comic Con several years ago and they hung out with the Geeks Out crew who were giving out capes that year. The boy went gaga over his queer cape and mom asked him "You know what this means, right?"
Her son is 15 now, but "that cape is still hanging on his wall," she said. Michaels has seen queer publishing come into its own and dovetail with the expansion of the gaming world to minority groups like people who identify as queer. She herself identities as bisexual, she told me.
Last summer's Comic Con in Anaheim boasted the first ever all-trans panel at a Comic-Con, according to a post called "The Gay Girl's Guide to Comic Con" on AfterEllen a year ago, but clearly its an idea whose time has come to the rarified world of gaming as much as to the rest of our more earthbound culture. Tere Michaels told me that at Book Expo last week, librarians from around the country were gobbling up trans-themed titles from queer publishing houses and that when they attended the Texas Library Association conference recently, Dreamspinner Press distributed every single book they brought. In. Texas.
Even though the event represented some intense and swiftly-moving cultural changes, the atmosphere was light-hearted, friendly and fun. After all, people were there to celebrate fun stuff that they identify with and hang out with others who share their enthusiasm, whether just as fans, or as creators.
Twentysomething comic book creators Raheem S. Nuamah, (writer) and Jorell Rivera, (illustrator) tabled at the event, selling their newest comic book called "GO ROBO NOW!" about a boy who becomes a superhero robot. They said they hoped the event would help audiences hear about their collaboration. (www.gorobonow.com)
"We hope we make a lot of sales," of their comic book, said Nuamah, "but we are also here to commune with people and hopefully get some feedback on our work, too!"
In addition to the tabling, there was going to be a Costume contest later in the afternoon before an evening dance, but to tell the truth, sartorially speaking, chunky-framed glasses and hairy legs in shorts, sported by all genders, were the uniform of choice. But I also saw plenty of eye candy of all genders. Turned-out sexy spacekittens included a shirtless gladiator with a sci-fi companion in foam-spiked leather jacket and boots, and a Wonder Woman of Color in motorized scooter. There were also many representations of colorful characters I being over 45 years of age could not identify but most of whom seemed to congregate near the Hall's restroom lounges.
Leading the way though, was the event's mascot, Flamie, which debuted at the last NYC Comic Con to help promote Flame Con. Flamie was being embodied for the early shift by a Geeks Out board member named Blair, 27, who told me he had to "make serious adaptations" to the costume which included fire-engine red GoGo pants and a skin-tight lycra top. "It was designed for a much taller guy." The two-foot tall flaming head piece fit just fine.
Flame made me wonder if "Flaming June" the famous Victorian portrait by Frederic Leighton that arrived for a summer visit this past week at The Frick Collection (June 9th through September 6th) might feel upstaged and oh-so last century as I imagined the Grand Prospect Hall to?
The two could commiserate with the rest of us outmoded models, but for the record, the mostly early-twenties black tuxedo'd catering staff of the Hall had wary smiles pasted on their faces as things got under way. But soon, they, too adapted to the specific gravity of the polymorphous perverse, the-future-is-now atmosphere. One young woman of 21years who was wearing shiny silver braces and deep purple nail polish with her tux told me that "Yeah," the event "was a little weird," and certainly different from the standard weddings and fundraisers she was used to. "But in a good way?" I asked her? "Yeah," she said smiling, "in a good way."