To celebrate National Mentoring Month, Techbook Online Corporation -- in partnership with GoodMenProject.com, The Dr. Vibe Show and the Southeastern Pennsylvania CARES, an affiliate of the National CARES Mentoring Movement -- launches a two-month campaign to improve media coverage and public perceptions of African-American men and boys.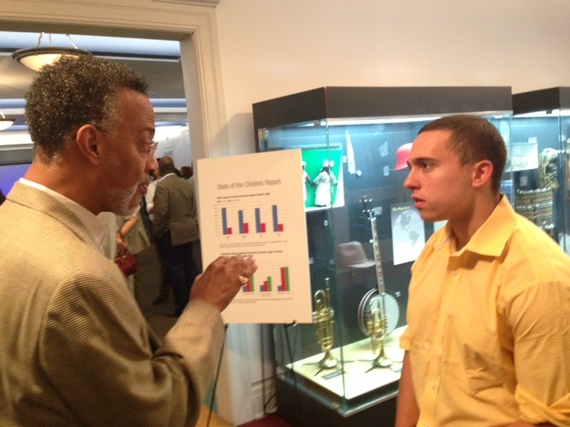 BMe Leader Thomas Butler talks with Echoing Green Fellow Khalil Fuller during the opening of "A Gathering of Leaders Conference" last year in Detroit.
As promised, the New Year has brought new narratives for inspired black men. A major collaborative effort to highlight the important dimensions of black male lives, such as: mentoring, fatherhood and community leadership has become the priority for media and nonprofit organizations across the globe this month; its impact is being seen in real-time.
As a result of Techbook Online's open call for impact stories from black male mentors -- which runs from now until January 31st - black men and boys from around the country - many who populate BMe -- have submitted stories that are unapologetic, unashamed and until now, never made it to mainstream media.
An inaugural member of the Philly Roots Fellows, award-winning author Joshua Rivers last week penned a brutally honest piece about how being tormented made him a mentor. In the article, Rivers describes finally gaining the elder male validation he so desperately wanted, only to find out it came with consequences that would nearly destroy him.
BMe Leader Alex Peay, who was also a part of the first class of Philly Roots Fellows, wrote about how he received the shock of life last week when he discovered -- during a conversation with his mentor, Trabian Shorters, CEO, BMe -- that there wasn't much data available on black male mentors.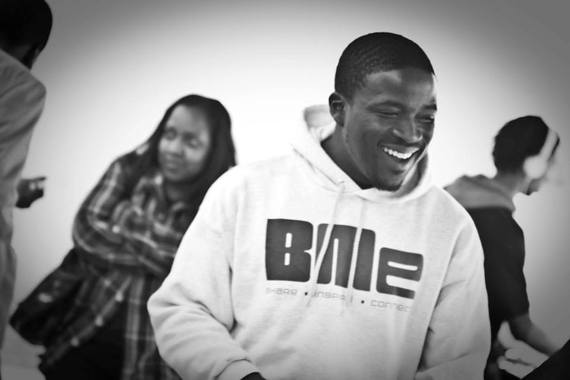 Peay recalls in his article searching the term "black male mentors" only to be disappointed that there wasn't any relevant content available. As the leader of his own nonprofit organization, Rising Sons, and the local director for BMe in Philadelphia, Peay knew that the internet headlines that said black men don't mentor was a lie -- he was determined to tell the truth. I informed Peay over the weekend that now when you google the term: "black male mentors," his post, "The Truth About Black Male Mentors," appears on the second page of the world's largest search engine.
As a matter of fact, at any point last week you could've visited GoodMenProject.com -- an idea-based social platform centered on modern manhood -- and plastered on the front page were images of inspired black men who give of themselves daily to improve the life outcomes of African-American boys in inner-cities. As fast as Techbook Online could receive the stories, GoodMenProject.com published them; together, we began writing an end to one of the world's toughest problems.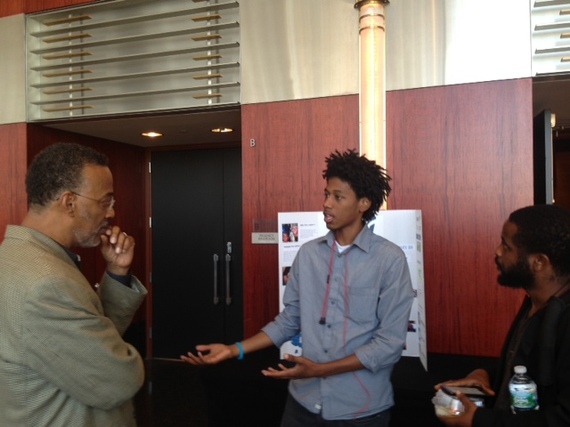 BMe Leaders Thomas Butler and Russell Hicks listens to a young black male shares his dream and ambitions during the reGenerate Philly Summit, convened by Mobilize.org.
Aligned with their goals of recruiting and connecting mentors to local youth-serving organizations, SEPA CARES -- an affiliate of the National CARES Mentoring Movement founded by former Essence editor-in-chief, Susan Taylor -- upon learning of Techbook Online's efforts to publish a special edition Techbook in February that features all of the stories collected from black male mentors throughout the month of January, offered to not only assist in gathering narratives from their networks, but has agreed to host the official launch of The Black His-Story Book: A Collection of Narrative from Black Male Mentors, on Saturday, February 8th, 2014, at Arcadia University's (450 S Easton Rd, Glenside, Pa) Easton Hall, Rm 242, beginning at 10 a.m. -- the event will include a presentation of certificates to all the Philadelphia-based mentors who've submitted stories, as well as provide an opportunity for those persons who either want to be mentored or be a mentor to connect with the appropriate resources.
Winner of a 2012 Black Weblog Award for Best International Blog, The Dr. Vibe Show, a podcast for black men and those that love them, will be conducting a number of one-on-one interviews with black male mentors whose stories have been published. B.O.L.D member Rashaun "DJ Reezey®" Williams, the youngest BMe Leader in Philly, will be the first guest on the show, which broadcasts live from its headquarters in Toronto, Canada. A self-proclaimed actionist, Williams, 19, who in his article wrote about not realizing he was being mentored until he saw the impact he was having on other's lives, can be heard across the globe this Wednesday, January 15th, at 9 p.m., telling the truth about African-American men and boys.
My point for sharing all of that was this: we have it within our power as a society to topple barriers to equal opportunity for everyone, including African-American men and boys, who often face steep obstacles and inaccurate depictions in the media, which can affect self-perceptions and lead to diminished self-esteem.
Despite the word on the street, African-American men and boys are not problems that need to be solved, they're assets and everyday they're working to build strong communities. It's our job at Techbook Online to make sure the world is aware of these stories; among others of issue, impact, inspiration and innovation.
Do you know a black male mentor whose story is inspiring and worthy of recognition? Encourage him to submit his impact story to cnorris@techbookonline.com today!
For help on crafting a story, try using the public narrative framework. You can download a guide HERE.
Thanks for reading. Until next time, I'm Flood the Drummer® & I'm drumming for justice!