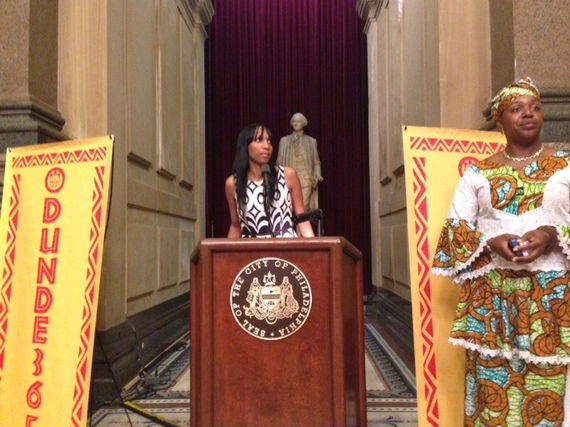 (Photo Credit: C. Norris - ©2013)
Odunde CEO OshunBumi Fernandez says the best way to "Share Philly" is to share responsibility.
The CEO of a world-renowned cultural organization that attracts up to 500,000 attendees with their annual summer street festival, is beating the drum loudly to let the world know they're more than just one day of fun in the sun.
Recently named by the Philadelphia Tribune as one of the top leaders in the city, OshunBumi Fernandez, touting a MBA from Lasalle University, is transforming her mother's vision into a globally recognized nonprofit organization, which provides youth with cultural programming year-round.
"I got tired of people saying it was just a festival," explains Fernandez, who admits she's doesn't take it lightly when people minimize her mother's efforts by labeling it just a street festival. "I wanted to create something my kids would love, something that they could carry on."
Bumi's mother, Lois Fernandez, established the festival in 1975 with 100 dollars gathered from neighborhood donations. Similarly, in October of 2011, Bumi received a generous donation from Rahim Islam, CEO of Universal Companies, to start Odunde 365, and to pilot their programming in their South Philadelphia Charter school.
"I will forever be grateful to be Rahim Islam for believing in the vision," she interjects.
(Photo Credit: C. Norris - ©2013)
"I think it's imperative that organizations like Odunde carry on the legacy of our culture," says Duane Wilkins, CEO, Messiah Danceworks Productions, a Philadelphia-based performing arts organization that occasionally teaches African dance and African drumming at the Marian Anderson recreational center during the Odunde 365 Saturday afternoon classes. "Part of the problem in our community is that our kids don't know who they are and where they came from. Every other culture has a ceremonial activity that instills racial and cultural pride in their youth. For so long, our race has been devoid of that privilege. Odunde 365 is bridging that cultural gap, and I'm excited to be a partner. I think it's an amazing, and innovative idea to share the values of Odunde every day of the year through hyper-local programming."
Before becoming a fierce nonprofit leader and entrepreneur -- owning B.U.M.I. Productions, an event planning company who's clients consist of PECO Jazz and Welcome America, to name a few -- Fernandez worked for the City of Philadelphia in the Department of Recreation for 10 years, where her greatest achievement was implementing a modeling program for girls to instill self-esteem, self-awareness and discipline.
"When I was running the program, we had such great participation; it really helped become the person I am today," shares Fernandez, who insist that the "life we live is more than just about us."
While thrilled with the 90% of parental engagement she had in her modeling program, Fernandez shares that there were a handful of children who didn't have anyone supporting them, "no one cheering them on," she says, melancholy.
Parental engagement is everything to Fernandez. She recalls many memories with her mother and says: "My mother is everything I am."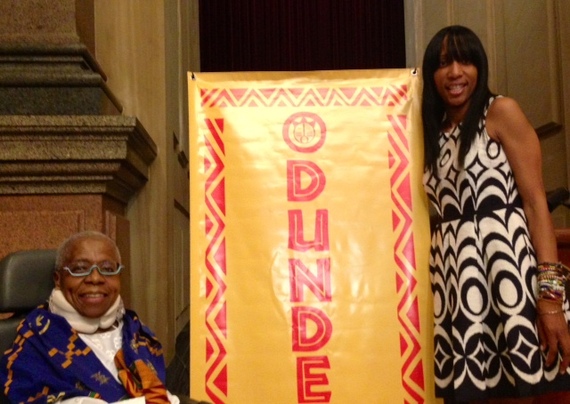 Lois (L) and Bumi (R) Fernandez poses for a picture at an international celebration at Philadelphia's City Hall. (Photo Credit: C. Norris - ©2013)
"I attended every meeting my mother had with every mayor and every councilperson. After awhile, leading and doing became as natural as breathing. I was blessed to fly under the wings of a lot of powerful women," she says.
Now in nine schools and two recreational centers, Odunde 365 shows no signs of slowing down. The organization is currently partnering with Pennsylvania Hospital to study the effect African drumming has on individuals with Parkinson disease.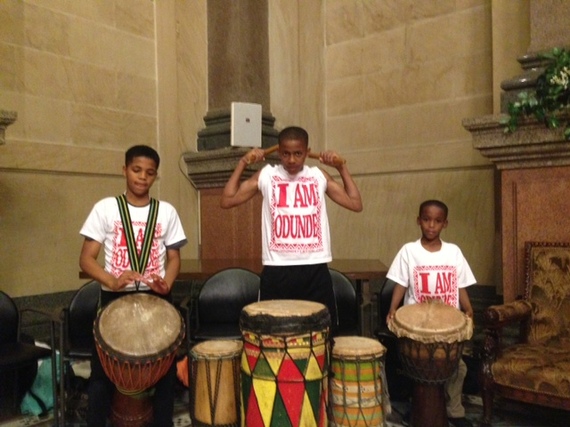 (Photo Credit: C. Norris - ©2013)
During the interview, Philly Roots Fellow, Isaiah Thomas, the youngest democratic City Council candidate in the history of Philadelphia, asked Fernandez what she thought about organizations uniting to purchase a big school building like William Penn or University City High School, and turning it into a "recreational super site" that services and engages hundreds of youth at a time.
Fernandez responded gleefully, stating that's a wonderful idea, then quickly reverted back to her values on parental engagement, saying:
"I think a recreational super site would be an awesome idea. It could house resume and skill building classes, basketball tournaments; the possibilities are endless! Having the providers in one space would be a sight, but what would be more impressive is having parents proactively seek out activites for their kids. There are plenty of things to do in the city, but parents have to get up, get out, and go find them!"
In addition to parents being accountable for exposing their children to meaningful programs, the mother of two says there's a role for the elected official to play in promoting engagement.
"Community leaders and politicians should be able to co-exist in a manner that would allow the elected officials to leverage city resources, database and information channels -- like social media -- to promote different community events that are happening around the city. But it's all in how we communicate with each other. Everybody has an ego, and everyone wants to be important, but there shouldn't be competition when it comes to saving lives and building community."
Making a difference in children's lives is something that Fernandez believes most people want to do, but are mislead to think they need lots of money to do it.
"You don't need to spend money to have an impact, you have to spend time. The time that you spend with youth, the wisdom that you impart in them, will dramatically improve their quality of life. I've sacrificed paying myself to make sure the programming can continue; I don't chase the dollar, I chase the dream."
Remembering great active citizens like Ms. Caroline White and Mr. Edgar Brown, who taught her a lot about recreation, leadership and service to the community during her time with the Department of Recreation, Fernandez suggests to best way to "Share Philly" and scale impact is to share responsibility.
On December 19th at 6pm, Odunde 365 will present its "I AM B.U.M.I. (Beautiful Unique Magnificent Individual)" showcase at the Audenried High School in South Philadelphia, admission is free of charge.
This article appears as part of the Share Philly series, a large-scale collaborative initiative between Techbook Online Corporation and Mature Cradle, Inc., that collects stories from community leaders who leveraged place for impact, and discusses ways that impact could be scaled through the fluid use of city resources.