Representing Heeding Cheyney's Call, lead attorney in the civil rights lawsuit against the Commonwealth of Pennsylvania, Michael Coard, to testify before Philadelphia City Council, this Wednesday, 11 a.m.
"What would 60 minutes look like without Ed Bradley?" asked City Councilman Curtis Jones, nearly two months ago on a Monday morning in mid-September, marking the 33rd anniversary of the filing of a civil rights lawsuit on behalf of Cheyney University against the Commonwealth of Pennsylvania.
In solidarity with elected officials and prominent city leaders, demanding "parity through equity" on behalf of America's oldest HBCU, Councilman Jones, standing over a podium draped with a blue and white banner of the famed institution, reminded the huddled mass in attendance that not only was the African-American Emmy award-winning journalist an Alumnus of Cheyney University, but that the school which first opened in 1837 by Quakers as the Institute for Colored Youth, also graduated Julian Abele, a prominent African-American architect who designed the Philadelphia Museum of Art.
"Cheyney has made its mark in Pennsylvania and on the history of this country; it should be given not separate, but equal funding," asserts Councilman Jones, before handing over the podium the next speaker.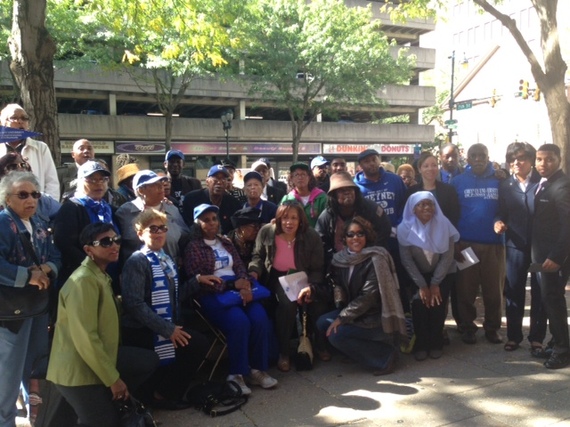 Many in the widespread coalition of students, alumni, faculty, staff and regional civic leaders that make up "Heeding Cheyney's Call," are stating that the racially inequitable funding formula is the main reason that Cheyney, an all-time great institution, now has an all-time low student enrollment and an all-time high budget deficit.
Millennial leader Malik Williams, 21, President, Student Government Cooperative Association, Cheyney University, stated:
It's not by coincidence, but by design, that the out of the 14 state schools, that the only HBCU in the system is not financially equal. Money talks, and the message that we are hearing is that the state does not care. You may not get everything that you work for, but you WILL work for everything that you get. So we fight! We fight not for what we can get today, but we will fight for what we can gain tomorrow! Cheyney University students deserve more! Cheyney University students deserve the best! Cheyney University students deserve what every other student gets and as access too; we deserve equality!
Representing Heeding Cheyney's Call, Michael Coard, the lead attorney in the civil rights lawsuit against the Commonwealth of Pennsylvania, says while equality would be nice, "it's insufficient." Coard says for years the other 13 colleges and universities have been getting 90 percent of the pie, and leaving Cheyney with a mere 10 percent. He argues that making it equal now just isn't good enough, that the state has a responsibility to make up for lost time.
City Councilwoman Jannie Blackwell, also a graduate of Cheyney University, has invited Coard to testify at a hearing concerning the funding formula, this Wednesday morning at 11 a.m., City Hall, Room 400.
(Photo Credit: C. Norris -- ©2013)