He's not like the other Popes who came before him. Pope Francis, a celebrity-like figure, has refused to live in the papal apartments of the Apostolic Palace and instead lays his head to rest in the Domus Sanctae Marthae guesthouse. He has a genuine concern for the poor and he seems to be breaking all the rules and perceptions associated with modern Christianity, particularly his welcoming nature to those who identify with the LGBTQ community.
He's an inspiring religious leader who's making headlines across faiths and communities, his presence, I'm sure, would be appreciated and forever remembered in a city like Philadelphia. Pope Francis should certainly come to the city of brotherly love and sisterly affection, but it shouldn't be on an invitation from the Philadelphia Delegation, which seems to be lead by Governor Tom Corbett and Mayor Michael Nutter, two men for whom the most vulnerable Philadelphians consider to be their enemies.
Corbett, who cut funding for public education in his state by a BILLION dollars -- which hurt Philadelphia the hardest -- and Nutter, who touts how attractive Philadelphia is to businesses while half of the city's workers live in poverty, should not be the face of a plea of patronage to his holiness. In his remarks to Pope Francis, Nutter was quoted as saying:
Philadelphia -- a microcosm of our nation and the world -- a city of opportunity realized through hard work and faith, but also one where hopes of far too many remain unfulfilled. Philadelphia is also a city of 'can do,' a city of grit, perseverance and determination not to leave anyone behind, a city that won't turn its back on those who are less fortunate socially or economically and a city that has its arms open to the world and its people.
Nutter's right, the hopes of far too many remain unfulfilled. But is quite disingenuous -- and in my opinion, inaccurate -- for him to say it's a city of "grit, perseverance and determination not to leave anyone behind." Philadelphia has left far too many people and families behind, which has resulted in it having the largest poverty rate of the 10 largest U.S. cities. The long-standing cycle of poverty is being looked at by the city in an official capacity through a program called Shared Prosperity, but in reality it's just an unvarnished attempt to persuade the many to make the best of the inevitable, it's a plan lacking the equal distribution of social control and social justice.
With so many Philadelphians -- both young and old -- needing someone to inspire them and pass on the energy of truthfulness and love, Pope Francis, again, should certainly come to Philadelphia, but his visit should not be herald as a moneymaker for the city; instead it should be orated as a potential sacred moment for a city so deeply divided to heal. And because that's not the narrative, Nutter nor Corbett should be the face of a request. But here's who should...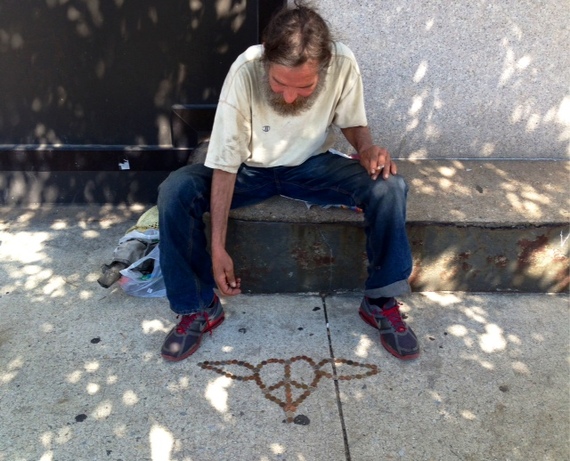 (Photo Credit: C. Norris -- ©2014)
Paul Klemmer is a homeless Philadelphian who loves drum circles in the park. When I met Paul he was making art with the pennies he had collected panhandling on the street; he was all smiles. I shared my lunch with him and he shared his story with me. He would love to meet Pope Francis, I'm sure, if just to touch the hem of his garment and share a moment of genuine love.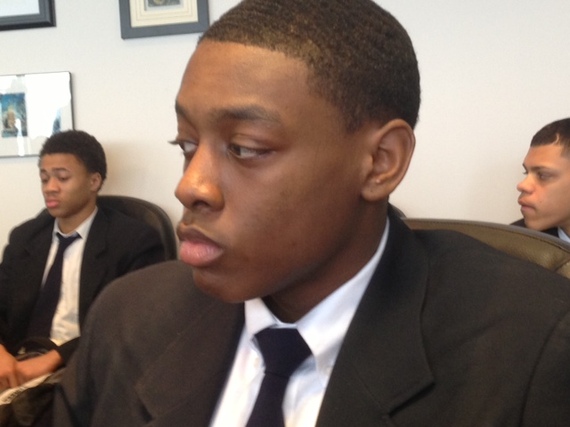 (Photo Credit: C. Norris -- ©2014)
Darrin Manning is a 16-year-old straight-A student who suffered an unimaginable injury at the hands of a white female officer... allegedly. After having emergency surgery on his testicles, Manning went to school the next day prepared to learn and wants to become a lawyer. Faced with potential academic scholarships to a wide-range of institutions, the one thing that may hold him back is the bogus charges filed against him by the embattled District Attorney. Manning got no love from anyone in city government when his story hit the press, so I'm sure a hug from his holiness and a few kind words will give the model student a reason to keep achieving, in spite of.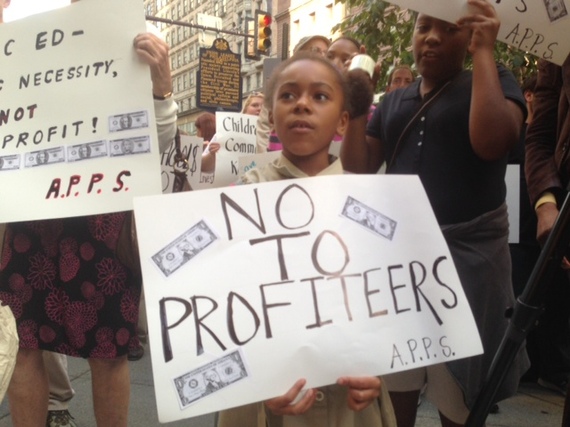 The small children, who to no fault of their own, are forced to consume a shell of an education every day, pray for brighter days. I've seen kids light up with just the tap of a drumstick, so I'm sure a larger-than-life figure like Pope Francis walking into the classroom and telling the children he loves them would quiet the inner cries, even if just for a moment.
Pope Francis should certainly come to Philadelphia. I'd love to teach him a paradiddle to two, but if he comes, he should absolutely ignore the hierarchy. It's the people who need him most these days.
Thanks for reading. Until next time, I'm Flood the Drummer® & I'm Drumming for JUSTICE!™