Continuing the celebration of National Mentoring Month, 2014 Echoing Green Search Partner, Techbook Online - in addition to collecting stories from black male mentors - co-organized a conversation between black male mentors and black teenage boys.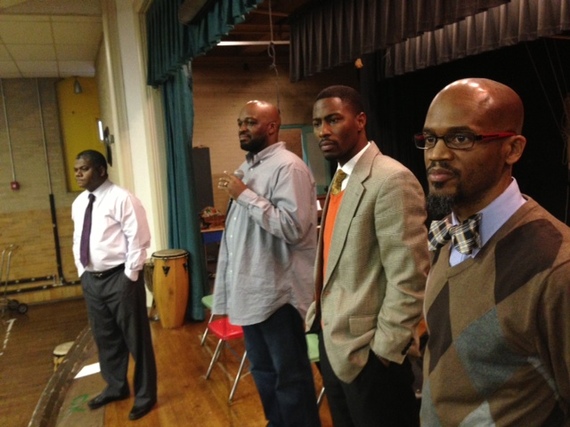 (Black Male Mentors Take Center Stage to Share, Inspire and Empower: From L to R: Philly Roots Fellows: Rueben Jones, Eric Worley, Joshua Rivers and Jeff Jones.)
The important dimensions of black males' lives, such as manhood, brotherhood, masculinity and community, were just a handful of topics discussed last Friday at Sankofa Freedom Academy, located in the Frankford section of Philadelphia.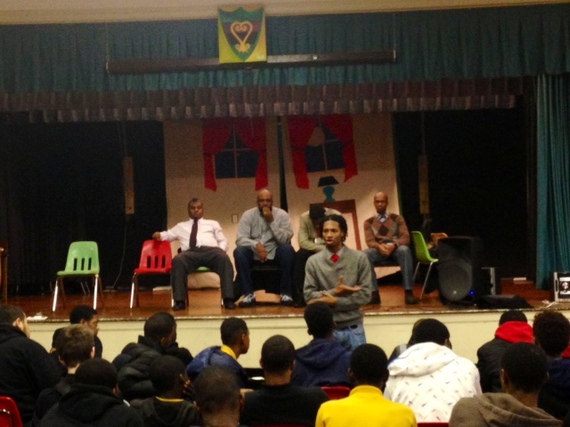 In a room full of more than fifty black teenage boys, a group of inspired black men - led by B.O.L.D member Rashaun Williams, the youngest BMe Leader in Philly - engaged the youth in a conversation that aimed to foster not only an interest in being mentored or becoming an mentor, but to encourage knowledge transfers between generations that ignite "phresh perspectives."
BMe Leader Rashaun "DJ Reezey®" Williams asks: "What is manhood?"
BMe Leader Rueben Jones, Founder of Frontline Dads, Fires up The Student Body When He Talks about the Perception of Black Males:
Philly Roots Fellow Joshua Rivers, Founder of FOCUSED International, Surprises The Group of Boys With His Introduction.
Many of the students in attendance had never been exposed to this level of discourse with inspired black men. They not only showed their appreciation by being attentive and fully engaged, but they asked for more opportunities to connect and share with black male mentors.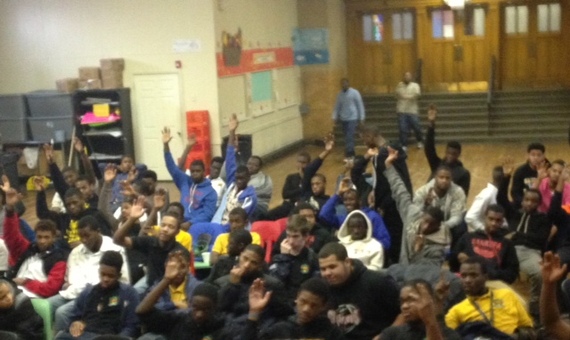 What those young black teenager boys saw last Friday is something I'm privileged to witness almost every day - black men working together to build strong communities.

Thanks for reading. Until next time, I'm Flood the Drummer® & I'm Drumming for JUSTICE!™
(Photo Credit: C. Norris
- ©2014)