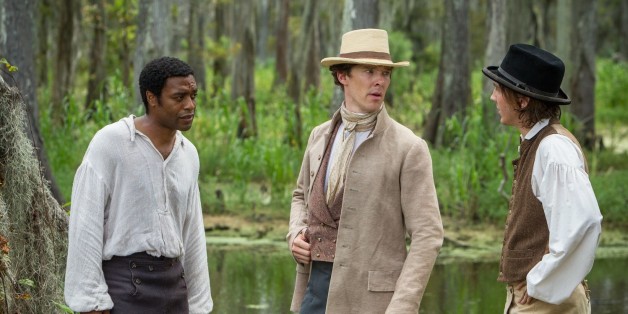 Steve McQueen's "12 Years A Slave" was one of 2013's most written about films, which is why I'm ready to write about it here in 2014.
During a recent chat with Ricky Camilleri and VanityFair.com Hollywood editor Katey Rich on HuffPost Live, I was taken to task for not having "12 Years A Slave" on my top-10 list. (I had it ranked No. 16 overall, just behind other near misses: "Her," "Blue Jasmine," "20 Feet From Stardom," "The Spectacular Now" and "Inside Llewyn Davis.") My rationale was this: Last year was a particularly strong one for feature films, and I just didn't connect with "12 Years A Slave" enough to place it above those other movies.
Then I watched "12 Years A Slave" a second time.
This film is a truly great achievement, not just because it's an important social document (which it is), but because it's just really, really good. McQueen's great strength as a filmmaker is that he makes everything look so darn easy. There's an effortless quality to "12 Years A Slave" that many other films -- about much less serious matters -- would be lucky to have. Few 2013 features felt as alive as "12 Years A Slave."
The performances, too, are exceptional across the board. (Even actors such as Chris Chalk and Scoot McNairy, in what amount to extended cameos, are outstanding.) Chiwetel Ejiofor has been rightly hailed for his portrayal of Solomon Northup, the film's lead character, but even the praise doesn't do his work justice. His is an all-time performance. Ejiofor is so subtle and striking, so good at projecting thought. Solomon is a man who has to keep his true feelings locked up for much of the film, but there's never a moment where you don't feel him; Ejiofor creates an inner monologue without the benefit of a monologue.
After the first viewing, both Michael Fassbender (as the villainous slave owner Edwin Epps) and Lupita Nyong'o (as Epps' prized slave, Patsey) really popped off the screen; there's a reason each actor is a front-runner for an Oscar nomination in their respective supporting actor and actress categories. On second viewing, however, it was Benedict Cumberbatch who made the biggest impact among the supporting players. Cumberbatch had the kind of flashy year that Hollywood often bestows on its du jour leading men (see 2012 Channing Tatum) with roles in "Star Trek Into Darkness," "The Fifth Estate," "August: Osage County" and "The Hobbit: The Desolation of Smaug" (to say nothing of his impact on Tumblr). Despite all of that exposure, however, it's "12 Years A Slave" that really shows what Cumberbatch is capable of doing.
He plays Robert Ford in the film, the first slave owner that Solomon encounters on his journey into hell. Ford seems like a good guy, except for the fact that he owns slaves and exploits the inhuman system that held an entire race of people in bonds against their will. He's a nuanced and complicated character, and Cumberbatch gets into his cracks with little fuss or flourish. With Epps, it's easy to discount him as a psychopath who behaves far away from the norms of everyday life; with Ford, he's just like everyone else. McQueen doesn't hammer away at the connections between "12 Years A Slave" and America today, but the Ford character is a reflection of the kind of blind carelessness that so many people, without even realizing it, engage in on a regular basis.
So, yes, "12 Years A Slave" is an excellent movie. If I was making a top-10 list right now, it would appear, though not at the very top. ("Gravity," "American Hustle," "The Wolf of Wall Street," "Before Midnight," "Short Term 12" and "Captain Phillips" would rate higher.) There are still things I don't love about it -- the very end feels too sentimental and easy for a film that is neither sentimental nor easy; Brad Pitt's appearance is obvious and jarring -- but it's hard to argue with anyone picking "12 Years A Slave" to win Best Picture.
About that award: it stinks when the conversation about a film gets boiled down to "Will it win?" but that's the business we've chosen; year-end films are Oscar films, and it's either play the game or get out of the way. (That's why "August: Osage County," while a very good movie, will likely be remembered as a failure. It's Oscar bait that doesn't seem to want to take.)
Much has been made -- by me and others -- about how Oscar voters might not want to watch "12 Years A Slave." That would be a titanic mistake, not to mention totally shortsighted and immature. There are difficult images in "12 Years A Slave," but it's not a difficult movie to sit through. It isn't long, it's not manipulative, and McQueen never betrays the trust of the audience by showing some grotesque bit of torture porn that would be home in the "Saw" franchise. "12 Years A Slave" is honest. It's infuriating. It will make you feel helpless. When Patsey faints as Solomon gets taken to his freedom, it will make you cry. I don't know if "12 Years A Slave" will get featured during the montage of movie history that runs during 2113's Oscars, but it will factor heavily at 2014's award ceremony. "12 Years A Slave" should win Best Picture, and it probably will.
You knew all this already. Now I know it too.