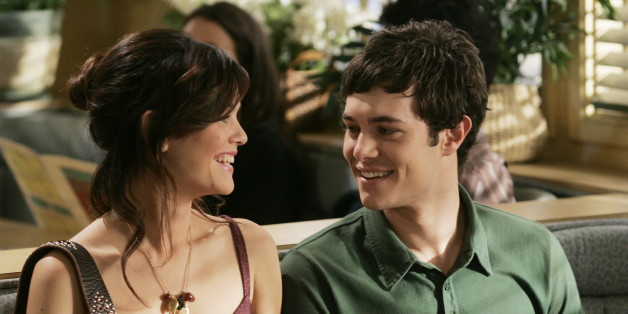 "The O.C." turned 10 years old this week, and the internet reacted with the expected fanfare that accompanies recent nostalgia in present times. There were interviews, tributes, more interviews, video retrospectives and listicles, but precious little in the way of fan-fiction. Which is a shame, since a show as meta as "The O.C." (it was original recipe meta, long before Dan Harmon was a thing) deserves some kind of naval-gazing coda produced by fans. Which is why we're here to help: HuffPost Entertainment editors Matthew Jacobs, Jessica Goodman and Christopher Rosen combined forces to paint a word picture of Seth and Summer 10 years after Newport, now living in Park Slope. (That Adam Brody and "Gossip Girl" star Leighton Meester are now reportedly dating is of no consequence in this timeline, but feel free to check out some alternative fanfic about a crossover between the "O.C." and "Gossip Girl" right here.)
Seth and Summer ...
... joined their local CSA, because Summer only believes in organic produce.
... eat at Calexico in Red Hook, because it reminds Seth of going to TJ.
... named their daughter Marissa.
... argue about the portrayal of millennials on "Girls" (Seth is a fan; Summer is not).
... can't believe how much Chris Pratt looks like Che.
... both work in media: Seth as a graphic novelist (comic books are so 2003), Summer as an editor for HuffPost Green.
... also argue about Instagramming their brunches (Summer is a fan; Seth is not).
... practice hot yoga.
... send Ryan 2 a.m. texts asking for tips on cage fighting (Seth likes emojis).
... always talk about seeing movies at BAM, but then just go to The Pavilion and complain how much it sucks (no IMAX).
... love "Orange Is The New Black" (but keep falling asleep during episodes).
... tell everyone they hate "The Bachelorette," but then watch it anyway.
... constantly have to defend living Brooklyn to Sandy. ("In my day, everyone was trying to get out of Brooklyn!")
... awkwardly ran into Anna at the Postal Service reunion at Barclays Center.
... watch "Hart of Dixie."
... never speak of "Gossip Girl."