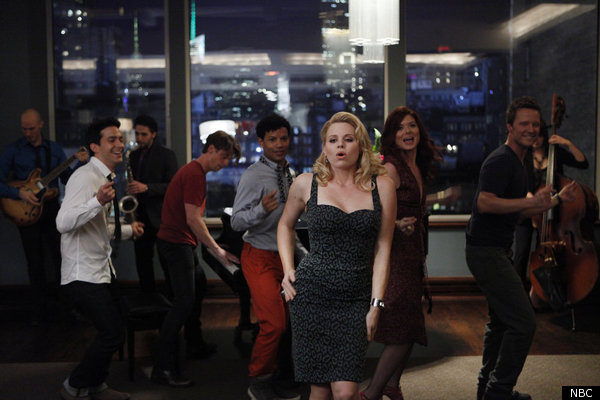 Previously on "Smash": "I had an affair with Michael Swift." "Do you think he gave me the part because I slept with him?" "HE IS TERRIBLE HUMAN BEING!"
Presented without commentary, the most absurd, comical, self-serious and/or humorless moments from Episode 4, "The Cost of Art," in chronological order.
1. "Could she be more Midwest?"
2. "You can put it anywhere you want."
3. "We're both adults, right?"
4. "All I need is $200,000. That's it! $200,000."
5. Ivy's entrance.
6. Guest Starring: Nick Jonas
7. The shoulder shimmy Ivy does when she sees Sam.
8. "Well, I'm singing it now."
9. "You told me once you were an art history major."
10. "She's sleeping with him?"
11. "What's she upset about this time?"
12. Ellis.
13. Ivy's grin.
14. "Stay. I like an audience."
15. Michael's lingering look at Julia.
16. "How do you think it's going? It's horrible."
17. "His last show was sold into syndication for $80 million."
18. "My Mets, they have like no pitching this season. None."
19. "Woman, for the last time, I'm not asking you to apologize."
20. "The zipper still works and everything!"
21. Nick Jonas singing Michael Buble.
22. "Precocious would be showing her the bedrooms."
23. "I'm not obsessed. Interested."
24. "Sometimes, parties like this, I feel like I have to be 'on.'"
25. "I was reading the trades."
26. "You know why? The Chinese."
27. "You need me?"
28. Ellis knowing all the lyrics.
29. "Are you still interested in showing me those bedrooms?"
30. "I saw you. Everybody saw you."
31. "This is who you are now. Get used to it."
32. "I just wanna feel safe."
33. "There's nothing safe about being a star."
34. "You know the bedrooms here really are incredible."
"Smash" airs Mondays at 10 p.m. on NBC