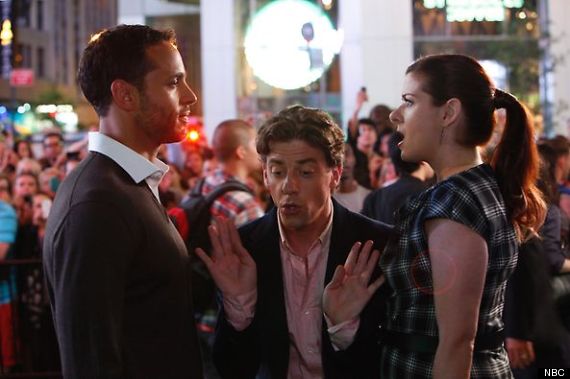 Previously on "Smash": "I want the world to see what it would miss if 'Bombshell' went away." Oscar winner Jennifer Hudson. "Broadway, here I come." "Is this a bad time?" Also, no one watched.
Presented in chronological order and without commentary, the most absurd moments from Season 2, Episode 3, "The Dramaturg."
1. Title card: "The Dramaturg."
2. Karen crowd surfing.
3. Karen stage diving.
4. "Let them explain their vision to you."
5. "This is big."
6. Derek mumbling about "producers of 'The Wiz.'"
7. "A dramaturg? Are you joking?"
8. "Every actress in town wants to do that part."
9. "I read the script and I think I could really bring something special to it."
10. "That's why we haven't found a director."
11. "People hear that you have a dramaturg, and the rumor gets out that you're in trouble."
12. "I looked the guy up on IDBD."
13. That guy from "Grey's Anatomy" and "The Devil Wears Prada."
14. "You only get one shot with a guy like Derek."
15. "Hit it!" The new "Smash" opening credits.
16. Megan Hilty has fifth billing.
17. "Did you just call my book shallow?"
18. "The audience cried when Marilyn died."
19. "Russell Crowe is more collaborative."
20. "You look like the crazy dude from 'A Beautiful Mind.'"
21. "Just so long as we're done by dinner."
22. "Why can't they just set the deposition?"
23. "Peter wants to create a whole new 'Bombshell'!"
24. Derek wants Ivy to critique scenes from the show she was fired from.
25. Julia's crazy laugh.
26. "I know 'heat' better than anyone."
27. Ivy singing Robyn.
28. Karen's interpretive dance.
29. "I don't understand what you want."
30. Jimmy breaking into a house.
31. "Let's bounce."
32. Ivy's "Dangerous Liaisons" accent.
33. The guy playing John F. Kennedy.
34. "Call me Jack."
35. Ivy got the part.
36. Ivy thinks Tom would be a great director.
37. Karen still carrying her Marilyn wig on the street even after changing out of her costume.
38. Jimmy being drunk.
39. The pitch for "Hit List."
40. "Second acts are my speciality. God knows I've had enough of them myself."
41. Karen saying she'll get the beers.
"Smash" airs on Tuesdays at 10 p.m. EST on NBC.
PHOTO GALLERY
2013 Renewal Index: Canceled, Renewed & On The Bubble Shows