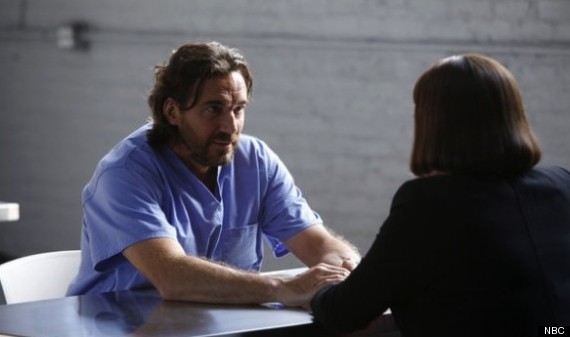 Previously on "Smash": "If you bring him the right song, you'll be famous." Karen gets the beers. The dramaturg.
Presented in chronological order and without commentary, the most absurd moments from Season 2, Episode 5, "The Read-Through."
1. "I can't believe I'm not allowed to attend" says Eileen, who previously gave up any legal right to attend "Bombshell" events.
2. That wacky Eileen and Jerry music cue.
3. "I'm going to see Nick."
4. Tom playing all the reporters in "Public Relations."
5. Lyric: "America's smart dumb blonde."
6. Tom's monocle.
7. The way Christian Borle is blowing Katharine McPhee off the screen right now.
8. "We decided to stay just one more night and put it in."
9. "In the 21st century you can call a guy."
10. Tiger Schulmann karate.
11. "He's a big movie star," said about a character played by Sean Hayes.
12. The massive "Chicago Fire" ads in Times Square.
13. "He is a true collaborative."
14. "Leo and I are having lunch."
15. Julia's "Peter is a liar" face.
16. "You guys didn't come all the way out to Greenpoint to tell us that."
17. "Your friends would really come here?"
18. Jimmy's hook-up.
19. Karen's scorned face.
20. The "Smash" opening credits.
21. Tom and Ivy eating Shake Shack.
22. "Why did he kiss me?" "Because he was high."
23. "After everything you've been through this year ..."
24. "I've got momentum going."
25. This entire Eileen subplot.
26. Karen singing "Death Cab for Cutie" at Jimmy.
27. Jimmy's Ryan Atwood outfit.
28. "Jimmy ..."
29. "Why'd you change the title? I really liked 'Bombshell.'"
30. Sean Hayes taking over the play.
31. "Some of the best work I've ever seen."
32. "Oh God, I'm so confused."
33. "Julia, if it's bad, it's over!"
34. "If I don't hear it, I'll never know."
35. "Are you saying it was bad?"
36. "You just didn't get it. It's not what you're used to. It's not Broadway."
37. Jimmy throwing Kyle under the bus for being a horrible writer.
38. Karen's "I'm sorry" whisper.
39. All this nonsense with Sean Hayes.
40. Ivy acting.
41. Jimmy still trashing Kyle.
42. "How can you be so bad at something you love so much?"
43. "I didn't have it. I had to work for it. Hard."
44. The way they're getting rid of Nick right now.
45. "She's a really special person and she's been through a lot this year."
46. "You are actually suggesting that this is too good for Broadway?"
47. "If you want to take it to the Public Theater ..."
48. "He sent it to me ... last week."
49. "It's just embarrassing."
50. "Look at 'Rent' or 'Next to Normal' or 'Bombshell.'"
51. "You're pretty cool," says Jimmy to Karen.
52. "Are you sure she's dating Derek?"
53. Jerry wouldn't let Eileen into the reading earlier, but now he's willing to let her decide the fate of "Bombshell."
54. "Since it's up to me ..." CUT TO BLACK.
"Smash" airs on Tuesdays at 10 p.m. EST on NBC.
PHOTO GALLERY
2013 Renewal Index: Canceled, Renewed & On The Bubble Shows