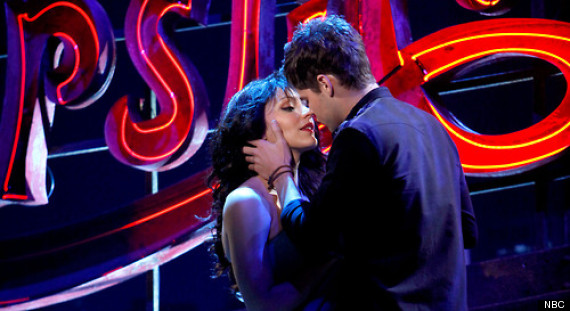 Previously on "Smash": "The Fringe in two weeks? That's completely insane!" Sean Hayes being a hack. Ellis' check. "It was just the draft I liked the most." Cliffhanger!
Presented in chronological order and without commentary, the most absurd moments from Season 2, Episode 6, "The Fringe."
1. Julia's eye roll face.
2. "It's for tourists. It isn't art."
3. Eileen saying "technicolor fantasy."
4. "It's the best thing she's ever wrote."
5. The wacky Jerry music cue.
6. "The show's good," says Jimmy, just one week after admitting the show was bad.
7. The Pepsi Cola graffiti at the edgy Fringe theater.
8. "Dude, it's Broadway. It doesn't work like that. There are millions of dollars at stake."
9. "Karen's a pro."
10. For some reason, the people behind "Dangerous Liaisons" are letting Sean Hayes direct the show?
11. Ivy saying "tech."
12. Jerry giving creative notes.
13. Jerry being a major part of "Smash" now.
14. "We're in Time Out."
15. Jerry now caring about Karen and "Hit List."
16. "Derek, you know I can't not go."
17. The "Smash" opening credits.
18. "I feel terrible."
19. "Your career is more important than your friends."
20. Jimmy being irrationally angry at Karen.
21. "You'll see her again."
22. "Maybe you should leave 'Bombshell.'"
23. "I haven't gotten to spend enough time with Leo."
24. "He does have winter break coming up."
25. "That song is too intellectual."
26. "Maybe I should go and give her pointers."
27. "Ellis Boyd's girlfriend. Ex, actually."
28. "Turns out he was a psychopath."
29. Karen finding out Ellis helped Jerry.
30. "'Hit List' at The Fringe. WTF what a mess #60minutesclosertodeath."
31. "If you'll excuse me, I'm going to go get high."
32. "This is how collaboration works," Tom says to his long-timer partner.
33. Tom lying to Julia about getting her song back.
34. This entire subplot with Sean Hayes.
35. Tom being the director now.
36. "Did it not occur to you I might not have an idea of how it should go."
37. Derek dropping his Tony wins like a boss.
38. Jerry explaining the director doesn't direct because of producers.
39. "Sorry, love. I quit."
40. "This isn't what I signed up for. I don't believe in this anymore."
41. "This is my big break."
42. "Ellis and Jerry?"
43. This entire subplot with Sean Hayes.
44. "This is great work, Ivy. I see a nomination in your future."
45. "What the hell are you doing here? They fire you or something?"
46. "I'm here. Doesn't that count for something."
47. "Today sucked."
48. "You reach a level of fame."
49. "Derek's what was toxic about the production."
50. "Can you come to Chinatown?"
51. Jimmy and Karen kissing.
52. "Tomorrow, we go into tech."
53. Tom's the director now.
54. "You've got the vision, Tom. You see the show. Like Derek used to."
55. Julia fully onboard now.
56. "I thought you'd never ask."
"Smash" airs on Tuesdays at 10 p.m. EST on NBC.
PHOTO GALLERY
2013 Renewal Index: Canceled, Renewed & On The Bubble Shows