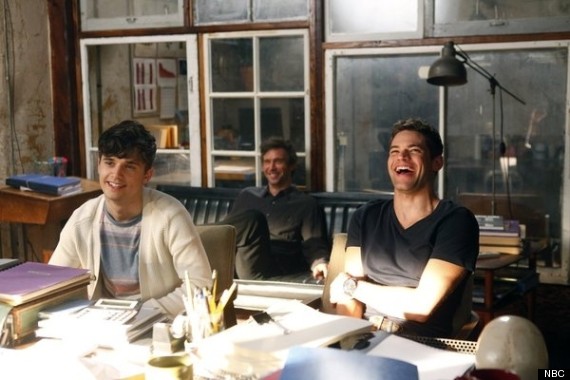 Previously on "Smash": "Just tell him how bad it is." "Jerry was paying Ellis for information." "This is just the kind of project I look for." #60minutesclosertodeath.
Presented in chronological order and without commentary, the most absurd moments from Season 2, Episode 7, "Musical Chairs."
1. "I'm Blake, the lighting designer."
2. "Love the show, b-t-dubs."
3. Tom's "two Splendas" eyebrow raise.
4. Karen arguing with Tom.
5. "Derek isn't here anymore." "Yeah, I know."
6. Tom is the director now, b-t-dubs.
7. Julia's leather jacket and shoulder pads.
8. "Look at the show; it's fantastic."
9. Sean Hayes is still on "Smash."
10. "It's a state of mind, not a look."
11. "Let me be you."
12. Jerry's now against Tom.
13. "We're going into tech soon."
14. The "Smash" opening credits.
15. "'Hit List' is fresh."
16. "We don't need to spell out our theme!"
17. Grace Gummer on "Smash."
18. "It's not bad, it's just not you."
19. "We're going to pull the plug on the show."
20. "It's not ours anyway."
21. Kyle's sweater.
22. "I'm not mocking you, I just think this is pointless."
23. "How's everything going? Caffeine?"
24. "Did you really think you weren't going to have to rewrite anything?"
25. Karen's side braid.
26. "The thing you're looking for is already there."
27. Julia knows Scott.
28. "You were never going to leave Broadway for some East Village basement."
29. "No, I'm sorry. I'm really not trying to be difficult."
30. "Did you know our show is 'meh'? The only thing they like is you."
31. "We did make it better. Better from terrible."
32. "I don't know what this show is anymore. I guess we didn't have enough time to fix it."
33. "I wish I could get out of the show. I really hate it."
34. "There's something better out there for me."
35. "I'm really looking forward to 'Bombshell 2.0.'"
36. "I like the show the way it is, I don't think we need to scream what it's about in every scene."
37. "I'm not going to lie: seeing the two of you together makes my heart beat faster."
38. "That's Jerry Rand. Producer of 'Bombshell.'"
39. "Listen to Karen. She's one of the brightest young actresses around."
40. Jimmy's mad face.
41. Sean Hayes is still on "Smash."
42. Everything about this "Liaisons" number.
43. "Your number was the only thing in the whole show that made any sense."
44. Karen realizing that Tom, who always loved Ivy, loves Ivy.
45. "Is the show going to close?" "One would think. Or hope, for all involved."
46. "I'm not your Marilyn, she is. We tried," Karen says after not trying.
47. Karen's crazy laugh.
48. "Did you really just give up a Broadway show for us?" "I guess I did."
49. "You paid Ellis Boyd ..."
50. "He was a criminal. He deserved it."
51. The giant "Chicago Fire" ad in Times Square.
52. "As hard as I try, I cannot let go of Marilyn's mother."
53. The wind machine blowing Karen's hair.
54. "Oh, great. The sister. Again."
55. "Karen and I have a history."
56. Derek strong-arming Jimmy over Karen.
57. #60minutesclosertodeath.
"Smash" airs on Tuesdays at 10 p.m. EDT on NBC.
PHOTO GALLERY
2013 Renewal Index: Canceled, Renewed & On The Bubble Shows