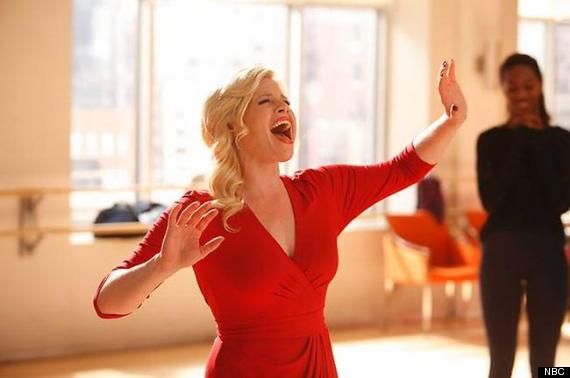 Previously on "Smash": #60minutesclosertodeath. "What happened to the sex?" Sean Hayes. "Ivy's free now." Wind machines. "That's a terrible idea."
Presented in chronological order and without commentary, the most absurd moments from Season 2, Episode 8, "The Bells and Whistles."
1. Karen and Jimmy in bed.
2. "I guess we see the moment differently." "No, you see it wrong."
3. Ivy singing "Let Me Be Your Star." (Ed. note: WHAT MIGHT HAVE BEEN?!)
4. "It's sensational. I hate to leave ..."
5. Julia caring about Scott now.
6. Balthazar reference.
7. "Whatever instincts you have, I want to hear about them."
8. Tom telling everyone in the cast to contribute ideas.
9. "I could really use a break in Act Two."
10. "The only press on 'Bombshell' is what a hot mess it is."
11. "How's our story for the New York Times."
12. "No one is friends in this business."
13. This character Agnes.
14. Sam is back now too.
15. Julia's blazer.
16. "Sam?"
17. "It didn't look like acting."
18. "Lea Michele? Lea Michele?"
19. The "Smash" opening credits.
20. "This is so not like tour life."
21. "He should be here," Tom says of Sam, who he threw away earlier this season.
22. The vice president from "Homeland" is on "Smash" now.
23. "You don't have a good story, Eileen."
24. "It's been done to death in the gossip columns."
25. Jimmy's leather jacket.
26. Everything Jimmy and Karen are saying to each other.
27. Tom just rewriting "Bombshell" to get Sam a part.
28. Julia's "Tom just rewrote 'Bombshell'" face.
29. "The show needs to be true to what it is."
30. "I cannot believe you would do this without my approval."
31. "Great reboot, guys."
32. "I promised Sam."
33. Sam coming into the studio on cue.
34. "Tom, I just left my job."
35. "There's no new story here, Eileen."
36. "Are we buying pot?"
37. Tom watching a Derek meltdown.
38. Derek being unfazed by this.
39. Julia talking to Scott like we care.
40. "It was Lincoln Center."
41. The interpretive dance of the obstacles.
42. "I can't pretend I'm not happy my first play was done at Lincoln Center."
43. Julia's awful apology.
44. "I heard about your split from Frank."
45. "I'm crazy about him," Karen says about Jimmy.
46. Ana singing "If I Were A Boy."
47. Ana slapping four taps at the bar.
48. Ana trust-falling off the bar.
49. Tom telling Sam, again, that he can't put that song in "Bombshell."
50. Sam saying he left his job for this again.
51. Sam wants his job back.
52. "Unless you think Ivy might feel threatened."
53. Tom being Derek now?
54. Karen flirting.
55. Jimmy and Karen making out.
56. Jimmy and Karen stripping.
"Smash" airs on Tuesdays at 10 p.m. EDT on NBC.
PHOTO GALLERY
2013 Renewal Index: Canceled, Renewed & On The Bubble Shows