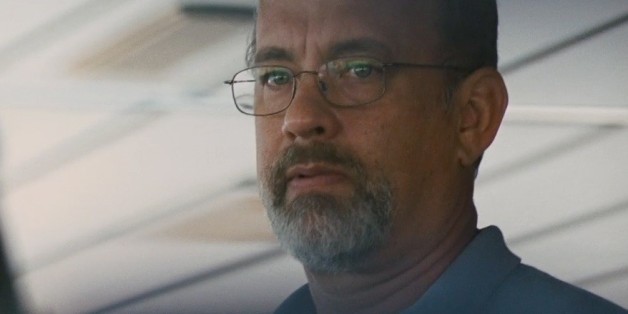 Tom Hanks has the scene in "Captain Phillips," a moment that will play during the Academy Awards when Jennifer Lawrence announces Hanks as a Best Actor nominee on March 2, 2014. That Hanks, a two-time Best Actor winner and five-time nominee, is at his very best before the key sequence in Paul Greengrass' new film should provide Oscar prognosticators with all they need to know about the 57-year-old actor's awards chances.
"Captain Phillips" is set to open the 2013 New York Film Festival, but Sony and producer Scott Rudin set up screenings this week for critics and journalists to see the film while all eyes are fixed on Toronto. Thus far, the move paid off: reviews have been solid, with some (In Contention editor Kris Tapley, HuffPost Entertainment's own Mike Ryan) more infatuated with the film than others (Variety critic Scott Foundas, The Wrap critic Alonso Duralde). Heed the words from the former camp: "Captain Phillips" stands at the very top of the recent spate of thinking-persons' action films from the last few years, on par with Kathryn Bigelow's "Zero Dark Thirty" and well ahead of Ben Affleck's Best Picture-winning "Argo."
The reason is Hanks, who gives the type of performance everyone has wanted to see from Tom Hanks since the early 2000s. His Richard Phillips is not the most emotional of men: an opening scene with his wife (played very briefly but beautifully by Catherine Keener) establishes him as the kind of thoughtful, quiet type who one can assume watches the History Channel and likes Tommy Lee Jones movies. Yet as Greengrass keeps turning the screws on Phillips and his situation, that cool demeanor begins to crack, shatter and, later, turn to dust. Hanks is put through the ringer -- Greengrass' closed-quarters camera work keeps in him the action even as things get impossibly physical -- and the results are breathtaking. Like the best acting, Hanks' performance actually feels real. By the end of the film, it's hard to tell where Hanks ends and Phillips begins.
This is the time of year when a new Oscar front-runner debuts almost every day ("Gravity" and "12 Years A Slave" reached the top of the line after raves last week). Yet "Captain Phillips" belongs in those whispered early awards musings, not just for Hanks and Greengrass (a previous nominee for "United 93," a film that bears similarities to "Captain Phillips" in structure and form), but for Best Editing (Christopher Rouse), Best Cinematography (Barry Ackroyd), Best Adapted Screenplay (Billy Ray) and, if a wave of support carries the film to multiple nominations, perhaps Best Supporting Actor for Barkhad Abdi. The newcomer plays Muse, the lead Somali pirate in the film, a relatively decent man turned to evil behavior by his standing in life. Abdi (and Barkhad Addirahman, Faysal Ahmed, Mahat M. Ali as the other pirates) helps keep the film from ever truly demonizing Phillips' kidnappers, an easy pitfall that Greengrass deftly avoids. The problem is that Abdi doesn't have an easy road to Supporting Actor: the category is as loaded as usual, with actors like Daniel Bruhl (for "Rush"), Michael Fassbender (for "12 Years A Slave"), Josh Brolin (for "Labor Day"), Steve Coogan (for "Philomena"), Bradley Cooper (for "American Hustle") and even Hanks (for "Saving Mr. Banks") potentially standing in his way.
That, however, is back-room chatter for another day. For now, just know that "Captain Phillips" is one of those truly terrific movies that everyone hopes to see in the fall. It's riveting filmmaking.
"Captain Phillips" opens on Oct. 11.
PHOTO GALLERY
Celebrity News & Photos