As mobile and social technologies evolve, consumers are exploring new ways to find and compare local restaurants. Social search is taking on an increasingly important role in local discovery. People tend to trust the recommendations of friends, family and others in their circle and if those connections are on social platforms, that's where they will go to find local eats. Companies are making it easier for people to tap into that knowledge, by gathering valuable information that's circulating in the social world.
The New Facebook Nearby
Facebook took a step forward in the local discovery space with its revamped Nearby feature. Launched by Josh Williams and the Gowalla team that Facebook acquire last year, Nearby helps users:
Discover nearby businesses based on friends' recommendations
Engage directly with those businesses by liking, checking in, calling, or getting directions
Share ratings and recommendations with friends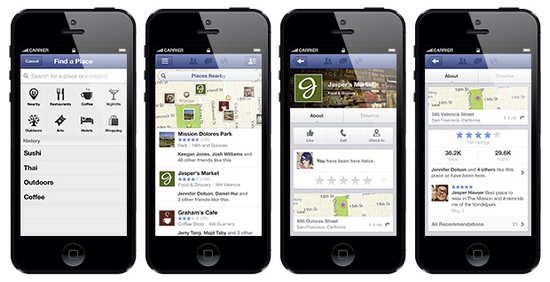 Before the update, Nearby was limited to just likes and check-ins. Now Nearby offers more data on local places, including ratings, recommendations and business information. Although comparable to Foursquare's Explore Facebook's wealth of data could offer advantages in providing better personalized insights.  
In an interview with TechCrunch, Williams reveals that 250 million of their users are tagging locations on a monthly basis -- a bit over 800 location tags per second, which is about 10 times more often than tagging on Foursquare. This is just the beginning, "Results will get better the more people use Nearby, and we'll continue to improve it based on feedback. We also plan to add places info from third party services in the near future," said Williams.
Optimizing Your Page for Local
Nearby gives restaurants huge motivation to set up their locations for maximum search, engagement and discovery. The improved local features could significantly increase the value of Facebook pages. However, to see a boost in traffic and sales, make sure pages are optimized for discovery by making sure they are properly claimed and branded.  Another influential factor is engagement since social signals and interactions determine search results ranking. If a customer shares their experience, they can influence a lot of users with just one update.

Who Will Dominate Local Search and Discovery?
Yelp:  As one of the best-known local search directories, Yelp brings an elite user base, who often write lengthy course-by-course reviews of restaurants. Yelp's most recent update displays restaurant menus that include user-generated photos.
Foursquare: Offering rich and valuable "between the lines" information, Foursquare collects data about the relative popularity of places based on other users' reviews and recommendations. Following the roll out of Nearby, Foursquare announced its own update that extracts data from Facebook to provide better personalized recommendations.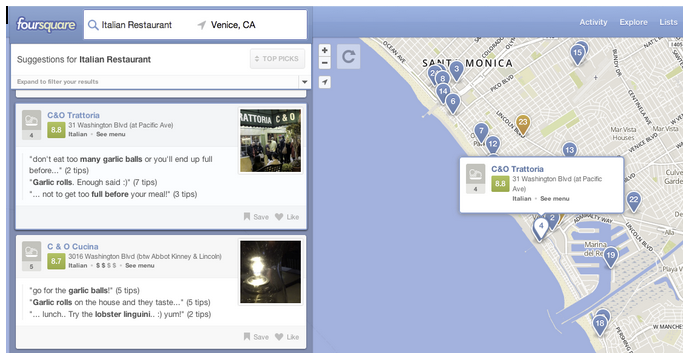 Facebook:  Given the number of active users -- one billion and rising -- plus time spent, Facebook's Nearby app could potentially become the go-to source for local information. Local discovery apps require a lot of data and Facebook has more than enough to fuel their app.  Doesn't hurt that it's the most popular social network in the world either.
Google: Remaining the king of search, Google has become more business friendly with Google+ Local Pages. Google+ strongly ties social to search and location through Google Search, Maps and Reviews, bringing visibility to local businesses by geographic location.
With Facebook's updates to Nearby, Foursquare's expansions in services, Yelp's extensive user reviews and Google's reign in the local search arena, competition is increasingly heated in the local-social field.  Driven by the evolution of mobile, these sites will continue to improve their strategy to cater to local search and discovery.  
What Lies Ahead?
Collaborations among the brightest players could pave the way for future innovations. According to the Wall Street Journal, Apple is in early discussions to integrate local data from Foursquare into its products like Maps and Siri. This move signals a strategic shift for Apple to get users local information more directly, bypassing search services like Google. Foursquare could put Apple Maps back on the map with its POI (point-of-interest) data to deliver better directions and more.
Momentum in location-based services will lead to geo-targeted ad technology. Companies continue to improve their social functions when it comes to monetizing content, and Facebook has a leg up on competitors. It's only a matter of time until user-side features like Nearby align with native advertising like promoted posts, sponsored results or other mobile location-based ads.
The possibilities are endless. As forward-thinking companies gain a better understanding of local context and the consumer experience, visibility of customer activity and sentiment relative to their locations will be vast.
Co-written by Christina Cooper of ChowNow.