Studio Buzz:
So Teen Vogue Editor Elaine Welteroth trotted in to spiel about Back-to-School Saturdays, which are happening in Simon Malls nationwide.
Of course, I look first at what she is wearing, two different earrings...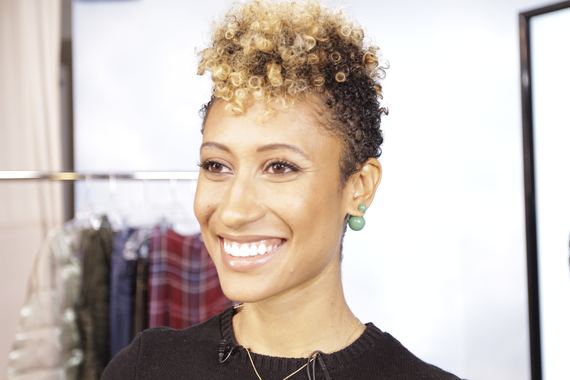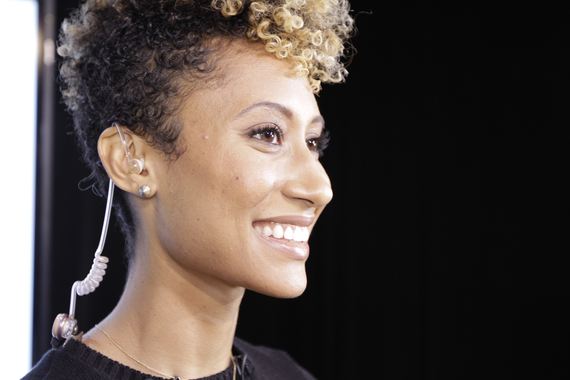 white toenail polish, which looked amazing with her black open-toed booties.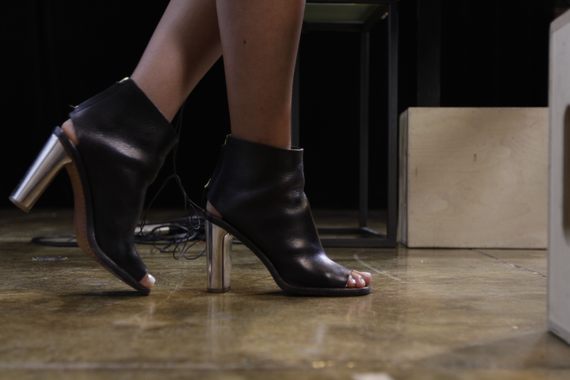 Loved. So she had the street cred to lay out the trends for kids...metallic topper, denim, rocker chic in everything, and, a big plaid statement paired with black tights and combat boots. So let's get specific, this is what she loved.

Bold Statements
- A gold metallic puffer jacket from H&M to add some flash to your back-to-school attire as well as a chic army green puffer vest from Abercrombie & Fitch which is a great, versatile piece.
-A black hoodie underneath to stay warm and look hot!
-Denim! Elaine loves Hudson Jeans. Two very different looks, one a classic denim high-waist jean, the other a little edgier look, rocker chic inspired denim with metallic finishes to change up your look.
-Mad for plaid this fall. Lumberjack chic is all the rage, only hard to see those guys in a plaid mini or dresses, which are everywhere.
Pair most anything up with some flat combat boots and black opaque tights and you're ready to go!

Accessories
White-on-white sneakers! Vans has a sweet street style. And the backpack is back! Vans was inspired by an intergalactic Star Wars theme. By the way, Rodarte was seen rocking the galaxy look on the red carpet at the Met Gala. I love this, and it is especially great for the kids rocking the school uniform.
Finally, as every fashionista knows, it's all about less is more! But what girl doesn't love a little lip tint? Well Maybelline has a great lip gloss called Baby Lips, just four bucks and available at drug stores nationwide! For a go-to scent for fall, Elaine adores Marc Jacobs Daisy Dream, with a hint of citrus.
So with that Teen Vogue imprimatur, you can narrow the focus on your back- to- school shopping.
See video here
Check her out on Instagram: ELAINEWELTEROTH