This blog is part 4 of a 5 part series on Partners in Health (PIH) and their work in Haiti.
For those of you who have heard of Paul Farmer, you can probably imagine him trudging for miles to visit patients in their homes in rural Haiti or any of the other countries PIH is working in. Paul is famous for making this effort, an effort in which he works to pair people in partnership. And it just wouldn't have been a visit to a PIH site if we hadn't seen this approach in action.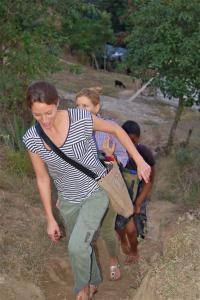 One afternoon, we set out for a short (but steep) walk outside of the Canges PIH/ZL campus grounds for our first home visit. Over the back of the hillside of our homebase lay a scattering of small homes. As we made our way down the narrow dirt path we passed a mass of school children and women -- all of whom use the path daily in order to access schools on camp grounds and its adjacent markets.
As we reached the bottom of the path after following behind a small gang of toddlers, a woman greeted us from her front porch, apparently a home base to many neighborhood children. Here is where we met with Iris.

Iris is HIV positive and pregnant with her second child. However, thanks to the dedicated services of the PIH/ZL program, Iris, who followed the "prevention of mother to child transmission" protocol with her first pregnancy, is now raising a happy and healthy, HIV-negative boy. She herself has also remained healthy by adhering to her ARV regiment.

In 2010, around 390,000 children under the age of 15 became infected with HIV. Almost all of which occurred in low and middle-income countries, with more than 90 percent being the result of vertical (mother-to-child) transmission which can occur during pregnancy, labor and delivery, or breastfeeding. Without a form of intervention, there is a 20-40 percent chance that a baby born to an HIV-infected mother will also become infected.

In 2000, PIH launched its HIV Equity Initiative in rural Haiti. This initiative was one of the first programs to provide free and comprehensive HIV/AIDS treatment. Today, Zanmi Lasante has an HIV/AIDS treatment and outreach center that serves 6,300 people. Here they also provide housing, water, food, and psychosocial support to the thousands of people living with HIV.

PIH outlines their "four pillars" of the HIV Equity Initiative, and states:

The key to the HIV Equity Initiative's success lies in its comprehensive approach: nutritional and social support are provided along with life-saving medicines and treatment is closely linked to prevention and to other health services. Community health workers provide the 'missing infrastructure' that is often posed as an obstacle to AIDS care in poor countries.

Each day, Iris is visited at home by a community health worker who not only brings her medicine but also provides her with psychosocial support, or what PIH calls "accompaniment." Because of this program, Iris' health has been improving. She says that she now feels capable of raising her son on her own, and wants to continue her work. She has even moved to the Central Plateau where she'll have more access to services.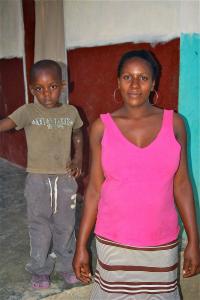 After we left Iris, we continued on our walk around the periphery of the campus, where we met another young woman named Julia. Julia, who works in the marketplace, is being treated for Tuberculosis. Julia is now battling her second bout of TB. She had previously been treated at clinic, but after a few episodes of erratic behavior, the team recognized that she was suffering with poor mental health. The mental health specialists at ZL concluded that the TB was actually triggering this behavior. She is now being treated for both TB and mental health and seems to be much more stable. She hopes to be able to return to work near Port-au-Prince, where she had once been quite successful.

One third of the world's population lives with TB and the rate of new infections is estimated to be one per second. And while drugs to fight TB have been in existence for 50 years, TB continues to kill about 5,000 people every day, nearly all of whom live in developing countries.

After the 2010 earthquake, it was apparent to PIH/ZL that mental health and psychosocial services would be an integral aspect of their response to the tragedy. Two years later, it remains clear that these services are still very much in need, and will continue to be needed for sometime. More than 300,000 people were wounded in the earthquake and endured serious injuries, including spinal injuries, amputated limbs and compound fractures. These patients, for example, will require long term specialized rehabilitation.

We met one woman named SheLove from a rehabilitation team. SheLove, who lost her leg in the earthquake, was rescued from under the rubble two days following the tragedy by a minister whom had recognized her. She was sent to the clinic in Canges soon after where she met Dr. Farmer. He was immediately drawn to the spirit of this young woman who lay smiling in her hospital bed despite all she had been through. He promised SheLove that she would walk again, and today she has an indectable prosthetic leg and is part of a team that offers critical psychosocial support to others. You can learn more about SheLove's story here.

This is just one of many inspiring stories in which Dr. Farmer has played a direct role in the miraculous improvement of someone's life. His grateful patients are abundant and we were very fortunate to meet many of them during our visit to Haiti. In fact, one man who had been treated for TB, but had lost a lung in the process, came from afar to present Dr. Farmer with a turkey when he learned of his presence in Haiti. Watching him interact with his patients and their families was truly inspiring. He gave each person his full attention, always with a hand on theirs. And when Paul Farmer says you'll live, you must believe that you will - because every life has value, no matter what.
--
Christy Turlington Burns, Founder, Every Mother Counts
&
Erin Thornton, Executive Director, Every Mother Counts

For Part 1, "All People Are People (Tout Moun Se Moun)" click here.
For Part 2, "Every Mother Is A Mother (Chak Manman Se Yon Manman)" click here.
For Part 3, "Give A Wo(man) A Fish...Or A Farm...Or Both" click here.