When you think of children in poverty, what image comes to mind? Is it the mud floor of a hut, dirty kids with ragged clothing playing soccer in a dust bowl? Or is it of a shanty in the heart of a pulsing metropolis, with the world's riches a few suburbs away?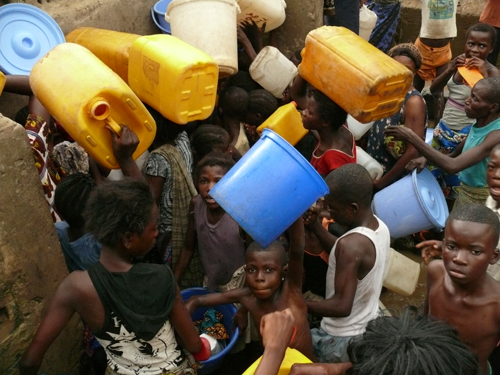 Image Credit © UNICEF/NYHQ2009-2036/Sweeting
UNICEF released a critically important report today, "The State of the World's Children 2012." It shows that in a few years the majority of children will grow up in towns or cities rather than in rural areas. Children born in cities already account for 60 percent of the increase in urban population.
While cities typically offer greater resources in education, health services and social support, many children lack access and often pay more for basic necessities like water. Infrastructure is not keeping up with growth and communities and governments must do more to reach the disadvantaged.
UNICEF urges governments to put children at the heart of urban planning and to extend and improve services for all. The report sites community-based action is a key to success in tackling urban poverty.
Watching Michel's story helped me understand this more clearly. When he was six years old, he was separated from his family during violence in Côte d'Ivoire. Michel's journey, and the opportunities he can now access are indicative of the potential power for change in children's lives when communities and governments work together to remember every child.

You can read the full report here. We invite you to join us and our partners at UNICEF in sharing the report and its key findings today. Today, more than 21,000 children will die from preventable diseases. Share this on Facebook and Twitter and your other networks to raise awareness for UNICEF's mission to reduce that number to zero.