Did the actors follow the script too closely? In the film Una Noche Javier Nunez Florian and Anailin de la Rua de la Torre play a Cuban brother and sister who set out from Havana on a rickety raft. They bob up in down in dangerous waters. Along with another teen, they have escaped Cuba hoping for a better life in the United States. In real life, the story seemed to play out in a similar fashion. Anailin and Javier disappeared after their plane landed in Miami last week. They were on their way to join the film's director, Lucy Mulloy, at the film's New York premiere at the Tribeca Film Festival. They appear to have defected. Was life imitating art? Already the strongly anti-Castro Cuban press in Miami has trumpeted the case of Javier and Anailin as the latest example of Cubans willing to risk their lives to escape Communism.
At a recent screening of the film in New York, I asked Mulloy about her reaction to the news that her actors had gone missing. "I was shocked and surprised," she told me. "I was looking forward to seeing them at the film's premiere and they were excited about coming here." Another reporter asked if she had heard from the duo in the last few days. "No I haven't," she replied softly. Javier and Anailin were first time actors whom Ms. Mulloy handpicked from many hopefuls to play the parts of Cuban teens Elio and his twin sister, Lila. "We saw hundreds of teenagers but they stood out," she said. Ms. Mulloy also selected Daniel Arrecheda, 24, who plays the part of Raul. He forces his friend Elio to choose between his own escape and abandoning his sister, Lila. Ultimately Lila learns about their plot and insists on joining them as they flee.
The latest Cuban real-life drama took me back to 1980. As a young Latin-American correspondent, I covered the Mariel Boatlift for CBS News. Between April 15th and October 31, 1980, as many as 125,000 Cubans made the journey on crowded boats from the Cuban harbor of Mariel to Florida. For many years before that, Cubans facing oppressed conditions and a worsening economy fled on inner tubes -- just like the protaganists of the movie Una Noche. I remember being in Havana and witnessing angry pro-Castro mobs shouting insults outside the homes of Cubans they suspected were on their way to Mariel. "Escoria," they shouted. "Que Se Vayan!" ("Scum! Let Them go!") According to published reports, in the weeks leading up to the Mariel boatlift, as many as 10,000 Cubans sought to gain asylum in the Peruvian Embassy. It was then that the Cuban government announced that anyone who wanted to leave Cuba could do so. The exodus on boats -- dispatched from Cuban exiles in Florida -- started soon after that.
In the movie Una Noche , the character of Lila begins to menstruate causing sharks to circle their inner tube. Lila holds on tightly to her brother and friend Raul. Mulloy said her compelling film was inspired by a true story she heard from an 11-year old on Havana's famed seawall El Malecon. In 1999 and 2000, when I traveled to Cuba as a private citizen, I recalled seeing dozens of teenagers playing in the waves that washed up over the seawall. Their energy and enthusiasm, despite living in a country of worsening shortages and limited opportunities, is captured beautifully in Una Noche. So is their desperation.
It's not the first time Cuban artists like Javier Nunez Florian and Anailin de Rua de la Torre have defected. They join other Cubans who have taken advantage of stopovers to stage an escape. According to Larry Rohter of the New York Times in an article dated April 23: "Defections by baseball players, Olympic athletes and dancers here in the past have been so common that the Cuban government assigned security agents to keep an eye on such delegations." Mr. Rohter goes on to report that if Florian and de la Torre indeed defected, it would be the second time that Cuban artists invited to the Tribeca Film Festival opted to remain in the United States. The first was director Laimir Fario Villaescusa, who in 2009 won a prize for his short film Ode To The Pineapple.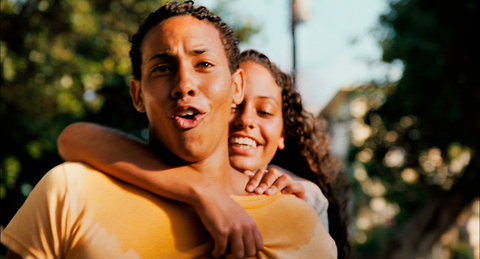 Actors Javier Nunez Florian and Anailin de la Rua de la Torre. Photo by Trevor Forrest and Shlomo Godder.
Watching the movie I couldn't help but wonder how the the filmakers received permission from Cuban authorities to film a movie in Cuba, which shows so many harsh realities: prostitution, an underground black market, delapidated housing, hunger and crime. This is a Cuba where tourists patronize HIV-infected "ladies of the night." This is a Cuba where desperation and fear is etched on the faces of the young. They are ready and willing to sacrifice their lives for a chance to flee. Spoiler alert: We discover at the end of the movie that instead of washing up on U.S. shores, Raul and Lila actually have traveled in a circle. They end up on a Cuban beach. Raul is promptly arrested. Lila's future remains uncertain. Is Mulloy trying to say that escaping Cuba on a raft is nothing more than a foolhardy adventure? In response to my question, Mulloy replied. "I wanted to leave it open to interpretation." Could it be that Cuban authorities were more comfortable with a film that some might say serves as a cautionary tale for Cuba's disillusioned youth?
The most compelling scenes in Una Noche are the ones at sea. We actually feel like we are in the raft with Raul, Elio and Lila.The skies darken. Thunderstorms loom. These beautiful scenes may remind many Cubans of the story of Cuba's patron saint, La Virgin de la Caridad del Cobre (Virgin of Charity). In what many Cubans believe to be a miracle, the Virgin Mary rescued three fisherman from a terrible thunderstorm at sea. The Huffington Post, in an article dated March 26, 2012 reports: "According to church lore, two indigenous laborers and an African slave who had set sale in an old boat in search of salt were surprised to find a statue of the Virgin Mary atop a wooden table floating above the frothy waves in the Bay of Nipe in 1615. In her arms, she carried a smaller figure of the baby Jesus. The church says the board was inscribed with the words "I am the Virgin of Charity."
Una Noche doesn't shy away from confronting the tough realities escaping Cubans must face. Are they making the right decision? How will they be received on the "other" side? At one point Lila mocks Raul for hoping to be reunited with his estranged father. How will he find him? How does he even know his father cares? There are also scenes of tenderness and friendship. And when the sharks circle the raft we feel the characters fear.
The scenes recall the case of Elian Gonzalez, the Cuban boy who survived an inner tube journey that claimed the life of his mother. Elian became a symbol of the strained relations between Cuba and the United States. According to The Huffington Post, in an article dated December 6, 2011, Elian was "shy of his sixth birthday on Thanksgiving Day 1999 when a fisherman found him off the coast of Florida clinging to an inner tube. His mother and others fleeing Cuba drowned trying to reach American soil." He was taken to live with relatives in Miami sparking an international custody battle. When I visited Cuba in 1999, Elian had become a Cuban hero. Tourists could buy T-shirts with his face embalzoned on them. Slogans like "Salve Elian"( Save Elian) could be seen painted on the sides of buildings. I witnessed angry demonstrations callling for Elian to be returned to his father in Cuba. The Huffington Post reports that on April 22, 2000 federal agents raided the home of Elian's uncle in Miami. Elian was returned to his father. Now 18, Elian currently studies at a military academy on the island.
Una Noche shows the stark contrast between the bounty tourists enjoy and the Cuba its people must endure. At the Nacional Hotel where Raul works in the kitchen, we see succulent pigs about to be roasted for guests. The only roast pork the Cubans shown in the movie could get are the scraps they might be able to steal when the cook isn't looking. In another scene Raul's mother, who is infected with the HIV virus, sips reheated rationed milk as if she is savoring some delicious cognac. In 1977, when I traveled to Cuba as a reporter for WBBM-TV in Chicago, I witnessed banquet tables laden with platters of lobster, roast pork and other delacacies. The food was there for the assembled visiting journalists. Earlier in the day, I has seen Cubans standing in long lines for their monthly food rations. When Fidel Castro himself appeared that evening in the banquet hall, the foreign journalists swarmed him. When I got within ear shot I saw my chance." Mr. President, I am the son of Cuban immigrants," I said. "And I would like to ask you a question. We see a lot of tables here filled with so much food. Do regular Cubans get to eat like we're eating?" He smiled sheepishly and just stared at my name tag before replying. "What kind of Cuban name is Chuck?" he asked.
The apparent defection of two Cuban actors is certain to bring attention to the gem of a movie that writer-director Lucy Mulloy has crafted. The movie seems to underscore another reality. Cubans must grapple with severe shortages. Relations between the U.S. and Cuba continue to be strained. Cuba was recently excluded from the Summit of the Americas attended by President Obama. According to Hindustantimes.com in a posting dated April 16, 2012, President Obama addresed the issue at a news conference. "The fact of the matter is Cuba, unlike the other countries in participation, has not yet observed basic human rights," President Obama said. Although some travel restrictions have been eased between both countries, there are few signs the U.S. embargo against Cuba will be lifted anytime soon. As the Cuban economy continues to crumble, it's likely we will see more desperate Cubans like the teens depicted in Una Noche risking their lives for a taste of a different life beyond Cuba's shores. As for actors who defected, their reasons for disappearing on a stopover in Miami are yet to be known.