WDBJ-TV viewers watched in horror as the shots rang out. Gun violence on live TV. Before it was over, a television news reporter and her cameraman lay dead. The killer, a tormented former journalist, made his own video of the murders and posted it on Twitter and Facebook for all the world to see.
In this age of reality TV, tens of thousands of viewers witnessed the unthinkable. The next morning (August, 27, 2015) the NY Daily News on its front page published a photo showing the fiery orange gun blast as it happened. The headline: "Executed on Live TV." Tasteless? Newsworthy? Had a line been crossed? And as I watched these news reports and read the morning newspapers, I couldn't help but recall the execution of another television journalist 36 years ago.
His name was Bill Stewart, a courageous ABC newsman. According to published reports and to interviews conducted with journalists who covered the story, Stewart was executed by Nicaragua's National Guard during the Civil War of 1979. As a CBS News correspondent myself covering that war, I was in Nicaragua the day Stewart was killed. Like all the journalists who were there, we couldn't fathom that one of our own had become a target of the men with the guns.
Stewart's execution was shown on network newscasts that evening as anchormen sternly issued warnings to viewers. The scenes were graphic we were told. View at your own discretion. We could choose to turn away. We could turn off our sets. But did we? Although almost four decades separate the two incidents, the horror of watching someone who's about to be killed (or actually executed on camera) doesn't diminish. It makes us question if we've become insensitive to violence. Can we just not look away? Or are there lessons to be learned from the startling images?
Certainly the circumstances surrounding Bill Stewart's death were much different than those that resulted in the killings of newswoman Alison Parker and cameraman Adam Ward. According to published reports and in video of network newscasts from June 20, 1979 on the website www.liveleak.com, Stewart was traveling in a press van in the slums of Managua, Nicaragua. With him were his camera and sound crew. The van rolled up to a dusty roadblock manned by the National Guard. Stewart and his Nicaraguan interpreter got out of the van. They slowly walked up to a barricade. Stewart showed his press pass. How many times had I and other journalists shouted out to soldiers in a war zone: "Periodista, No Dispara" ("Journalist, Don't Shoot")? Inside the van ABC News cameraman Jack Clark had begun filming. No one could predict the savagery that would follow. Stewart was ordered to his knees. Then he was told to lie face down. The camera captured the tense standoff. Suddenly Stewart was told to lie face down. A soldier kicked him once. A moment later Stewart was shot behind the ear. He was killed instantly--a moment of barbarity taped for posterity.
The video of the execution went out on the live feed that afternoon from Managua's Channel 6, according to newsman Ike Seamans. Seamans, the correspondent covering the civil war for NBC News, remembers that day vividly. "The day he was shot, I was covering the fighting between the G's (the guerrillas) and the Army," he told me. "We were pinned down for hours and didn't get back to the TV station in Managua until mid-afternoon. At Channel 6, Randy Fairbairn and Ellen McKeefe came running up to us screaming 'where have you been? Bill Stewart has been killed. We thought you were dead too,'" Seamans recalled. Inside Channel 6, they had just finished feeding the the video shot by (cameraman) Jack Clark. The incident had occurred around 10 or 11 a.m. By noon at the Intercontinental Hotel (in Managua) the video was being distributed to all the TV networks."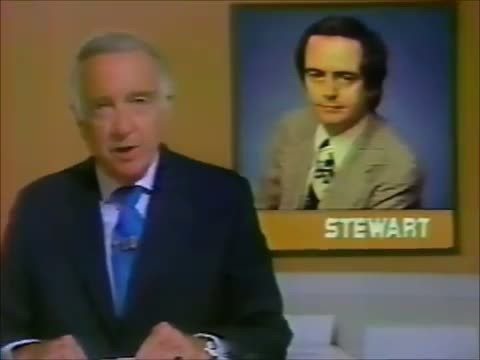 Courtesy www.LiveLeak.com
That night (June 20, 1979) CBS News anchorman Walter Cronkite reported the horrific shooting on the Evening News (in a clip provided by the website www.liveleaks.com) adding "The ABC cameraman with Stewart recorded the murder. Because it is an important documentation of the savagery of the Nicaraguan war, we will show this NBC News videotape with a warning: that parents may not want their children to view it. Colleagues of the 37-year-old Stewart called the killings executions. ABC News soundman Jim Cefalo witnessed the incident and here's his telephone description along with the videotape."
Then we hear Cefalo voice over the grainy video: "We got to the area where the guard motioned for him to get down. Bill got on his knees and was talking to the guard. A guard comes over to him and motions him to get down, face down on the ground, which Bill did. He kicked Bill and we realized there was a problem. Uh, he motioned back, motioned like he wanted Bill to put his hands on his head. Bill started to do so and as he did, the Guard took one step forward, as I recall, and shot Bill once in the head." As we watch we hear the explosive shot and Stewart's body jerk. We see as the camera lurches toward the sky. We hear a shaky voice saying in stunned disbelief: "Killed him."
As the world reacted with horror, according to published reports, ABC News told its news staff to leave the country. NBC News and CBS News reportedly gave their news people the option to go or stay. But Seaman's remembers NBC was adamant that they leave. "We objected strenuously , to no avail," Seamans says. "We had been sent to cover a story." About a third of the news people in Managua, Seaman's included, were airlifted by a C-130 military plane out of the country.
All but one of the networks 24 representatives were flown out. I decided to stay. Of course I was scared. But my rationale was that if we all left, it would give the the Somoza government the impression we were afraid to cover the brutality of the regime. Still I supported the networks show of solidarity. They wanted to send Somoza a message that brutality would not be tolerated. A week later the news personnel, including Ike Seamans, returned. As I and other correspondents reported, it was the waning days of the civil war and Somoza's days appeared numbered. Stewart's execution and its savagery sparked a public outcry for the end of the Somoza dictatorship. Somoza fled Nicaragua on July 17, 1979. The Sandinistas claimed victory two days later--less than a month after Stewart's execution.
Just as Walter Cronkite in his newscast of June 20,1979 defended showing Stewart's murder "as an important documentation of savagery," the NY Daily News defended its controversial decision to publish a photo of the Virginia gunman at the moment that he fired his gun at Alison Parker. In a story published August 28, 2015 under the headline "The News Says" the NY Daily News stated that it "had taken a robust and clear position on gun control in America." In a later paragraph in the same story.: "That is why we published the images--to convey the true scale of what happened in Roanoke--a deranged man filming murder especially for airing on social media, at a time when it's so easy for the public to become inured to such senseless violence."
In Nicaragua it was a soldier on edge after days of fighting who pulled the trigger that ended a newsman's life. But as I watched the startling images of the Virginia gunman's video, I couldn't help but be struck by the fact this was not a soldier in a war zone. The gunman was one of us.
Yes, he may have been "deranged" as many claim. That didn't change the fact he was an American--an American who like the soldier in Managua, was a man with a gun who in a moment of fury extinguished life. The "war zone" was now not in a far away land. It was in our own backyard.
As Andy Parker, the father of slain WDBJ-TV reporter Alison Parker told CNN, "This has got to hit home for journalists. And if journalists are targets--and we're not talking about someone going to Syria and being in the crosshairs of ISIL. We're talking about two kids that were doing a benign story about a marina opening or celebration, and someone --a crazy person with a gun--shoots them."
Television journalists are used to covering stories. In front of the camera as correspondents and behind the camera as cameramen and camerawomen. But like Bill Stewart in Nicaragua and Alison Parker and Adam Ward in Virginia, journalists can be targets as well. When shots are fired at them, those bringing us the news can suddenly become the news themselves.