The image floors you like a punch from Ali. A young, Latino boxer with close-cropped hair, curvy lips and a tattoo of Our Lady of Guadaloupe puts up his gloves. He looks like he's getting ready to knock out a foe. This boxer means business. Steely-eyed. Determined.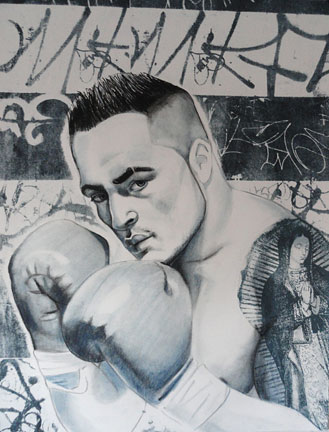 But his opponent is not another fighter. Below the haunting image in the invitation to a new art exhibition, the fierce foe in the ring comes into clearer focus. The invitation reads in bold capital letters, "ART & AIDS: IT'S NOT OVER." Some 46 artists living with HIV/AIDS are behind the 169 vibrant pieces, including this one, selected by GMHC, one of one of the world's best-known AIDS-fighting charities and community-based organizations, aiding thousands of people battling or affected by HIV/AIDS. The artworks were carefully chosen to be part of a historic exhibition. Why historic? The show will be held at the world-renowned Leslie-Lohman Museum of Gay and Lesbian Art, which has just been granted museum status by the New York State Board of Regents. This all-encompassing show will be one of the first to be inaugurated at the museum.
It's been more than 30 years since AIDS slammed into the international consciousness, costing tens of thousands of lives. Avert.org reports that more than 30 million people have died from HIV/AIDS since 1981. And today it's estimated that 34 million people are living with HIV/AIDS worldwide. For artists like Carmine Santaniello, who has lived with HIV for 18 years, the fight is far from over.
Santaniello, a Queens-raised New Yorker, drew the boxer. He didn't have the theme of the show in mind when he came up with the powerful image. The engmatic fighter was originally meant for an online art exhibition for the 2012 Olympics, but after Osvaldo Perdomo, one of the curators of the GMHC show (along with David Livingston), informed him that his drawing was the face of the exhibition, Santaniello looked at his drawing more closely. He saw a new glint in the boxer's eyes. "The image was so strong. It's more than hope. As a person with HIV, you're always fighting to survive. We're all fighters with this virus."
Perdomo and Livingston came up with the theme to this year's show. They were mindful that a certain "fatigue" had set in with the public regarding AIDS. Why? Many believe a cure is around the corner. Others believe the need for rallying, fundraising and awareness is no longer as relevant. "There have been so many conversations about ending the epedmic and finding a cure," says Perdomo. "In the meantime we have people living with the virus, so we realize it's not over." Livingston agrees. He says this year's theme elicited shocking images representing emotions from suicide and depression to elation and expressions of beauty. "There were some images that would make the hairs on your arms stand up," he says. "We kind of felt [that] might be a little too harsh for people to take."
Many young people have become apathetic. AIDS is perceived less as a menace than as a nuisance. Perdomo and Livingston believe that young gays especially may be under the impression that a "cocktail" of AIDS medications will keep them alive. The reality isn't so one-dimensional. Increased drug use in the comminity has led to the practicing of unsafe sex. New cases of HIV/AIDS are on the rise. How do you call attention to the tidal wave of self-destruction and the potential breeding ground for new HIV/AIDS cases?
Art is a powerful weapon. Donna Pine, coordinator of Client Wellness Programs, believes art classes run by Livingston have encouraged clients of GMHC living with the virus to express thmselves. More importantly, art gets the message of treatment and prevention to a wider audience. "The classes have inspired artists to want to see their work exhibited," she says. "I am surprised that a lot of clients want to get involved with this show and have ther work [shown] even if people assume they are positive just by seeing a postcard with their name on the back." Marjorie Hill, chief executive officer of GMHC, believes the benefit of the show cannot be underestimated. "For many of the artists, participating in the art classes is a healing experience," she says. "For some, this will be the first time exhibiting their work in a renowned gallery."
One of the artists, who goes by the pseudonymn "Shungaboy," creates paintings of male nudes. Shungaboy has participated in past shows, but this year the theme inspired him to create a special painting that he aptly called "Art & AIDS: It's Not Over." It's a text-based painting, bright and colorful. "It's very cheerful, but it also has a lot of question marks," he says. "It's not a clear picture. So while we have made progress, there is still a cloud of uncertainty over our lives."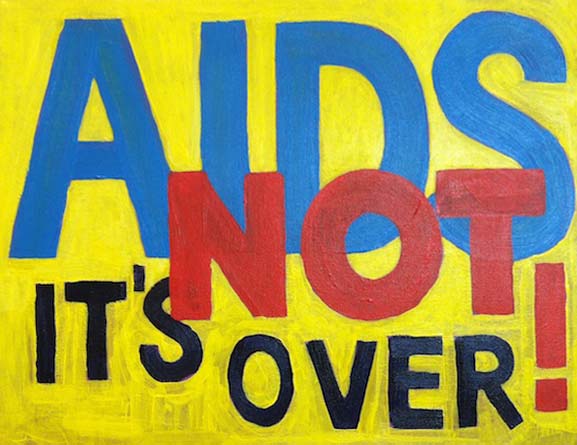 George Towne, who paints evocative images of men who may or may not be gay ("Isauro with Bike" captures an overriding sense of melancholia), was diagnosed HIV-positive in 2005. He credits GMHC in general, and Livingston's life-drawing classes in particular, for acting as a kind of therapy. Towne says that for him, the classes helped remove what seemed to be an insurmountable artist's block. He has four pieces in ths year's exhibition. "I'm grateful," he says shyly. But he's clear about one thing: "Is there still stigma? Oh yes, definitely."
Shungaboy is admant about wanting viewers of the show to understand one important point. "We are artists first," he says emphatically. "The first thing we don't want to do is label someone with AIDS. We see beauty because when you realize life can be gone tomorrow, everything has a different meaning." He adds, "So what will you be taking from the show? You'll see a lot of beauty, but you are also going to see a lot of fear and pain." One example of sheer beauty is the striking image of a large, white flower with pyramid-like points set against a stark blue backdrop. It's by artist Clecio Lira. Other images reflect pain and mourning. "Gone but Not Forgotten" is one of them.
In the interest of full disclosure, allow me to make a revelation. I am not simply writing about this historic exhibition. I am also one of the artists. In 1982, as a Latin American correspondent for CBS News, I drew a pastel entitled "Argentine Women." It was based on a story I covered. It depicted grieving mothers, spouses and children of soldiers sent to fight in the Falklands (Malvinas) War. I had not yet been diagnosed with HIV/AIDS. But now my HIV-status has affected how I approach my artwork. In my new pastel, entitled "Gone but Not Forgotten," created especially for this show, I envision the collective grief exemplified by more than three decades of mourning for loved ones who have died as a result of HIV/AIDS. I am proud to be part of this exhibition. To that end, I will donate 100 percent of the proceeds from sales of my art to benefit GMHC. I want my art to give back. I want it to mean something. I want it to help others.
And so what does curator Osvaldo Perdomo want viewers of "Art & AIDS: It's Not Over" to understand? "I want the public to walk away feeling [like we do] a little stigmatized with this virus," he says. "I want people to walk away feeling empathy for the people still living with the virus. And I want them to walk away realizing there is still a lot of work to be done." For Shungaboy the message of this exhibition is far simpler. " I think people will be very pleased and surprised at the quality," he says. "There is very good talent and a lot of heart in all of the work. As an artist who happens to be HIV positive, I want [people] to say, 'These are beautiful paintings!'"
The exhibition runs Nov. 27 to Dec. 2 at the Leslie/Lohman Museum of Gay and Lesbian Art, located at 26 Wooster Street in New York. A panel discussion commemorating World AIDS Day will be held at the museum Dec. 1 from 6 to 8 p.m., featuring artists from this show.