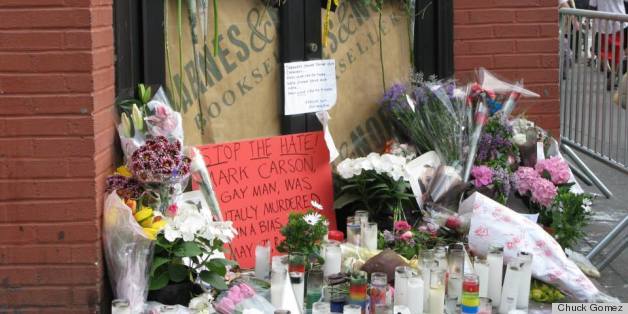 I watched as a dark-haired woman placed a long-stemmed red rose next to a photo of a smiling Mark Carson. At a makeshift memorial outside a closed bookstore in Greenwich Village, they honored Mark's memory. This is the spot where police say the 32-year-old was gunned down May 17 in what they are calling a hate crime. There were dozens of bouquets of lilies, chrysanthemums, azaleas and roses placed around candles flickering in glass jars with images of Our Lady of Guadalupe and the Sacred Heart of Jesus. And as the candles glowed, Mark's image appeared almost saintly. A sign caught my eye. It read, "Hate Cannot Drive Out Hate. Only Love Can Do That."
The woman who brought the rose turned away, and I noticed that her eyes were misty, her face etched with sorrow. Her name, she told me, was Montse Sanchez Mazas. She was on vacation in New York from Galicia, Spain. "In Spain we don't see gay people murdered like this," she says softly. "I'm here because I just can't stand the idea that someone can be killed because of their sexual orientation." Although Ms. Mazas never met Mark Carson, his death affected her deeply. "I pray for his family," she told me as she walked away.
Nearby, Nigel Joseph, a close friend of Carson's, wiped away a tear. "He was such a sweetheart," he said. "The shirt I am wearing right now he gave me. I've been trying not to break down, because he wouldn't cry; he would smile."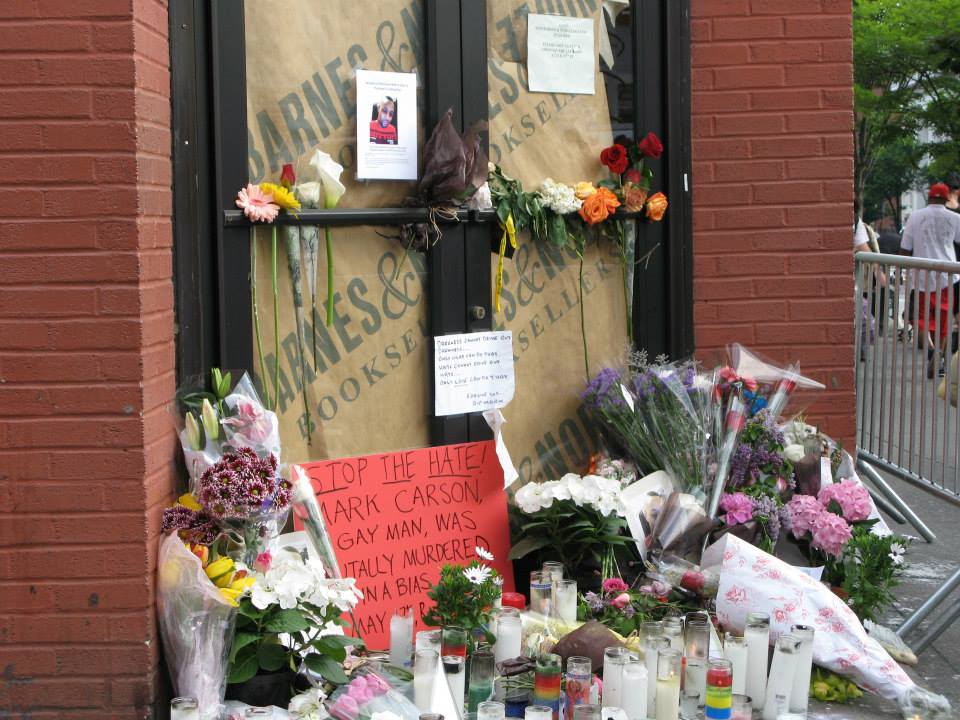 But away from the memorial, a shocking reality was startling a shattered gay community. New anti-gay attacks, just hours after throngs marched through Greenwich Village to protest Carson's killing, were sounding a piercing alarm. Was it happening again? Police say Steven Dixon, 42, and Michael Coleman, 41, were attacked in SoHo by two thugs hurling anti-gay slurs hours after demonstrators staged a big rally to denounce anti-gay violence. They say Dixon was beaten, suffering lacerations and swelling around his right eye. Police arrested Fabian Ortiz, 32, and Pedro Jiminez, 23, and charged them with assault as a hate crime and felony. And police were also investigating an attack Monday in the East Village on gay promoter Dan Contarino. Police say an attacker shouted anti-gay remarks as he kicked and beat Contarino.
"We are shocked and angry to learn that just hours after marching with thousands of people through Greenwich Village to stand up against hate crimes, at least two New Yorkers were attacked on the streets of Manhattan because they were perceived to be gay," City Council Speaker Christine Quinn said in a statement released to the press. "We will not retreat in fear," she emphasized.
Osvaldo Perdomo, who sits on the board of directors of GMHC and participated in the rally, went one step further. "These types of hate attacks can't continue to happen in New York City or any other city in the United States," he said. "We won't tolerate going back to the past. We must demand respect."
We live at a time when a black American president speaks eloquently about "our gay brothers and sisters" in an inaugural address. In so doing, President Obama became the first sitting U.S. president to include the LGBT community in an inauguration speech. We live at a time when more and more states across the country are passing marriage equality legislation. We live at a time when we can turn on our TV sets and see shows like Glee and Modern Family. They feature gay characters as positive role models. We watch as sports heroes, actors and Oscar winners come out publicly as gay. Could it be that with all this visibility, anti-gay sentiments are being stirred as homophobic violence erupts? The questions persist, and the answers aren't easy. Is homophobia a troubling sign of our times? Will it pass? Do hate crimes remind us of attacks on blacks that coincided with the civil rights movement? Should gay leaders be scared, or will threats of violence only strengthen our community's resolve?
If so, such resolve could be the gay community's rallying cry, some gay leaders say.
"I think that there is a deep-seated fear of difference at the root of all this," says Micah Busey, Community Minister of Arts at Judgment Memorial Church. The church is a few blocks from where Carson was gunned down. "Any time where you see someone getting something different that you don't think they deserve, something changes in some brains, and you get violence."
Other gay leaders, like Thomas Krever, the executive director of the Hetrick-Martin Institute, believes that the reasons are secondary to the challenges that must be faced. "There needs to be a greater sense of awareness in the community, followed by the understanding that we all have responsibilities," he said. The Hetrick-Martin Institue teaches empowerment, education and advocacy to LGBT youth. "What are we going to do?" he asks. "Whether it is curriculum, whether it's creating safe spaces to have these dialogues. Where is the accountability going to be when these horrific events happen?"
According to an April 9, 2012, LiveScience article reporting on a study published in the April 2012 issue of the Journal of Personality and Social Psychology, "individuals who are most hostile toward gays and hold strong anti-gay views may themselves have same-sex desires, albeit undercover ones." Richard Ryan, a professor of psychology at the University of Rochester and a co-author of the study, put it this way: "[I]f you are feeling that kind of visceral reaction to an out-group, ask yourself, 'Why?' Those intense emotions should serve as a call to self-reflection." The LiveScience article also reported that the study suggests that "homophobia may also stem from authoritarian parents, particularly those with homophobic views as well."
At a news conference regarding the killing of Mark Carson, New York City Police Commissioner Ray Kelly said that there have been 22 bias-motivated crimes in New York City this year, up "significantly" from 13 at this time last year. Police say Elliot Morales, 33, was arrested on second-degree murder charges (as a hate crime) in connection with the killing of Carson and two counts of criminal possession of a weapon. But the facts and statistics of the recent attacks, must be viewed against an emotional backdrop, gay leaders say. How does a community under siege cope?
Antoine Williams, a young black man who attended the rally, shakes his head when asked to comment on the recent rash of anti-gay assaults. "We come to the Village all the time with our friends to hang out," he says. "We never think that our lives could end at any moment and that some crazy person will pull out a gun on us just for who we are."
Desiree Ortiz, a friend of Mark Carson, agrees. "Homophobia can be a very strong feeling," she says. "If you're not with the gay thing, I'm not shooting you in the face because you are straight." Then she adds emphatically, "I think there should be more of a police presence."
Jean Grillo remembers the gay-bashing attacks of the 1970s. "We thought we had seen the end of that, and to see it may rear up again is unconscionable," she says. "I'm a straight person with gay relatives, and I'm against anyone being attacked for who they are, straight or gay."
As Memorial Day gives way to June, also known as Pride Month, there is a growing fear that gay attacks may increase.
"I would like to say there won't be more," says Micah Busey, "but I really fear there will be more."
Nigel Joseph, who came to say goodbye to his best friend, believes hate crimes like Mark's touch many lives. "It's more than just our loss," he says. "It's the community's loss. Violence isn't justice. It just has to stop, period -- against gays, against race, against anything. We should just love."
As he spoke, I was reminded of the sign at the sidewalk memorial that first caught my eye: "Hate Cannot Drive Out Hate. Only Love Can Do That." Mark Carson would certainly have agreed.