INDIANAPOLIS -- DNC Chairman Howard Dean's cross-country "Register for Change" bus tour, part of a national grassroots voter registration effort, started in Bush's home town of Crawford, Texas, in July and stopped here yesterday at the downtown City Market. Dean was joined by actor/producer Kal Penn ("House M.D.," "Harold & Kumar Escape from Guantanamo Bay").
OffTheBus chatted with several attendees, including Democratic Congressional Candidate Barry Welsh running against Republican Congressman Mike Pence in Indiana's 6th District. Describing himself as a "Party outsider," Welsh detailed his quest for change in Washington and his support for Senator Obama. Interestingly, Welsh was not "working the crowd" or handing out literature. He said he just wanted to be there. When I mentioned I was a Republican, that I have met and like Congressman Pence, Welsh said he likes Pence, too, as a person, and it was a matter of policy, especially regarding oil drilling and Iraq, that led him to run against him.
At 1:45 pm, the bus pulled in to the cheers of about 120 enthusiastic Democrats, wearing t-shirts that said Obama '08, Jill Long Thompson for Governor, Andre Carson for Congress. Emblazoned with the phrases, "Register for Change," "Taking our Country Back Neighborhood by Neighborhood, Door by Door, Vote by Vote" and "Not Paid for by Special Interest PACs or Washington Lobbyists," the brightly colored bus drew bystanders into the crowd, some hoping it was Obama coming to speak.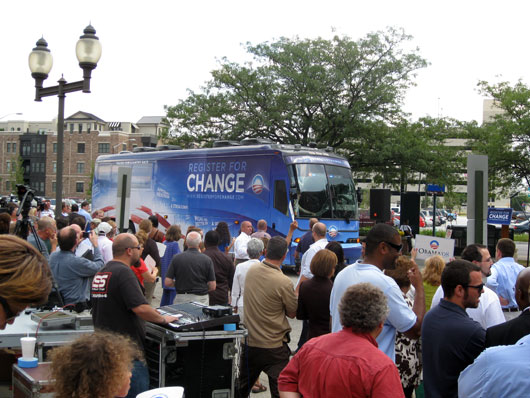 After the usual local introductions and thank yous, actor/producer Kal Penn got up to speak. Judging from the cheers, he may have been as much of a draw as Governor Dean. Penn gave a speech pretty close to the same one he has given many times before in support of Obama, then explained Dean's "50 State Campaign because every state matters."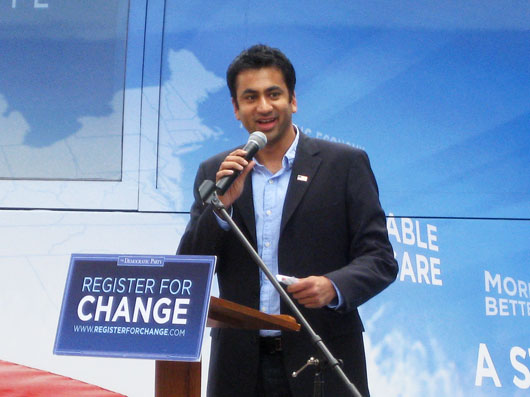 Governor Dean then spoke, criticizing the "Bush/McCain" policies, describing the Republicans as "borrow and spend," detailing the positives of Obama's plans, and giving statistics to demonstrate the importance of voter registration. He said the DNC has identified 9,434 Democrats who have moved to Indiana but not registered to vote, and 50,914 young people eligible to vote in Indiana who have not registered. He said McCain had taken the low road so far in the campaign. "John McCain 2000," he said, "would not vote for John McCain 2008."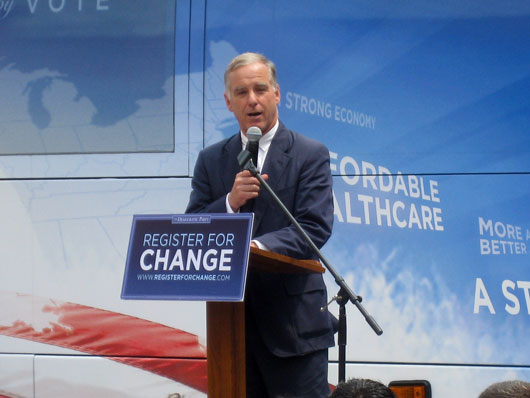 Kal Penn talked to OffTheBus in between posing for fan photos and giving other interviews.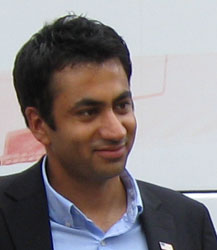 Chuck Lasker for OTB: "What issue brought you to support Senator Obama?"
Penn: "Like I mentioned when I was speaking, four years ago Halliburton called a friend of mine and said that they would pay him $90,000 for one year if he agreed to go to Iraq and drive a truck for the private sector. He called me and we discussed it and we decided it was a sad day when the world's richest and most powerful country could only offer my buddy two options if he wanted to go to college, minimum wage or 90 grand in a war zone. He didn't take the job and he's still making minimum wage. And I've spoken to people all over the country who are hurting from gas prices, in places where they have to drive to work because there's no public transportation. "
"I'm a Republican. Are you..."
Oh, yeah. I've met a lot of Republicans who are voting for Obama. Mostly it's when they have family members in the military, and they don't like what's happening with Iraq. I'm actually a registered Independent, but that might change soon.
You mentioned that you work the phones in Obama campaign offices alongside other volunteers.
Yes. I am just like any other volunteer. I signed up on one of those volunteer sign up forms and I do whatever is needed.
Do you point out on the phone that you're a celebrity?
No, I follow the same script as everyone else.
----
A group of teens waited to interview Dean or Penn. They were part of Y-press, a highly popular Indianapolis-based Youth Press organization. Since my son was part of Y-press years ago, I chatted with the kids and they told me they wanted to interview Kal Penn. Here they are with Penn, asking probably the best questions asked of either Penn or Dean.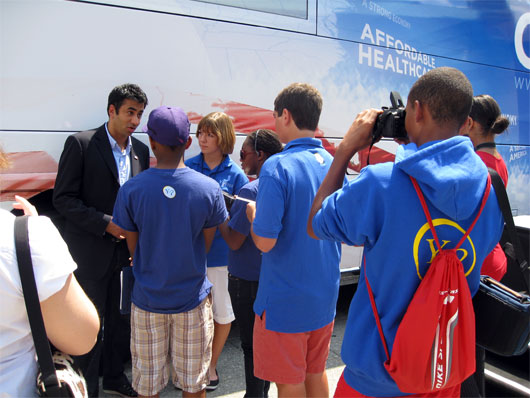 In blue, Y-press reporters Jonathan Gainer, Sarah Zabel, Ariana Gainer,
Jake Thornburgh, Paul Winston (with camera)
When the bus left, dozens of stragglers remained to bond with like-minded fans of various Democratic candidates. Greg Purvis, vice-president of the Hamilton County, Indiana, Democrat Club, summed up the event: "That was fun!"