This week marks the official publication of Glamour magazine's first cookbook in 23 years, and I for one, am glad for womankind--because now every female in the universe can have the same secret weapon in her arsenal that I do. No, not Engagement Chicken, the cookbook's most famous recipe, responsible for 72 marriage proposals so far; I've been married for far too long to need THAT one's secret powers (ditto for the yummy Let's Make a Baby Pasta, which has gotten our food blogger pregnant three times). MY personal favorite is the bluntly titled, and frankly delicious, Get Him To Clean The Apartment Burgers. They work a certain kind of magic on anyone you're trying to get on your good side. And at the risk of sounding sexist, they work especially well on men.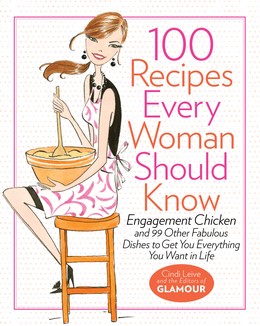 Like all the recipes in the book, they're fairly simple, designed for time-crunched women who want to make something that tastes amazing but doesn't require an enormous kitchen, a sous-chef or a day off from work. We all need a good burger recipe in our repertoires, and this one clocks in at under a half-hour (only about 15 minutes of which are spent actually doing anything; the remainder allows time for the patties to chill in the fridge pre-cooking). And yet they're mouth-wateringly good, and their smell--well, it'll pry anyone off the couch to see what's going on, and we all know that with chores, that's half the battle. I can personally attest that there are entire areas of my home that would never have seen a vacuum or broom if I hadn't learned this recipe. I'm certain that without them, the great Halloween Uneaten Candy Pile of 2007 would still be standing in a corner of the kitchen.
And why will you love them? Well....
They call for just a smidge of cumin and shallots, which give them a slightly gourmet I-haven't-tasted-that-before flavor.
They're delicious on the grill, of course, but work every bit as nicely under the broiler; they may just take a minute or two more to cook.
Unlike, say, Baked Alaska or lobster, burgers are a dish you can make several times a month without driving yourself crazy--or making those around you secretly suspect that you're only serving them such nice stuff because you want them to do your bidding. And yet voila! All the meat-lovers around you will fall in line.
So here it is! And one note: Resist the urge to push down on your burgers while they are cooking. (You know how you want to do that because you think it'll make them cook faster?) It'll just push the juices out, and kill the yum. And you might end up having to clean the house yourself, and no one wants that.
Get Him to Clean the Apartment Burgers
Juicy Burgers on Toasted Buns
Nothing pleases after serious exertion like a burger. And if you don't have a grill, don't worry. You can get a similar "cooked on an open flame" effect by broiling these in the oven.
Makes 2 large burgers or 4 smaller burgers

Ingredients
1 pound ground beef (80-to-20 meat-to-fat ratio--sorry, but leaner just won't do!)
Salt and freshly ground pepper
1 teaspoon ground cumin
1 shallot, finely chopped
2 dashes of Worcestershire sauce
2 to 4 pats (1⁄2 tablespoon each) butter
2 to 4 thin square slices Cheddar or Swiss cheese (optional)
2 to 4 hamburger buns, lightly toasted

Preparation
1. In a large bowl, using your hands, gently mix the meat with a generous pinch of salt, a few grinds of pepper, the cumin, shallot, and Worcestershire sauce, making sure not to take so long that you begin to warm the meat.
2. Divide into 2 balls (or 4 smaller balls) and flatten into patties.
3. With your thumbs, create a depression in the top and add a pat of butter to each patty. Refrigerate for 15 minutes.
4. Preheat the broiler or grill. If using the broiler, put the patties on a foil-lined rimmed baking sheet and broil for about 7 minutes, until they are browned on one side. Flip and cook for about 4 minutes longer, depending on how well done you like them. If using the grill, add the patties to the grill rack and cook over moderately high heat, turning once, until charred, about 7 minutes. If making cheeseburgers, add the cheese during the last few minutes of cooking.
5. Place the burgers on the buns and add your favorite toppings. Close the burgers and serve.
Variation: turkey burgers

*To make turkey burgers, substitute ground turkey (the fattiest available) for the ground beef. Reduce the cumin to 1⁄2 teaspoon, and replace the Worcestershire sauce with 1 tablespoon each minced fresh oregano and cilantro. If broiling, start watching the burgers after 5 minutes, turning them as soon as they are well browned. Before serving, cut into each burger to ensure that it is properly cooked through.

Ingredients
1 pound ground turkey
Generous pinch of salt
Multiple grinds of pepper
1⁄2 teaspoon ground cumin
1 shallot, finely chopped
1 tablespoon minced fresh oregano
1 tablespoon minced fresh cilantro

Glamour Girl Tip
Whether turkey or beef, don't over handle the meat--you want to leave pockets of air in the patties for the flavorful juices to collect.

From 100 RECIPES EVERY WOMAN SHOULD KNOW by Cindi Leive and the Editors of Glamour. Copyright © 2011 Conde Nast Publications. Published by Hyperion. Available wherever books are sold. All Rights Reserved.
Make sure you follow the Glamour editors on this week's 100 Recipes Every Woman Should Know Blog Tour with Executive Editor Wendy Naugle's recipe for 'No-Fail Kale Salad' on About.com and Caroline Campion's 'Love You Pancakes' tomorrow on YourTango.com.

Cindi Leive is the editor-in-chief of Glamour magazine and author of 100 Recipes Every Woman Should Know: Engagement Chicken and 99 Other Fabulous Dishes to Get You Everything You Want in Life