It's anybody's worst nightmare, driving a lonely winter road in subzero temperatures, and you hear the engine start to stall. That's what happened to Gary Bennett, a 60-year-old ice road trucker en route from a delivery in Northern Canada through some of the most rugged, desolate, and bitterly cold roads to his home in Montana.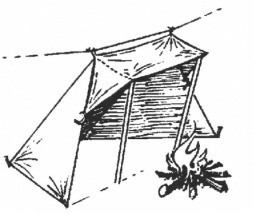 Bennett had pulled over for the night and was getting ready to settle into his sleeper when he heard and felt the engine start to sputter. Immediately, he went on alert, knowing that the diesel fuel was turning to jelly in the lines and would freeze any minute. Soon the truck was completely disabled. He also knew there was no calling for help because there was no reception in the area. Once you enter, you go dark.
Thinking fast, he went to his on-board computer and sent out an SOS to his trucking company back in Montana. "Call the cavalry," it said. "I'm stuck and may not be here in the morning." He knew no one in the company would see the message until morning. The truck gave its last cough, and all went silent and dark.
In those quiet moments, his mind raced. He thought back on the many adventures he'd been on over the years. This wasn't the first threatening situations he'd faced. He recalled an experiment he did with his little girl on their ranch many years prior. He had read about something called a whelen lean-to, and just for fun one snowy winter night, they set one up in their backyard. With the canvas set up as described and a fire built in front of the opening, they were so warm that they had to take their coats off. Before long, they found themselves uncomfortably hot. They gave up and went inside.
While there was still enough warmth to move his fingers, he took his blankets and set up a makeshift whelen lean-to in his sleeper. Instead of a fire, he had two Walmart glass jar candles that he set up at the bottom of the opening. Then he crawled in, curled up, and waited.
While he waited, all he could think about was his beloved dog, who had been his constant companion until a month earlier, when the dog's kidneys failed and he passed on. Bennett has been in mourning for his beautiful Wolf-Shepard, Lolo, named after the town in Montana where he had adopted him. He was big for a trucker's dog, but he was perfect for Bennett.
Consciousness came and went throughout the night, and he recalls being visited by his grandmother, Lolo and an old friend, Dark Wing, all deceased. He wasn't sure if he was alive, dead, or somewhere in between. When daylight struck, there was a knock on his door, and a Canadian Mountie looked inside and said, "Are you Gary Bennett?" Bennett confirmed, and the Mountie yelled out, "He's alive!" Before they set off for the hospital, a female RCMP, shocked to find him alive, looked in the back of the cab. She came out and asked, "What is that, some kind of shrine or something?" Bennett and the other Mounties laughed, and he said, "You might say so."
It had been quite a year for Bennett. He survived cancer for the second time, lost his most beloved companion, and nearly died on the ice roads. He's left now to ponder why he keeps surviving. I would submit that it's a combination of fearlessness, the ability to roll with the punches, and keeping calm under pressure. Also, his curiosity helped him to apply learned coping and survival skills to his challenging situations. We may never be in the same circumstances as him, but we can learn from the way he reacted to his trauma. Nothing is too big to tackle. Never give up the fight, and always find ways to learn and grow.
Cindy Tansin is author of the book Lead With Your Heart and the Rest Will Follow. Her expertise is in promoting personal and professional growth, addressing issues of mind, body, spirit, and financial soundness. Follow her at cindytansin.com.