George Lwigala has probably never heard of HeForShe nor indeed of Emma Watson. But the 36-year-old father, who lives in Butansi in rural Uganda, embodies the spirit of the gender equality campaign launched by the actress in New York in September.
George has five children with his wife Annette, who recently joined a Safe Motherhood and Maternal Health Initiative run by the Uganda Rural Information and Communication Technology Centre (URICT) in Butansi.

George decided to attend the training courses as well.
"Safe motherhood means I have to be there for my wife from the time she gets pregnant to the time she delivers," he said. "I heard about the programme from my wife, and she asked me to join. I was very moved because everything I learnt was new."
He told other men, and they too signed up. So many wanted to join that the volunteers, who run the programme, were overwhelmed.
"If I had learned about maternal health and safe motherhood even five years ago, I might not have lost two children. I might have been able to plan my family better," George said, sitting on a wooden chair outside his house, with his young son leaning on his knee.
As well as the education on ante- and post-natal care, women are given special motherhood packs, containing surgical gloves, a plastic sheet and other items. Other women are trained as traditional birth attendants over three to four months. Eighty-five women are doing the course, which is supported by London-based charity emerge poverty free.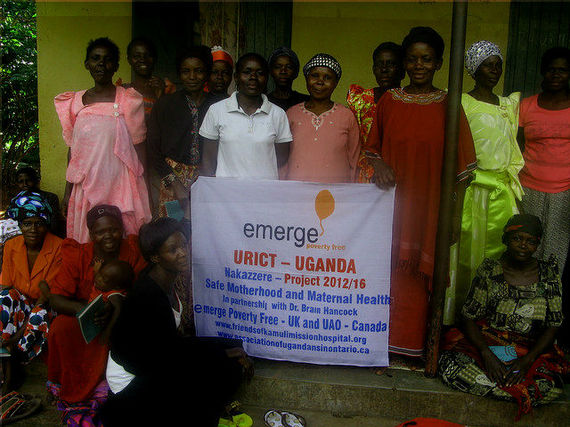 Photo courtesy of URICT
George believes even more birth attendants should be trained and he would also like to see repairs carried out on the roads to make it easier to get to the nearest hospital, which is 20 km away, in emergencies.
George lives a world away from the austere surroundings of the United Nations headquarters where Watson launched the HeForShe campaign. But his role-model activism is just what the actress was calling for in her high-profile speech launching the global solidarity movement in September.
"I want men to take up this mantle," she said. "So their daughters, sisters and mothers can be free from prejudice, but also so that their sons have permission to be vulnerable and human too -- reclaim those parts of themselves they abandoned and in doing so be a more true and complete version of themselves."
UN Women Executive Director Phumzile Mlambo-Ngcuka said boys and men need to work with women to end gender inequality by 2030. The HeForShe campaign aims to galvanize one billion men and boys to take action and push for an end to gender inequalities around the world.
"The goal is to engage men and boys as advocates and agents of change in the effort to achieve equality. When women are empowered, the whole of humanity benefits," Mlambo-Ngcuka said.
In Uganda, access to healthcare is very limited in rural areas. Fertility rates are high, and contraception use is low. The maternal mortality rate stands at around 440 deaths per 100,000 live births -- that's an estimated 16 women dying each day from childbirth-related complications.
URICT's Safe Motherhood and Maternal Health project will run until 2016. More than 200 women have already been trained in basic healthcare.

Zauja Namwase, 23, heard about the training soon after she became pregnant with her second child. Her first child miscarried.
Now Zauja understands that malnutrition contributed to that miscarriage. She simply did not have enough information about safe pregnancies. Today, like other women on the course, she spreads the word, telling women she meets to go to hospital for checkups, and to be aware of the position of the baby.
"I am very grateful for the provision of the mother kit and the knowledge I have gained," she said.
Andrew Gabula, one of the co-founders of URICT, had long nurtured a personal vocation to do something for pregnant women: his sister Rosemary died giving birth. And he also wanted to address what he describes as the authorities' neglect of rural communities.

"When women are dying during pregnancy or birth, the leaders are not there. When hundreds of children have no school, the leaders are not there," he said.