I recently had the chance to dine at Bonsoiree, Chef Shin Thompson's exclusive Logan Square restaurant famous for its Saturday Night Underground Dinners, an experience gained by invitation only. Born out of a series of illegally-held dinner parties in tiny Chicago apartments, which eventually led to a small, airy restaurant located on a quiet strip of Armitage, going to Bonsoirée today can only be described as a revolution in eating out. Combining French and Asian influences with a contemporary American menu, Chef Thompson quickly gained a name in Chicago's restaurant world with dishes like his Scallop Motoyaki, a unique version of the classic Coquilles St. Jacques.
With no intention of obtaining a liquor license, Bonsoiree encourages diners to enjoy coming up with their own pairings (we took a Beckman Rose) for its four, seven or thirteen course tasting menus. Diners often bring some of their best bottles, sharing a glass with the chef as he makes the rounds of the room, explaining his carefully-crafted dishes. One of the best parts about eating at Bonsoiree is getting to watch a table a few courses behind you delight in the same dish that had you smiling with wondrous bewilderment just moments before.
Recently tapped as chef for the June 22nd James Beard Foundation Dinner in New York City, I talked with Chef Thompson about his intentions for the menu, his rise to fame with Bonsoiree and what he sees on the forefront of Chicago cuisine.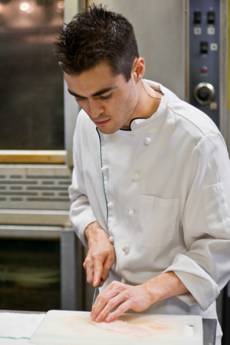 Claire Bidwell Smith: Bonsoiree grew out of an underground dinner party movement held illegally in people's apartments. Do you miss those days, or do you still feel as though you've been able to retain a sense of what was magical about those early dinners?
Shin Thompson: The underground concept was a means for us to gain exposure for the type of food we were serving and to obtain financing. There was always the worry of being exposed by the city and not being able to obtain a business license once we were ready to move into a legal space. It was fun and challenging in a much different way than it is now. We have retained the underground concept but are now able to do it legally while still maintaining the same creativity we once had when we began. There is still something special about getting a menu that is exclusive to those that are on our mailing list.
CBS: Your reservation process seems pretty serious, but in a fun, have-to-be-in-the-know kind of way. How does that affect the dining room atmosphere at Bonsoiree? Has a community formed from this?
ST: Since you have to be in the know, we only attract serious diners that have done their homework. They are serious foodies who know their food and wine, and it adds to the atmosphere tremendously. For instance, guests have been known to share their bottle of wine with other tables.
CBS: You were born in Hawaii and spent a lot of time in Japan. Do you find that it's easy to fuse various cultures together in a culinary-sense?
ST: When preparing a dish, I look to see how I can borrow different aspects of Japanese flavors, textures and presentations because of my time spent there. I went to culinary school in the States, which focused on basic French techniques. So being able to combine some of these aspects in a dish is my specialty. For example, our Scallop Motoyaki is inspired by a traditional French dish called Coquilles St. Jacques. It is a scallop traditionally baked in a shell with a bechamel sauce and cheese. Our preparation is a ponzu aioli instead of the bechamel, which we torch directly to the shell with Japanese chillies. It's become quite a signature dish here (pictured on Web site) and people have literally gotten visibly upset when I tried to take it off the menu once when I was making room for other items.
CBS: Logan Square hasn't seen many new restaurants lately. How did you choose this neighborhood as a location for your restaurant?
ST: My old partner (Kurt Chenier -- currently at Lunchrolls downtown) and I were driving by one afternoon and saw a for-sale sign. We peeked in through the window and saw a full kitchen already beautifully built out. There was no strategy behind it, really. We naively took the first space we saw and fortunately it has worked out. I knew that if we did something truly different, people would come, no matter the location.
CBS: Being selected to be the chef for a James Beard Foundation dinner is a big honor. You're still relatively young and new on the scene -- what do you attribute to your current success in the field and what has the reaction been in the chef community?
ST: Let me make one point clear. The James Beard Foundation does many dinners each year to support the foundation. It's not a one time, annual event as some people have been suggesting. It is still a great honor that they would want me to come prepare a dinner for the foundation since I am relatively unknown on a national level. Most of the chefs they invite come either locally (NYC area) or are previous James Beard Award winners. Let me also be clear that the events at the James Beard House are unrelated to the awards ceremony. I have not been selected for the James Beard Award.
I attribute our success here by doing things with food that are unusual and unexpected, while keeping in mind the most important thing we all love about food: taste. We surprise guests with unorthodox preparation methods and presentations. For example our Tea Smoked Octopus is presented in a bamboo lacquered box that I sought out in Japan. We use a smoke gun and smoke the dish to order, place a lid on the box and the smoke is released (pictured on Web site) once we remove the lid table-side as we describe the dish. It is served with a sake sauce and rhubarb and golden beets that we cure gravlax style (meaning submerging it in salt, sugar and dill). We even give instructions on how to eat some of the dishes. I am often in the dining room explaining dishes and presentations myself. We have a very small and friendly staff that people get to know, which allows us to get to know our guests on a first name basis, and the word of mouth has been tremendous because of this. I can't forget about my tremendous support staff and they deserve a lot of credit, as well. Special thanks to Chef de Cuisine Luke Creagan, Sous Chef Nathan Hereford and Pastry Chef B. Ross as well as Dining room Coordinator Ryan Hoffman. Please don't publish this article without their mention. A chef cannot run a restaurant on his or her own and relies on the help of trustworthy and talented hands.
CBS: Can you tell me about your ideas and inspiration for the JBF menu?
ST: It's all stuff we have done in the past. I wanted to create the best overall menu possible for the event, so we've taken our very best dishes including the Scallop Motoyaki I mentioned earlier. I wanted to introduce more exotic ingredients into the menu for the event, but the foundation advised against it in order to not scare people off.
CBS: Are you nervous at all, or are you treating it as any other dinner?
ST: It's still two months away right now, so not yet. There will be plenty of time for the nerves to kick in I'm sure, probably the day before the event when I'm thinking in my head how I'm going to execute all the crazy little details.
CBS: What chef do you think is most deserving of a JB award this year?
ST: I'm a Chicago guy so I'm pulling for Paul Kahan of Blackbird. I would have liked to see Michael Carlson of Schwa get nominated because I think he's doing some crazy shit over there. He's a cool dude and so generous, as he never lets me pay for a meal even though I insist each time. I tell him, "You don't have to comp me or do anything special just because I'm a chef." I say, "Just come visit me at Bonsoiree," but he never does.
CBS: How do you think Chicago cuisine compares to other cities around country? What are we doing here that's different?
ST: Chicago is cool because diners are open-minded to risk takers. As a chef and an artist, you want to utilize your creativity. I think in Chicago, more than other cities, people are willing to experience the unusual, where in some places it may be considered scary and people shy away.
CBS: Do you feel a camaraderie or a competitiveness with other Chicago chefs?
ST: I don't think chefs have the time to feel it. I think it's less competitive because running a restaurant is less concrete than perhaps a sporting event. There is no winner and loser. Whether people like your food or not is more subjective.
CBS: Where do you look forward to dining in Chicago?
ST: I always love going to Urban Belly. Chef Bill Kim is doing some cool things with dumplings and noodles. I'm looking forward to The Drunken Goat, Top Chef Stephanie Izard's new spot when it opens up. I regret never having made it to Scylla.
CBS: What do you see as the future of Chicago cuisine and what's next for you?
ST: I think we are going to see less of the molecular gastronomy and more of the "green restaurants" with a focus on sustainability and the environment, which I am a proponent of. For us at Bonsoiree, we are happy with where we are and have no plans of expanding or opening another restaurant in the near future. However, we are secretly working on an outlandish new presentation codenamed: Kamikaze Kobalt. Be on the lookout.