In August my husband and I traveled to Costa Rica for what was supposed to be one of the world's first "Carbon Neutral Vacations."
As an occasional travel writer, I've found the leaning trend towards environmentally and socially conscious travel quite impressive. From giant, all-inclusive resorts in Jamaica to luxury hotels in Boulder, Colorado, it seems that no matter where I go these days everyone in the travel industry is making the leap to sustainable travel. I was curious, however, to experience something environmentally friendly enough to be deemed carbon neutral, meaning that any carbon emissions we would be releasing as a result of our trip would be offset by using sustainable providers, activities, materials and carbon credits.
Costa Rica, long a bastion for eco-friendly tourism, seems an obvious choice for such a bold attempt at sustainable travel, and our 7 day, 6 night trip began with a stay in San Jose.
We were picked up at the airport by a Nature Vacations representative, driving a certified carbon-neutral, locally grown and recycled biodiesel van. Neither my husband nor I had ever been to Costa Rica, and the afternoon we arrived there was a torrential downpour. We peered out the windows of the van as we wound through the narrow streets of the sprawling capital, muddy brown water rushing past in great sheets on the sidewalks. We climbed higher and higher, out of central San Jose and into the hills of Santa Barbara de Heredia where were we would spend the night at La Finca Rosa Blanca Country Inn, a beautiful place nestled in the lush green hills of an organic coffee farm, overlooking the teeming central metropolis of San Jose below.
Owned by Glen and Teri Jampol, two American expats who left New York City in the 1970s to run the inn and raise their young daughters in the local Costa Rican school system, La Finca Rosa Blanca proved to be the height of sustainable luxury. In addition to being incredibly beautiful with its cool stucco rooms and sweeping views, the inn supports an organic coffee farm and a restaurant that takes advantage of the local produce and regional spices.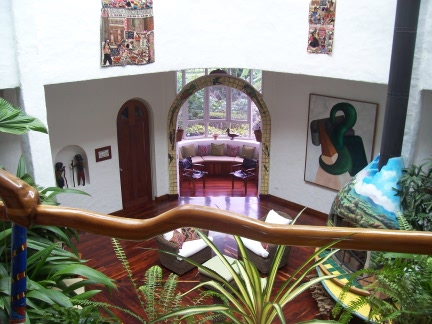 Each unique room at La Finca Rosa is decorated tastefully with local art, bamboo sheets, biodegradable shampoo and soap, and several waste baskets for recycling, reuse and waste. None of the buildings have air-conditioning and all are outfitted with a gray-water recycling system based on the farm's well. Inn laundry is air-dried.
Greg and I tramped across a hill to admire solar panels used for heating and inspected the silver copper bars (used instead of chlorine) in the pool and admired a greenhouse and garden that nurture the restaurant which employs only Costa Rican citizens. La Finca Rosa has been awarded the maximum five green leaves from the Costa Rican Tourist Board for their compliance with the CST (Certification for Sustainable Tourism), and owner Glen now spends his time traveling throughout Central America lecturing about, and promoting, sustainable tourism.
The next morning we traveled to the Osa Peninsula in Costa Rica's southwestern-most point. The Osa Peninsula has been described by National Geographic as "one of the most biologically intense places on earth," and as we flew over the verdant hills and cascading shoreline of southern Costa Rica in one of Nature Air's biodiesel airplanes, Greg and I peered out the window of the tiny aircraft, giddy with anticipation of this untamed place we were traveling to.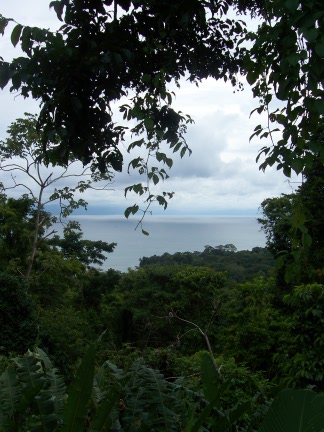 Our destination in the Osa rainforest was Lapa Rios Ecolodge, a series of luxury bungalows perched on the edge of a 1,000 acre tropical rainforest preserve. The lodge overlooks the very point of the peninsula where the Golfo Dulce meets the Pacific Ocean, and in addition to providing a one-of-a-kind travel experience, the lodge serves to support and protect the land it inhabits.
Our private, thatched-roof hut looked out across an expansive vista of forest and ocean. In the mornings Greg and I sat on the deck with our morning coffee, laughing as we watched the squirrel monkeys swinging from vine to vine in the trees, edging ever closer in an attempt to inspect us. Toucans and macaws flew overhead, and in the distance the fierce-sounding howler monkeys bellowed.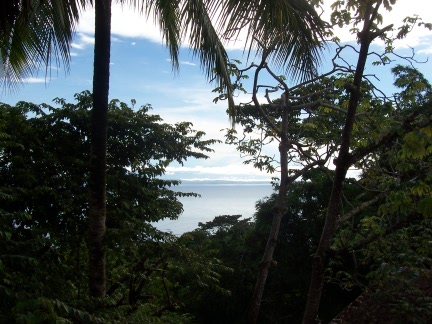 Another venture founded by American expats, Lapa Rios owners John and Karen Lewis envisioned an eco-tourism project that proves that "a forest left standing is worth more than one cut down." In addition to experiencing a wildly romantic vacation, just by staying at the lodge, guests support the preservation of the rainforest and provide direct employment and income to more than 45 families in the area.
The huts, with their private decks overlooking the forest and ocean, have solar panel-heated showers and ceiling fans rather than air-conditioning. During the day a series of tours and activities are offered, all led by experienced guides who work hard to educate guests on the environment around them. From spooky night walks in the forest to tours of local medicine, sustainability and waterfalls, there's simply no way not to be present to the land around you. On our second day, Greg and I accompanied a guide into the rain forest so that we could plant tree saplings, each of us getting to choose from a variety of saplings that promote and provide further support to the land as they grow.
The restaurant at Lapa Rios, where guests dine for breakfast, lunch and dinner, seeks to provide mostly organic produce and products, and uses a unique kitchen model wherein there is no single chef; all the local kitchen employees have been taught how to work every culinary aspect of the restaurant, providing education and equal employment to community members. Ever dedicated to the community, Lapa Rios also partners with various neighbors to create and run the Carbonera School, an all-ages school that provides education to local children who previously did not have the luxury of attending school.
A trip that began as a simple idea of adventure in a place we'd never been, turned quickly into an experience that left us feeling like we'd actually contributed to the betterment of an important part of the world. In an age where so many destinations have given up on much of their local resources and exports to give way to the epidemic that is the modern tourism industry, Costa Rica continues to pioneer a new kind of travel. Regardless of whether or not our trip was completely carbon neutral, we returned home feeling as though whatever footprint we left behind was a good one.
(To learn more about the exact carbon neutral details, visit Nature Vacation's explanation of it here.)