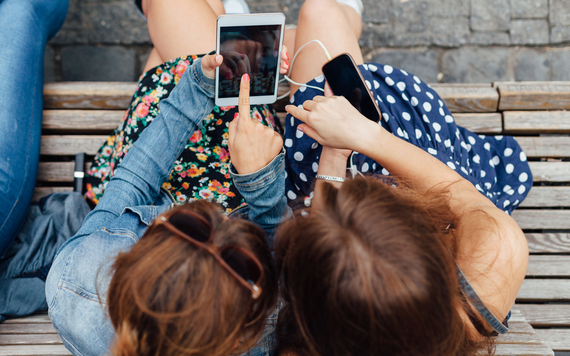 As a writer and journalist in her 20s, I suppose I fit the description of "social media obsessed" that comes with my age bracket. The latest Snapchat filters? I've amused myself with them for hours. Where do I find out about current events most of the time? Twitter. How do I show people when I reunite with friends or make homemade pastries? Instagram. But a funny thought occurred to me recently, and I feel like I'm not the only one who's thought it: I've become part of a generation that is forgetting how to feel spontaneous joy because we're too busy trying to prove it.
It occurred to me last weekend when some plans fell through and I found myself doing an activity most of us consider normal: decompressing by sitting on the couch and scrolling through social media. Checking Snapchat, I saw friends zip lining on vacation and drinking champagne; Instagram showed me some young writers celebrating a book deal with perfectly-frosted desserts; Facebook basically displayed a never-ending slideshow of acquaintances that were purchasing homes, getting married, and having babies. And despite being illogical, after about 20 minutes I felt pretty badly about myself. About nothing. About seeing wonderful things that somehow left a weird taste in my mouth.
Social media is overtly a place where people post their shiniest achievements and best moments. It's not (usually) the place where people admit that they don't know what they're doing with their life or that they got in a fight with their spouse. Nobody's putting their bad day on social media. And when we sit alone with our phones, on the other side of this experience, this blatantly curated perfection can make us feel isolated and lonely, no matter how grateful we are for own blessings. It's not a real interaction. It's you with your screen, watching a highlight reel of someone's life, not what's been left on the cutting room floor: anger, sadness, confusion -- all the emotions that are part of human existence that co-exist amongst joy and gratitude and contentment.
On the flip side, when I'm celebrating an achievement or vacationing in a beautiful place, I feel the strong urge to document it, too. Tell me if this sounds familiar: when you're hanging out with a group of friends, are you thinking of how to "capture" the moment on Instagram, Facebook, or Snapchat? I realized I usually am, and that kind of disturbs me. When I'm at a concert with friends, I'm watching the concert through my Snapchat camera. When I'm at brunch, I'm Instagramming my Belgian Waffle. Social media platforms have become a part of our daily lives, but it seems like they're also disrupting our ability to find joy and meaning in the present moment. Why do we feel the need to broadcast our positive experiences instead of living them? What are we trying to prove? To preserve? No one's life is perfect, but social media allows us to pretend that ours just might be, at least for today.
I know this isn't just happening to me. In a larger sense, I feel a cultural shift: most of my friends are at least aware of the effect social media has on their lives. A slew of studies have shown that social media can contribute to depression and anxiety, and it's definitely not a helpful pastime if you're feeling down about yourself on any given day. We're all getting a little fed up with the emotional and mental side effects of social media, whether we're voyeuristically checking our Instagram feeds alone on a Friday night or we're out on that Friday night having the time of our lives -- through our viewfinder.
Where I live -- Minnesota -- summers are short. They are 3-4 months at best of the most perfect weather you can imagine, blue skies and days spent at the lake jumping off docks, drinking sangria and counting constellations at night. As the first few days of summer rolled into my little corner of the world, I realized I didn't want to spend the next few months comparing my good times to someone else's. I didn't want to show off my cabin days or happy moments; I wanted to live them.
I still don't think social media is the root of all evil. After all, it connects us to loved ones far away, allows us to look back on fond memories from years ago, and is arguably the best thing to happen to doctor's office waiting rooms since free lollipops. (Plus, I can't bring myself to permanently delete Twitter because as a writer it's a fun exercise for expressing thoughts succinctly.) But the rest of my social media apps are getting deleted off my phone for the summer. Sorry Snapchat filters -- I think I'll make my own flower crown instead of using yours. Bye Facebook friends -- if I have wonderful news to share, I'll just tell you. You know, face to face, where we can exchange positive energy and laughter and good vibes. Because if life is short and summers are even shorter, I want to try to re-learn what it means to live inside a moment, and not stand on the periphery, Snapchatting it for other people to see. I don't want to spend this summer inside my newsfeed; I want to actually engage in each moment so my brain remembers how to feel spontaneous joy. So if you need me for the next few months, I'll be running through a sprinkler and drinking a latte in the sunshine. You won't see it -- you'll just have to take my word for it.