Every day, I immerse myself in stories.
And not just any stories. In my day job at Twitter, Inc., and in my work as an author (Twitter for Good: Change the World One Tweet at a Time) and speaker, I have the good fortune to sink into the best of stories.
Stories of individuals taking the power of technology into their own hands to make the world a better place. Stories of folks using digital media to make real impact in the communities and lives they touch. Stories of how social media is changing the world.
These are the stories that make me sing, and these are the stories I seek out daily.
And so, when ONE, the grassroots advocacy campaign co-founded by Bono, invited me to Honduras to explore the groundbreaking work of ONE's partners with women and girls in the region, I immediately accepted.
Joining other delegates America Ferrera and Alexis Bledel on ONE's first trip to Latin America -- and their first outside Africa -- I went to learn about how a country new to me was using the power of technology to transform the lives of their female citizens. The trip, billed as a "listening and learning" one, was just that. We listened. We learned. And we came away transformed.
The upcoming documentary of the journey -- shot by Jesse Dylan and the Wondros team responsible for the 2008 "Yes We Can" stunner -- shows just that.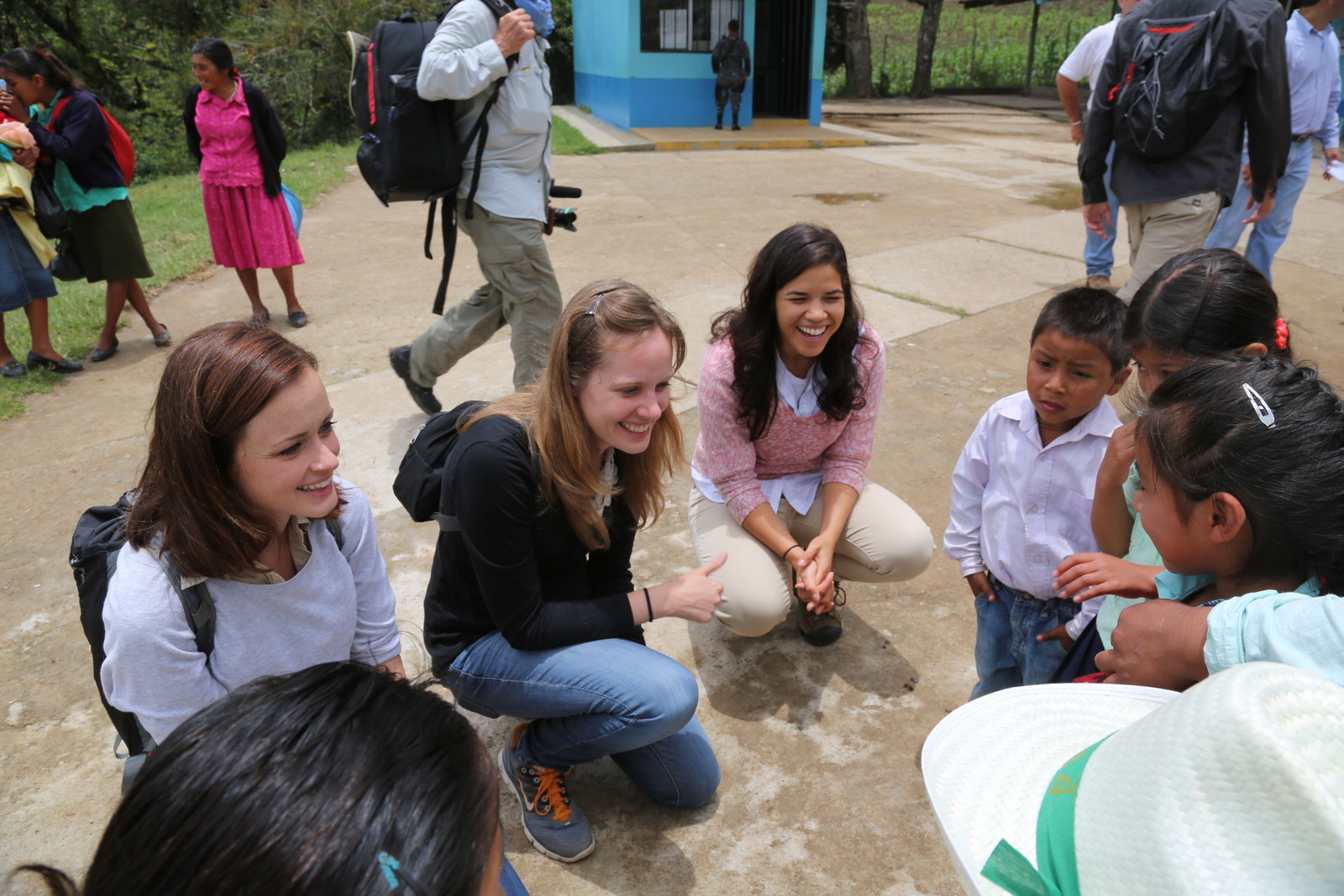 On one memorable visit during time in Honduras, we spent time with a remarkable woman -- Lina Martinez -- who went about to empower the women of her own community with a sustainable, successful business selling the best of treats: Cassava. Every day, this seemingly bland looking vegetable -- under the hands of Lina's team at O' Big Mama -- is transformed into a host of useful, unique products to snack on and cook with.
When I tried my first (gluten-free, no less) garlic chip, I vowed off potato forever.
But the taste, it turns out, is just a bonus in the true story of change Lina has created for the women who work for her. Turning a difficult industry for women into a thriving one -- transforming the profits for just one of her growers from an astonishing 75 cents per pound of Cassava to 19 Lempiras, an increase of 25-fold -- Lina has shown how women can lead.
When we returned that night from our visit with Lina, I went where I always do: to the Internet, where I immediately saw a Facebook friend request from this extraordinary entrepreneur. The tweets, from many of the women we met on the trip, soon followed.
In my short time in Honduras, I saw a country filled with women and girls not only striving but succeeding in making change for themselves, and their own families. Technology, as always, was a critical catalyst.
#
Interested in chatting with us about the trip? We'll be doing just that on Twitter before we take to the stage at the Mashable Social Good Summit.
Join me, America Ferrera, Alexis Bledel, and ONE on Monday, September 24 at 12:00 PM EST for a Twitter chat about what we saw, what we learned, and what we still want to know. Use the hashtag #ONEchat to send in any questions you have, and we'll be answering.
Or, send questions directly to us on Twitter via @claire, @americaferrera, @alexisbledel, or @ONEcampaign.
This is part of a series by ONE (www.one.org) on why investing in women and girls is crucial to the fight against global poverty.