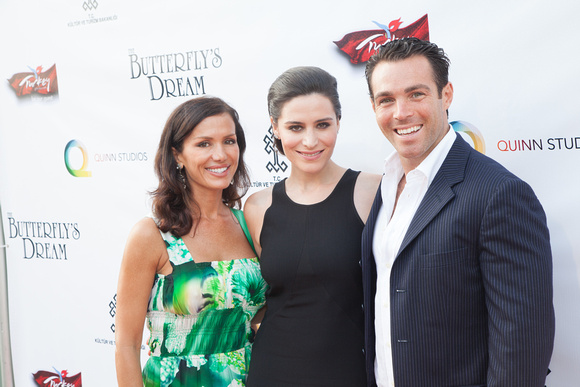 When Valentina Castellani-Quinn saw The Butterfly's Dream -- a Turkish film about love, death and friendship -- she fell in love with it and wanted to help bring the movie to a wider audience.
Castellani-Quinn knows something about love and tragedy. Her husband, actor Francesco Quinn, the son of Oscar-winner Anthony Quinn, died in her arms two years ago, aged 47. Francesco was a fervent cyclist who over-exercised and stressed his heart. He was struck down by a sudden arrhythmia.
"I think 'The Butterfly's Dream' is a fantastic way to honor and celebrate love," said Castellani-Quinn. "It doesn't matter when or what we die from, so long as there is love."
Her company, Quinn Studios, is currently in pre-production for a documentary called "Faith" following refugees from the Syrian civil war. Many of those refugees have ended up in Turkey, which brought Valentina into contact with the Turkish government, who then invited her to see The Butterfly's Dream.
"After watching the movie," Castellani-Quinn said, "I approached the director, Yilmaz Erdogan [who is a legend in Turkey, but little is known of him in the wider world], and the lead actress, his wife Belcim Bilgin, and asked him what was happening with it. He said he hadn't submitted it to any of the big festivals as he doesn't know anyone in Hollywood. And he hates rejection, so didn't even think about it. I thought, 'this beautiful film needs to be seen' and offered to host a screening for the Hollywood Foreign Press Association and the Academy, and organize an awards campaign for it."
Trouble is, getting Academy and HFPA voting members fired up is an art in itself. "The first thing was: How do I present this Turkish movie?" Castellani-Quinn said. "I wanted it to be screened in a place that resembled the Mediterranean with a sea view. I thought right away of Malibu."
Members were driven in by stretch limo, greeted with Turkish coffee, given a gift bag and treated to dinner at Taverna Tony while being entertained by belly dancers. "By the end of the night, we were all in Turkey somehow," said Castellani-Quinn (pictured above left, with Belcim Bilgin and Massimiliano Musina, CEO Quinn Studios).
So far, this push has cost Quinn Studios, the film's producers and the Turkish government $50,000. And it's still early days. Castellani-Quinn doesn't believe they are buying their way to a nomination. "It's like running a presidential campaign," she said. "You have to create a magic around the movie to get it noticed. I'm like a best friend who wants to tell you she has found a book you should read. If I don't tell you why I fell in love with it, you wouldn't know. For me, The Butterfly's Dream is the story of two artists who die because of passion. Life is about loving and this film captures that beautifully. My happiness was when the movie finished and the audience was in tears."
Patricia Danaher of the HFPA said, "For a movie to be eligible for Golden Globes consideration, the film makers have to have a public screening in Los Angeles, which can be attended by members. There is no limit on the numbers of movies which can be submitted per territory and we are usually inundated. It's hard to count, but in addition to all the U.S. movies and TV shows, we could easily be sent or invited to up to 40 foreign films. With so much going on, it's hard to get the attention of voters. I really feel for foreign film makers in particular, as the window is narrow and the competition is fierce."
Producer/director and Emmy winner John Watkin, co-owner of Planet Grande Pictures, has served on voting panels for Best Documentary for the Emmys and the Directors Guild of America.
"They divide all the films into batches and send batch one to a group of judges, batch two to another, and so on," said Watkin. "I had about 15 documentaries to watch. The thing is, some of them you literally have to grit your teeth through because they are so appalling.
"It's an effort of will, where every bone in your body is crying out to reach for the remote control and eject that DVD, but you feel you owe it to the 'film maker' that you should at least give them their due.
"What was incredibly frustrating to me is that the films that I thought were clearly outstanding didn't even make the short list. I found that baffling and it made me despair, because what ends up happening is the films that are the absolute best and original in someone's eye are by definition controversial, and not everyone is going to like them or get them."
Not all judges are as conscientious as Watkin. Some who have a huge pile of films to watch press Eject if they're not hooked after 20 minutes. Does Castellani-Quinn think The Butterfly's Dream will pass the 20-minute test?
"Absolutely, yes. It's beautifully shot and acted. The music by Rahman Altin is magnificent. It's a universal story of love, friendship, passion, youth and everything that comes with life. Difficult colors sometimes, but very beautiful colors."