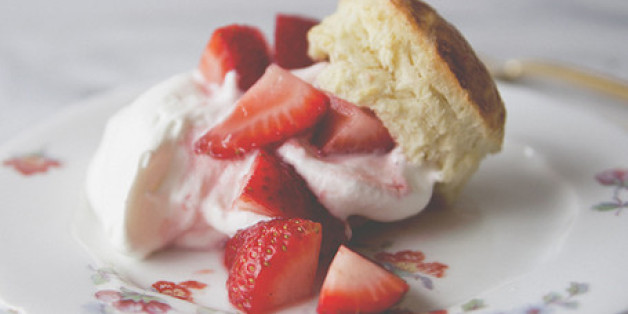 Strawberry shortcake was one of those desserts I would dream about in the abstract, but never really had until I was much older. I was unsurprisingly attached to the eponymous cartoon character, but as a red-headed little girl, I would attach myself to any red headed female character I came across. Ariel, Jessica Rabbit, and Ann Margaret were idols of mine. Not Pippy Longstockings though...she irked me with her laissez-faire manners, precociousness, and general anti-establishment vibe. I was a very uptight 8-year-old who also hated Amelia Bedelia and Peter Pan. Lack of common sense was an early pet peeve. Eloise gets a free pass though, because, well, she wouldn't have it any other way, would she? Also, a turtle named Skiperdee and her elevator route have endeared her to me.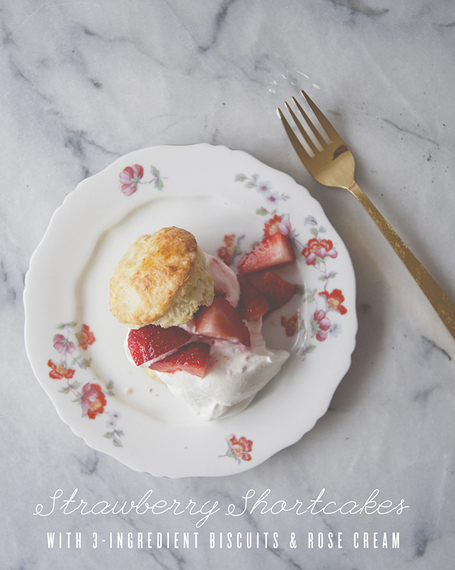 That is to say that strawberry shortcakes occupied the same space that Baked Alaska or Bouche Noel did, in my mind. I would fog up the proverbial bakery window, licking my lips and wondering how it would taste, but never really finding the gumption to find out. But, knowing how it actually tasted would have robbed a little magic from it, like when you take off your 3-D glasses or find out how a card trick works. I'm glad that my late arrival has allowed me to enjoy it from an adult perspective, without diminishing my childhood expectations.
Some people use butter cakes, some use angel food, I use biscuits as the base of my strawberry shortcake recipe. The reason is that at 3 ingredients and 20 minutes total cooking time, biscuits are by far the easier option, plus I love the almost savory element it brings to the party. Combined with soft, and barely floral whipped cream, plus lightly macerated strawberries, it's a simple, wonderful summer dessert. Enjoy!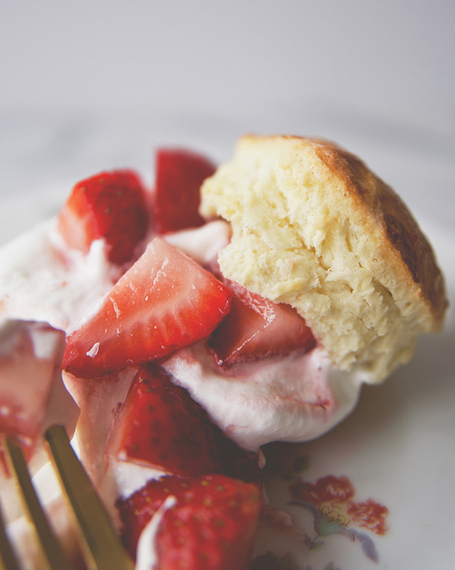 STRAWBERRY SHORTCAKES WITH THREE INGREDIENT BISCUITS
INGREDIENTS
[NOTE] For 10 short cakes
2 cups hulled and sliced strawberries
1 tablespoon sugar
1/4 cup orange juice
1 cup heavy whipping cream
2 tablespoons sugar
1 teaspoon rosewater
10 three ingredient biscuits (recipe below)
DIRECTIONS
Combine the strawberries, 1 tablespoon sugar, and orange juice in a small bowl. Let the strawberries sit for 30 minutes to macerate. Halve the biscuits (they're best if they're warm, not hot). Combine the whipping cream, 2 tablespoons of sugar, and rosewater and whip until soft peaks form. To serve, scoop the whipped cream on the biscuits, top with strawberries, and finish with the top halve of the biscuits.
INGREDIENTS (3 INGREDIENT BISCUITS)
[NOTE] The key to fluffy, light biscuits is ice cold ingredients, so make sure your butter and buttermilk are thoroughly chilled, and that you're working lightly and quickly. If you need to pause the process, pop the ingredients in the fridge to keep them cold.
4 ounces cold butter, chopped into small, 1/2 inch cubes
2 1/4 cups self-rising soft-wheat flour, sifted, plus more for the counter
1 cup buttermilk, plus more for glazing biscuits
DIRECTIONS
Preheat oven to 450F.
Scatter the butter over the flour in a large bowl. Cut the butter into flour with a pastry blender (or using your finger tips) until crumbly and mixture resembles small peas. Add the buttermilk, stirring just until dry ingredients are moistened and coming together into a ball of dough.
Turn the dough out onto a lightly floured surface; knead 3 or 4 times to form it into a ball. With floured hands, press the dough into a 3/4-inch-thick rectangle and fold dough over onto itself in 3 sections, like you would a letter. Pat down the dough to 3/4-inch-thick, and repeat this entire process 2 more times. This is creating the fluffy layers that will puff and add lift as the biscuits bake.
Press the dough to 1 inch thick, and cut with a 2-inch round cookie cutter, or with a juice glass dipped in flour. Place the rounds on a baking sheet lined with parchment paper or a silicon pad, and then pat the dough to 1 inch thick and cut again. Repeat until you use all of the dough up. Glaze the rounds with a little buttermilk and place in the center of the oven. Bake for about 15 minutes or until lightly browned on top. Place on a cooling rack to cool.
For more recipes like this one, check out my blog The Kitchy Kitchen.