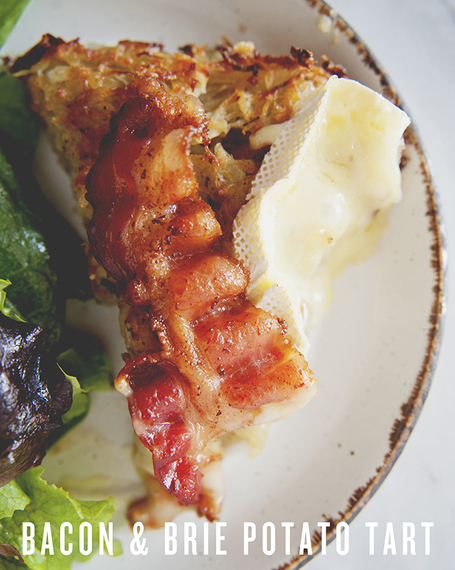 Leave it to the French to make a giant cheese and bacon hash brown sophisticated, but that's exactly what's going on with this tres chic tart. The grated potato crisps up beautifully, the brie adds a bit of richness, the bacon adds... bacon, and the mesclun green salad cuts through the whole thing beautifully. Though this is delicious hot, it doesn't have to be served straight out of the oven. Serve it as is for a lovely lunch, or add poached eggs on top for a decadent brunch centerpiece.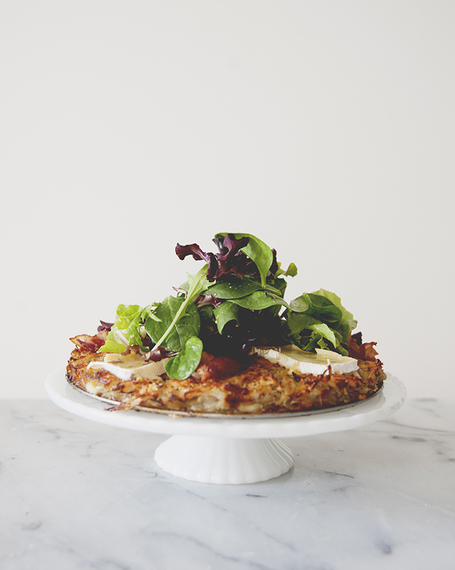 INGREDIENTS (POTATO GALETTE)
3 tablespoons unsalted butter, melted
2 pounds yukon gold potatoes, peeled and grated, as you would hash browns
1/4 cup finely grated parmigiano cheese
kosher salt and freshly ground pepper, to taste
INGREDIENTS (TOPPING)
6 slices thick cut bacon, cooked, not too crisp since they'll continue cooking in the oven for a bit
6 1/4 inch slices brie
DIRECTIONS
Preheat oven to 450 F. Brush a 9-inch springform pan with a little of the butter. Place pan on a baking tray. Place the grated potato in a bowl, and season with a little salt and pepper. Let it sit for 15 minutes. Squeeze the grated potato with your hands (water should come out) and set the grated potato on a plate covered with paper towels. Dry thoroughly and discard the water from the bowl. Return the grated potatoes to the bowl and add the remaining butter. Mix to combine thoroughly.
Line base of pan with a layer of grated potato, overlapping slightly. Sprinkle a tablespoon cheese over the potatoes and season with a small pinch of salt and pepper. Repeat layers 4 more times to make a total 5 layers.
Bake, uncovered, for 35-40 minutes or until potatoes are tender when tested with a skewer and top a deep golden brown. Add the brie and bacon and bake for another 5 minutes. Take it out of the oven and let the galette stand for 5 minutes. Release pan and slide galette onto a serving plate. Cut into wedges.
Dress greens with dressing and serve with galette.
INGREDIENTS (SALAD)
3 ounces mesclun greens
3 tablespoons mustard vinaigrette
INGREDIENTS (MUSTARD LEMON VINAIGRETTE)
1/2 tablespoon lemon juice
2 tablespoons olive oil
1/2 tablespoon whole grain mustard
1/2 clove garlic, minced
kosher salt and freshly ground black pepper, to taste
DIRECTIONS
Combine all of the ingredients in a smaller container with a lid (I just use a plastic container or an empty jar) and shake.
For more recipes like this one, check out my blog The Kitchy Kitchen.