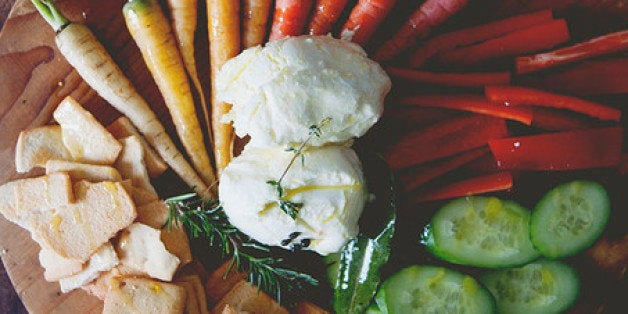 Sometimes simple is best, and you can't get much more simple than this. Just goat cheese in a little olive oil. I added my favorite spices and herbs for extra flavor, and the brilliant thing about this is that the longer it sits in your fridge, the better it tastes. I serve it with crudite and pita, but serve it with bread instead of butter, or use it in salads and sandwiches for an extra kick. Enjoy!
1/2 lb carrots, peeled, halved or quartered, depending on size
1 Persian or Japanese cucumber, cut into 1/4 inch slices on the diagonal
1 bell pepper, top removed, seeds and pith cut out, and sliced into 1/4 inch slices
2 cups pita chips
INGREDIENTS (MARINATED GOAT CHEESE)
1ᅡᅠ8-ounce fresh goat cheese log
2 cups extra-virgin olive oil
2 fresh bay leaves
2 sprigs fresh thyme
1 sprig fresh rosemary
1 sprig fresh oregano
1 piece lemon peel
2ᅡᅠgarlic cloves, peeled and crushed
1 tablespoon black peppercorns
Carefully place the goat cheese log into a wide-mouthed glass or ceramic jar. Add enough olive oil to cover cheese completely. Addᅡᅠthe herbs, lemon peel, and spices. Cover and marinate cheese in the refrigerator for at least 2 days and up to 1 week. Bring to room temperature before serving.