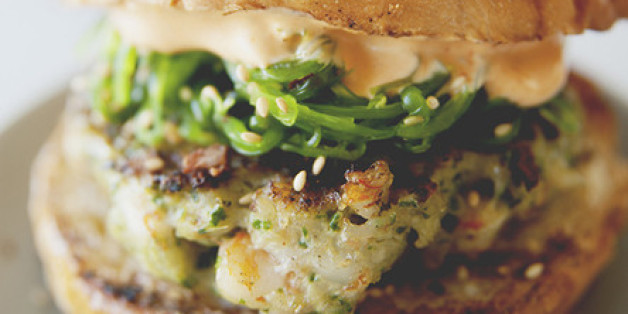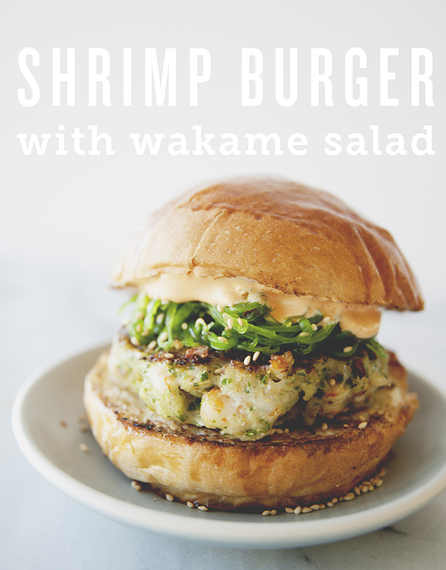 Shrimp toast is one of my favorite things ever. So I figured, why not switch out the toast for burger buns? The shrimp burgers are filled with fresh herbs and bright flavors, topped with a crunchy wakame (seaweed salad) and spicy sriracha. I am practically addicted. I love this combination so much. I might even try rolling the shrimp burgers into meatballs, and popping them in a soup or in a simple pasta. Enjoy!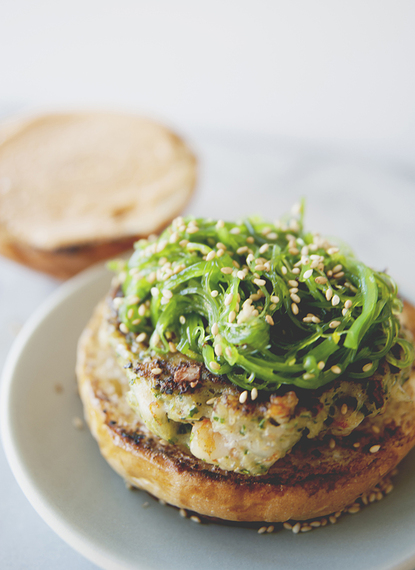 Spicy Shrimp Burgers With Wakame Slaw
INGREDIENTS
Note: for 4 Burgers
1 1/2 tablespoons finely chopped basil
1 1/2 tablespoons finely chopped cilantro
1 1/2 tablespoons fish sauce
1 inch lemongrass stalk
3 tablespoons shallots, finely chopped
1 inch of fresh ginger, peeled
2 cloves garlic
large pinch salt and pepper
1 1/2 pounds of large shrimp (16-20 per pound size; peeled and de-veined), roughly chopped
1/2 tablespoon of corn starch
2 teaspoons vegetable oil
TOPPINGS
4 burger buns
1/4 cup mayonnaisesriracha
wakame salad
Note: This is a standard seaweed salad. I've gotten it at Whole Foods and other deli counters. If you can't find it, use fresh cucumber for a refreshing crunch.
DIRECTIONS
Toss the ingredients except for the shrimp and corn starch into the food processor and pulse until everything is finely chopped and integrated. Add the shrimp and corn starch and pulse -- you don't want to turn the food processor fully on. About 5-10 pulses should be good. Form the shrimp mixture into patties about 3/4 inch thick. Set aside on a sheet of wax paper.
In a large sauce pan (or on a grill), coat heavily with oil and heat over medium heat. Cook for about five to six minutes a side, until fully cooked through.
To serve, combine the mayo and sriracha. Spread this on the inside of the burger buns. Add the shrimp burger and top with wakame salad and toasted sesame seeds.
For more recipes like this one, check out my blog The Kitchy Kitchen.