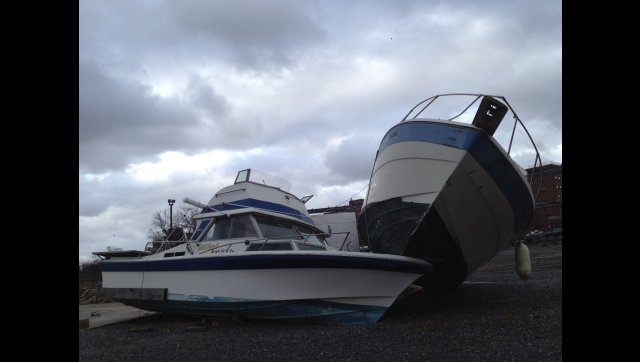 Sometimes it seems strange to give thanks for what we have when so much has been taken away.

I went to the Rockaways for the first time the weekend after Hurricane Sandy hit New York, and then again this past weekend. It's hard not to focus on the destruction. It's not every day you see several speedboats marooned in the middle of a main thoroughfare, or a piece of boardwalk, complete with a lamp post and a bench, that's been ripped out of the water and plopped on top of someone's front lawn.

That said, loss is only part of the equation.

I spoke with a few people there who told me their accounts of the storm, which I've written below. Overall, this is certainly a story that hinges on destruction; but, perhaps more importantly, it's also a story about what comes next.

***

Stewart Starr is a fast-talking middle-aged man with scruff on his face and an unblinking gaze. He lives with his family in a section of the Rockaways called Arverne By The Sea. Right after the storm, he patrolled his neighborhood with a pair of goggles strapped to the plastic helmet atop his head and heavy-duty boots, which he wore for tromping over rubble. He carried a backpack full of Power Bars to disperse to neighbors in distress.

He was in rescue mode.

Starr never thought he'd find himself kayaking in the middle of the street just a block away from his house, or searching for a new school for his two young sons just a few weeks into the school year; and he certainly didn't expect he'd be compelled, at 3 a.m., to walk to the remains of the Rockaway Beach Boardwalk out of fear there would be bodies hidden amid the rubble. (Thankfully, he found none.)

When he bought his house one year ago, Starr never imagined his life would be compounded by a natural disaster. Nobody did.

***

I met Starr for the first time -- goggles and all -- at the home of Jimmy Ruisi, a commercial roofer who moved to the Palmer section of Arverne seven years ago because, as Ruisi put it, "it was a good investment."

The first floor of his home now has watermarks five feet high and, considering all the appliances he lost to the flood, he estimates he's facing nearly $200,000 in damages.

Since the storm, Ruisi's home had become the gathering spot for the neighborhood. This was mostly because his porch had a generator -- "the size of a small suitcase," he mocked -- which sprouted contiguous lines of extension cords, like arteries, into the windows of homes next door and across the street. The neighborhood was forced to ration this precious resource, but still: it was a luxury. Many homes are still without power.

From behind a couple barricades of soggy debris, Ruisi -- in a navy blue hoodie, short-cropped hair and large eyes punctuated by atypically long eyelashes, which made his rugged persona seem somehow sentimental -- walked briskly with a cell phone in one hand and a concerned look as he coordinated logistics. In his front yard was a folding table and a white door that lay sideways on top of some pilings, forming a makeshift table upon which volunteers from Occupy Sandy loaded some much-needed supplies.

After getting everything situated, Ruisi was almost eager to show me how much damage the neighborhood had suffered. "It's like a bomb went off," he said from behind the wheel of his pick-up truck, looking off in the distance as if in a daze. "I never expected to see what I've seen. We just got wiped out. The worst part about it is I don't think we're ever going to get the boardwalk back. And I think our property values are going to go way down."

To a backdrop of water logged cars and piles of misplaced sand nearly two stories high, Ruisi said that, in the midst it all, his greatest frustration was losing power. That night it would be 40 degrees, and the following days would see temperatures that dropped below freezing.

"I don't want to live like this anymore," he said. And given what he had been through during the storm, that was saying a lot.

***

Ruisi's next door neighbor Erick Aviles had been inside with his wife when, around 7 p.m., he looked outside his window and saw waves crashing onto the street. Trained as a federal agent and now working as a volunteer police officer in the Rockaways, Aviles was prepared to deal with disaster scenarios. He immediately strapped on a pair of boots and ran door-to-door telling his neighbors to stay inside. But the water kept rising. By his estimate, it only took 20 minutes for the water to get from his ankles to his waist.

The force of the storm not only invaded homes, it lifted cars, including one with his neighbor still inside. The car drifted nearly two blocks away to a local schoolyard, forcing Aviles to wade through waist-deep water in order to reach him. Apparently, the man didn't know how to swim.

"When I grabbed him, I was scared," Aviles recalled, his Long Island accent becoming high-pitched and animated. "The water's waist deep, and most people don't realize that it's not clean water; there are objects that flow underneath."

The next day, Aviles saw pieces of boardwalk and other debris lying in the road, right where he had rescued his friend. "That's when I knew: Damn, I could have been hit by one of those things," Aviles continued. "But, I wasn't going to just leave him by himself. That's not how I operate."

Aviles dropped his neighbor off at his house then went home himself.

Both Aviles and Ruisi rode out the storm from the second floor of their identical homes, Aviles with his wife, Ruisi all alone.

"The waves were hitting the house so hard the house was shaking," Ruisi recalled. "I thought: 'This is the last day I'm going to be around.'"

From his bedroom -- with the wind howling, the waves crashing and his house shaking -- Ruisi called his kids in South Carolina. "I just want you to know I love you," he told them.

His children were crying on the other end of the telephone.

Next door, Aviles and his wife had similar thoughts.

"When the water started coming up, I have to say I thought me and her were at our last chapter," Aviles said. And all they could do was wait, in the dark, while the wind howled, and ocean waves crash into their home.

***

Stewart Starr never wants his neighbors to experience what they went through on October 29 ever again. But, he feels it's important to point out that not everything in the Rockaways was so bleak.

On one hand, Starr considers himself lucky. Though his building lost power and his sons' school was ruined by floodwaters, his home -- no more than 10 minutes away from Ruisi's -- was virtually untouched by the storm.

"The water stopped and left a sea-foam line right on my driveway," he explained.

I met Stewart Starr for the second time in the living room of his home in Arverne, along with Jerry Romski, a lawyer who grew up just outside the Rockaways and has helped develop Arverne By The Sea. According to Romski, the project -- which included the construction of a Stop & Shop and a Y.M.C.A. -- went through an extensive environmental review process, which ultimately resulted in stiff regulations deemed necessary for a plot of land so close to the ocean. (Starr's home is literally two blocks away from the water.)

Every home in Starr's neighborhood is built five to eight feet above grade and it contains an extensive drainage system. It made his home virtually flood-proof.

When Barack Obama spoke to the nation last week, Starr felt as if the president was speaking directly to him.

"There's gotta be a plan for rebuilding," the president said.

Starr couldn't agree more. He's not only working to get solar panels to the Rockaways, he and Romski are trying to get reconstruction efforts in the Rockaways to mirror what was done in Arverne By The Sea.

"I don't have enough money and I'm not politically involved -- I'm just a regular Joe," Starr explained. "But I want this message heard."

Starr is calling on the government and local communities to be "eco-vigilant," a phrase he coined. He wants the Rockaways to build smart, taking into account natural environment, but also making the neighborhood self-sufficient so that the island no longer has to be beholden to the Long Island Power Authority (LIPA), which even Governor Cuomo has criticized.

"I guarantee I'm not the only one to say it... but maybe I'm the right one," Starr continued. "Maybe I'm totally crazy, but I was taught that if you want something bad enough, it will happen."

***

It almost seems fitting to be writing about this on Thanksgiving Day, when we end up being thankful for what we have in light of what we've lost -- or stand to lose. It's important to keep both ends of the spectrum in mind. Atrocities from Hurricane Sandy will continue to be unveiled, but as communities across the eastern seaboard start to rebuild, I hope all will see this as an opportunity to make infrastructure better.